If you are planning a vacation this year, picture this : crystal blue water, exotic beaches, pyramids, mouth watering foods, dancing, you name it! Mexico is one of those "cities that never sleeps" and is full of people who know how to celebrate life and take it easy.
Mexico is a wonderful place to visit. It offers a little bit of something for everyone, ranging from crystal blue beaches to gorgeous hiking trails to important historical sites and museums. You can visit again and again and still discover new things.
If you're planning a trip to Mexico, here are a few things you should put on your must-see list:
Pyramid of the Sun
If you thought that pyramids only existed in Egypt, think again. For centuries, scientists have tried to recreate the building of these amazing architectural oddities, only to fail! Mexico is home to some of the most jaw dropping structures in the world, such as The Pyramid of the Sun.The Pyramid of the Sun was built by the Aztec people in Teotihuacan, and it is one of the largest buildings in Mesoamerica. It is the third largest pyramid in the world. It is part of a massive complex that includes the Pyramid of the Moon and the Ciudadela.
Cenote dos Ojos
For the water lovers, there is more one of kind scuba diving and snorkeling than you could possibly imagine! Below the Playa del Carmen in Tulum Riviera lies the Cenote dos Ojos, a series of beautiful underwater caves. The formations developed over 6,500 years ago, and they include more than 300 miles of interconnected pathways and caves. The waters are crystal clear throughout, providing beautiful views.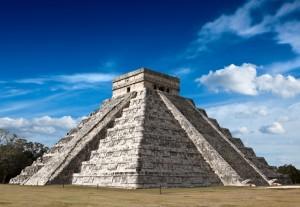 Chichen Itza
One of those ancient places that you've heard stories about for decades and is almost too good to be true. Chichen Itza looks like a pyramid or temple, but it is actually an ancient city built by the Mayan people in the Yucatec Maya. The city was considered one of the great civilizations, and it had the most diverse population of Mayans in the world. At times, the site has been considered one of the wonders of the world. Chichen Itza is one of the most popular destinations in Mexico and whether you travel by plane of ship, this is one of the must-see areas on the list!
Capilla del Rosario
No trip would be complete without a detailed history and site seeing tour that will leave you breathless! Capilla del Rosario does just that. This beautiful chapel can be found in the city of Puebla. It includes beautiful Baroque architecture, gorgeous carvings along the walls and arches, detailed gold leafing, an onyx pulpit and other amazing details. The church was built in the 16th century, and it is full of history, as well.
What's on your must-see list for your next trip to Mexico? Tell us all about your experience in this endless place of wonder down under!