While so many people have turned to the multifunctional smartphone for time keeping, others are still devoted to the simplicity and the uniqueness of watches. After all, there's still something special about having a genuine watch on your wrist.
In general, watches are not simply functional – they're a way of life. They successfully combine style and practicality while simply resting on your wrist.
Men's Watches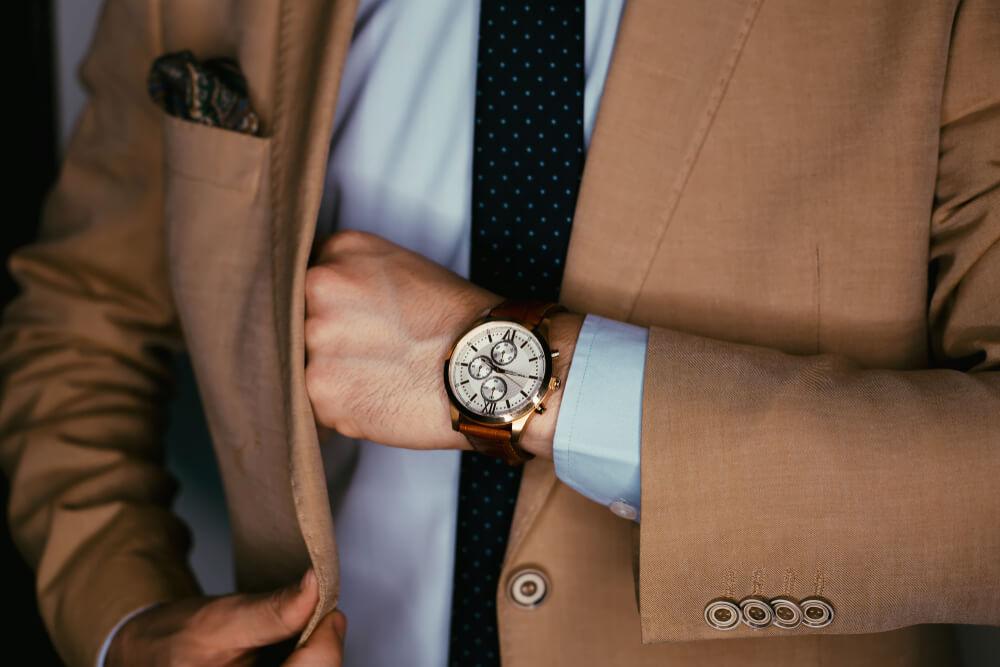 There's something to be said about men wearing watches in the 21st century.
After all, a good timepiece is the epitome of style and class.
A good watch is hard to miss on a man, much like good jewelry on a woman. There are many reasons to wear a wristwatch. Some experts claim that wearing a watch actually helps your personal branding. It presents you as a professional, always on top of his game.
And who doesn't want that?
So, here are some watches that you might want to include in your personal image.
Rolex GMT Master II
Originally designed for airline pilots, this epic timepiece soon drew in traveling crowds across the globe. It's functional and it's recognizably robust. As usual, Rolex used Oystersteel to create this masterpiece, making it effective in resisting corrosion.
Another distinguishing characteristic of this timepiece is the new-generation movement 3285, specifically manufactured by Rolex. It is incredibly precise and, with the Parachrom hairspring, it offers resistance to shocks and even temperature variations. Also, with its rotating 24-hour bezel, the GMT Master provides world travelers with three time zones.
Sinn 556A
This piece showcases the simplicity, yet the ingenuity, of German production. With a case made of stainless steel and sapphire crystal glass (which is, mind you, anti-reflective on both sides), the Sinn 556A seems like it boasts a pretty straightforward design.
However, what lies beneath is the real kick – it allows you a glimpse into the magical world of watch-making with its transparent back section. It's sporty, yet elegant, perfect for many occasions in your life.
Oh, and have we mentioned that it is low pressure resistant?
Tissot Heritage 1973 Chronograph 
https://www.instagram.com/p/Bu365YTne81/?hl=en
It is evident that the Tissot Navigator watch from the 1970s was the basis for the new Heritage 1973 Chronograph. If you're looking for a modern watch that offers a very specific vintage vibe, then look no further – this is the watch for you.
The Tissot Heritage 1973 is not too big, nor too small. It comes in a vintage-inspired cushion case, featuring extensive brushing and beveling. On the back, you can see the ETA caliber 7753 movement through sapphire crystal. It's perfect for the lovers of "the olden days" and for people who want to add a little "kick" to their appearance.
Breitling Aviator Super 8
While we're riding the vintage wave, here's another blast from the past. However, this timepiece takes us even further back, to the startling World War II. Namely, it was inspired by a stopwatch that WWII bomber pilots wore strapped to their thighs.
Pretty neat, huh?
The Aviator Super 8 features a case that can come in titanium or stainless steel, and it has a brown NATO leather strap. Despite its rather impressive dimensions (50 mm), it is quite comfortable on the wrist.
The hour and minute hands are, of course, luminescent, so the piece is incredibly easy to read in any type of lighting.
Tag Heuer Autavia Isograph
The Autavia was basically conceived as a motorsport and aviation watch (which isn't too difficult to deduce, as the name itself is a portmanteau of auto and aviation), but it seems that it made the most impact in the F1 world.
The piece includes bi-directional 60-minute bezel, broad sword-shaped hands, and an oversized crown, which really rounds out the cockpit-inspired aesthetic and functionality. Also, there's a date window neatly tucked away at the six o'clock position.
Not to be superficial or anything, but this piece also has some quite beautiful and unusual color schemes and Caliber 5 movement inside.
What more could we want?
Oris Aquis Date Relief
A timepiece created to raise awareness of the importance of water, made in cooperation with expedition swimmer Ernst Bromeis. It is meant to be a reminder of the elemental role of water in life.
According to the makers, this is a diver's watch inspired by the very feeling of water. Even its dials are supposed to recall "the color of a stormy sea."
It is made from stainless steel, and its top glass is domed on both sides, with anti-reflective coating inside. Also, it is another watch that tucks away the date above the six o'clock position. The Aquis Date Relief also includes an automatic winding date.
In general, it is an exceptionally good-looking watch with a vital message behind it.
Tudor Heritage Black Bay 41
Now, some may say that this is simply a larger version of the Black Bay 36 – and they wouldn't be wrong, per se. The Black Bay 36 has plenty of fans all over the world. However, some felt that it might have been small for their wrist.
It's a matter of personal opinion, anyway.
However, they asked and Tudor delivered – the new 41 mm version is larger, but it also kept its slim profile. It held the qualities of its predecessor – it's sporty, yet elegant. There are three strap options – the steel bracelet, and the brown and black leather straps. It also comes in two dial options – the black and the blue one – so you can choose whichever suits you best.
 Jaeger-LeCoultre Polaris Automatic
While all the watches in the Jaeger-LeCoultre Polaris collection are based around the 1968 Polaris, the Automatic is quite a straightforward watch that seems pretty modern instead of simply being an echo of the original.
In a 41 mm stainless steel case, it is actually the smallest watch in the collection, but big enough for a comfortable fit.
The new Polaris dials also have three finishes. The inner rotating bezel has an iridescent matte finish, the central ring has a grain finish, while the central section is in a sunray pattern. You might think that it's too much, but, upon looking at it, it simply comes off as rich and intriguing.
Women's Watches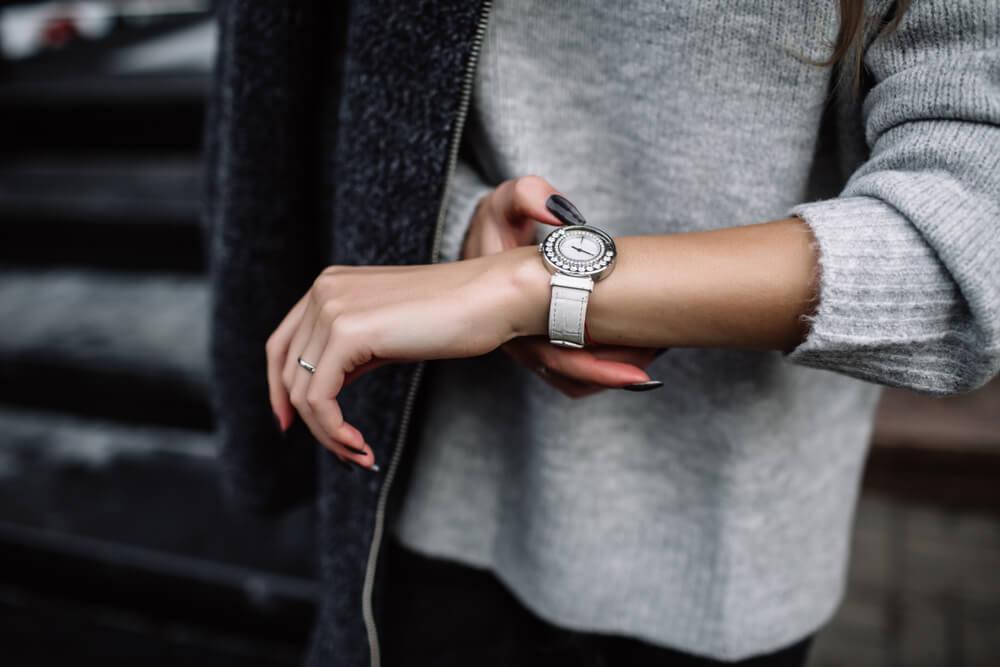 As we've already said, a good watch is hard to miss on a man. But, to be honest, the same applies to women.
A great wristwatch can enhance each and every outfit, making you look snazzy and polished.
However, regardless of what is considered beautiful, make sure to always choose a timepiece that will go great with your usual style. Also, since quality wristwatches last for a long time, choose one that will look good in the years to come.
Movado Bold Stainless Steel Bangle Bracelet Watch
Talking about minimalist, this is as minimalist as it gets. Much like the aforementioned timepiece, it is sleek and simple.
It is made with a round polished stainless steel case, a smooth bezel and a polished stainless steel bangle bracelet. The rose gold tone of the dial really adds some glamour to the timepiece (but not too much), providing it with a gentle glow.
The band has actually a string of removable links, so it can be adjusted to your wrist perfectly. If you're looking for simplicity, Movado's got it.
Omega De Ville Tresor Quartz
The entire Omega De Ville collection simply abounds in timeless designs, attracting quite the loyal following. And, to be honest, Omega truly has a tradition of making extremely beautiful watches for ladies.
A white dial equipped with gorgeously styled blue Roman numerals and elegant blue hands keeps the time, while a blue fabric strap completes the look.
This timepiece is powered by the high-precision Omega caliber 4061. It is even water resistant to 30 meters and protected by an anti-glare, scratch-resistant sapphire crystal lens.
But the cherry on top of this piece is the stainless steel case and a crown set with a single diamond. Basically, it is elegant and simple, making it a timepiece for the ages.
Hermès Montre Arceau Medium 32 mm
As is the case with Gucci, even though it is a fashion house, Hermès is known for making high-quality watches. But the Montre Arceau is something else.
It's elegant, it's edgy, and it's simply divine.
The timepiece comes in a stainless steel case, together with a white dial and the date window at the four o'clock position. The calfskin strap can be changed for any of other leather straps from this fashion house. Elegant yet playful, this Arceau model embodies the sophistication of Hermes.
But the most alluring part of this model is its sloping numerals on the dial, meant to recreate the gallop of a horse.
Chanel Boy-Friend Large
Rumor has it, or legend now, that Coco Chanel liked to borrow clothes from men and add a feminine touch or two to transform them.
Well, if that is true, then the Boy-Friend Large is the epitome of her desire.
Made of a clean-cut "manly" square, and softened with polished and beveled edges, this watch is handsome as well as pretty, stylish and simply glorious.
It's made of stainless steel and it includes Swiss mechanical manual-winding movement.
If you want some more pizzazz, you can always get the beige gold set with diamonds. Frankly, whichever you choose, it will be divine for any occasion.
And just like the little black dress – such a watch can never go out of style.
Piaget Possession Diamond and Alligator Watch
As you can see from the name of the watch, it embodies elegance and extravagance all in one.
You'd think that the fact that the hours on the face of the watch are 0.07-carat diamonds would somehow make it flashy. However, it is done with such taste that those diamonds simply accentuate and decorate the simplicity of the piece.
It has a round polished stainless steel case and a smooth bezel. The alligator strap is classic, chosen to accentuate the case, which it does incredibly well.
The fact that it's made in Switzerland is simply the best part.
Baume & Mercier Classima 10355
Now, the Classima 10355 has a slender steel case and a navy blue leather strap with an alligator pattern to offer contrast and intrigue. Its upper glass is made from sapphire crystal glass and it has the full case in the back.
Even though it's not the most adventurous of watches, precisely thanks to its clean dials and very versatile design, it's basically one of the brand's most wanted (and most purchased) timepieces.
It has a simple white dial with the date placed conveniently at the three o'clock position. A unique feature of this piece is that it uses Roman numerals for marking hours and minutes.
It is powered by Swiss-made quartz movement, which ensures durability. 
Gucci G-Timeless Stainless Steel Bracelet Watch
https://www.instagram.com/p/Bkl1BtUFlcz/?utm_source=ig_web_copy_link
Even though many have qualms about fashion brands and their ability to produce high-quality watches, the concern is wholly unnecessary.
Case in point – the G-Timeless Stainless Steel Bracelet Watch.
Gucci actually creates Swiss-made watches, well-known in the watch world for their quality and their incredible design.
As the makers themselves boast, this is a great accessory, simply perfect for professional women looking to make a statement.
This sleek watch has a scratch-resistant sapphire crystal face and it is powered by a Swiss quartz movement. It is minimalist in nature, and, therefore, can be used for various occasions. So, if you're looking for versatility – this watch is perfect for you!
Michele Deco Sport Watch
Another square-faced watch that teeters on the verge of masculine, if that's possible.
It's a simple, yet effective, timepiece, so if you prefer square-faced watches, this is high up on our recommendation list.
While the entire Deco collection is incredibly interesting, we've chosen Deco Sport because of its straightforwardness and its effectiveness. Each piece in the collection is sleek and versatile, and incredibly intriguing for the eye.
And the best part is, while it comes with a pastel silicone strap, it can always be switched with many other straps from the brand.
Quite simple, yet simply effective.