You're on the beach, the sun is high in the sky, and you're Fitbit alarm just went off to alert you that it's time to reapply your sunscreen. Consequently, it's also lunchtime and that salty sea air has done its work on yours and your family's appetite. What do you do? Sacrifice your prime spot on the beach and head over to the boardwalk for some dirty water hot dogs? Send your significant other and your children off to trudge along the hot sand only to return with some boiling hot soda and limp sandwiches? No, you and your children deserve better than that!
Trips to the beach involve careful planning and that includes planning to eat. The best way to keep your spot on the beach and keep your children from painful blisters and fully adulterated corn dogs is to pack a refreshing picnic basket with proper precautions taken. Here are some tips for keeping your picnic perfect without
Sand-free food? Never gonna happen! With billions of grains of sand on the beach, the probability that one is going to land on your plate is just about 100%.  And you and the seagulls? You'll just have to agree to disagree on whose food it is. Don't bring fish either, it will only build the case for the seagulls. The perfect beach picnic may not include a table for four, but not many fine dining spots include an oceanfront view and sea air. Environmental factors aside the most perfect beach picnics come with a few
Cold Packs
What does it mean when good food turns bad? It usually means someone forgot to bring a cooler of a few cold packs in their picnic basket. Remember, when the wine gets warm, the cheese melts and the grapes start to ferment, it's no one's idea of a picnic. Keep it cool with a few cold packs or take along some insulated bags for carrying bottles.
Sturdy Plates
Sturdy plates are the first line of defense against sand contamination. The sturdier the better. Think along the lines of a shield worthy of Captain America. Check out Hefty Disposables for a super-heroic performance.
Hand Wipes
Do you really want to be that person chasing a flyaway napkin at the beach? That's no way to spend a perfect picnic. Not to mention, it can be especially tough when you've just undone your swimsuit straps to get an even tan. Washing in saltwater leaves hands sticky. Hand wipes and baby wipes are not only the ideal solution for dirty fingers but also the blow away factor is slim to none.
Waterproof Beach Blanket
Beach blankets were made to absorb water, unfortunately, that makes them pretty good at absorbing stains as well. The best bet for picnics on the beach is a weatherproof water resilient mat that keeps water and stains from absorbing completely.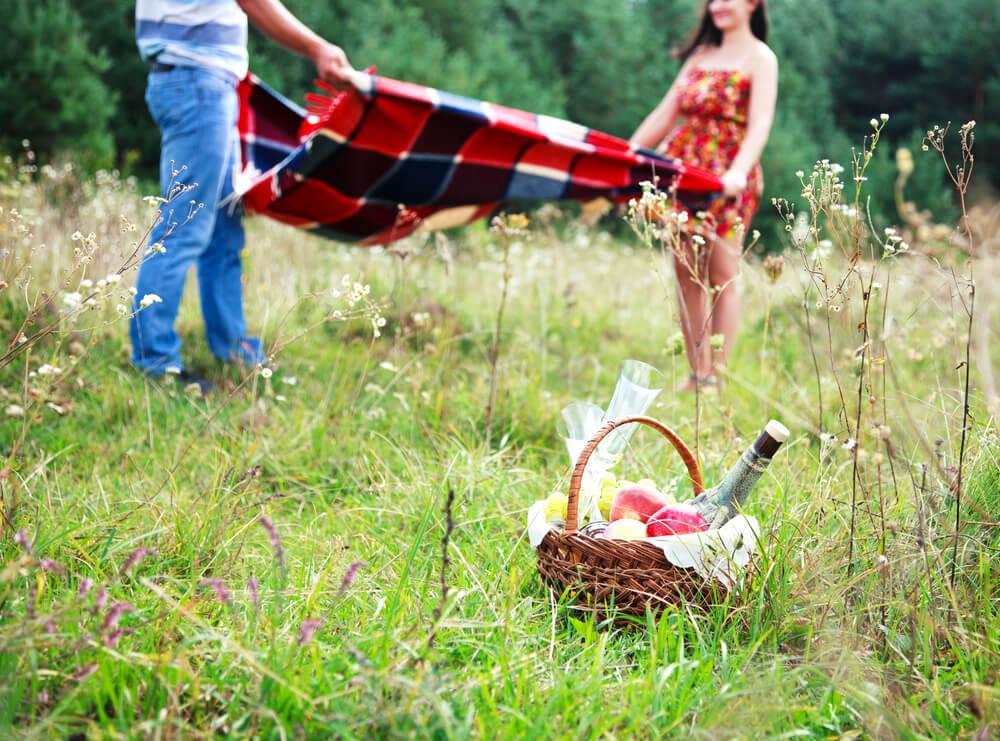 Rejoice blanket challenged picnickers, the Camco Handy Mat with a strap is the answer to your prayers. It has convenient pockets on both sides, is completely weatherproof, oh so stylish- check out the color options- its worth the click, and the best part is you can clean it off with soap and water.
Finger Food
Sitting in a lounge chair on the beach is certainly not the position most conducive to taking out a knife and fork and digging into a heaping plate of spaghetti and meatballs. At a beach picnic, you want to lay back and feed yourself grapes as if you were a goddess at a Dionysian festival. Not only do utensils cramp your style, but they also crowd your basket. Fewer utensils mean less to pack and serve and more room for food in your basket.
The Giant Sandwich
At your beach picnic, you need a hero and not just a lifeguard with strips of zinc oxide on his nose coming to the rescue. We're talking a hero as in a giant sandwich. Ever tried a Mufaletta? A muffuletta is a hollowed-out loaf of bread stuffed with Italian meats, cheeses, olives, and capers. Just a suggestion. You can use any baguette with ingredients of your choice. For best results, cut into wedges before you hit the beach.
Portion-Packed Food
Divide and conquer. It's the unwritten rule of packing for a picnic. Salad tongs are and serving spoons are so beach inappropriate. Whether its pasta, three bean, or quinoa, divide portions into small Tupperware containers to avoid serving at the beach and to keep sand contamination to a minimum.
Drinks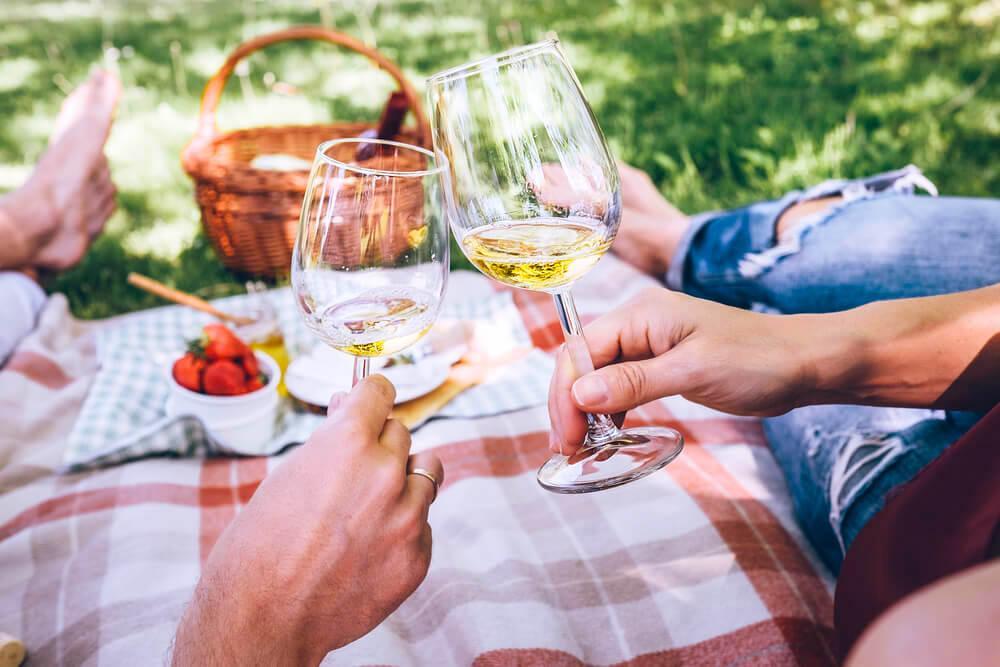 Provided there are no rules against drinking on your beach of choice (and we do suggest you make sure) there are basic rules for drinking on the beach. That is if you hope to be able to drink your drink in the first place and come home without a guilty sunburn.  If the perfect beach picnic includes the perfect beach beverage, here are some tips for your tippling pleasure.
The only tragedy greater than forgetting the wine is forgetting to bring something to open it with.  Men have lost teeth over trying to find an alternative. Even if your bevies aren't of the alcoholic variety, a bottle opener is an absolute necessity for a picnic basket. You may want to have a spare and keep it in your picnic basket so you always have it on hand.
Assuming you don't want a picture of you passed out on the beach turning up anywhere on social media, go light on the beverages. Not "lite" as in Coors light, light as in color and ABV, or alcohol by volume. The sun and the beach combined with alcohol is an instant recipe for dehydration, and lighter bodied beverages with lower ABVs are the first step in the line of prevention. Pale ales, roses, and fruit beers come highly recommended.
The Perfect Beach Picnic Menu Ideas
Turkey Apricot Wraps
When it comes to finger food at a picnic, a spicy lentil wrap is the new cucumber sandwich.  A compact version of their sliced bread cousins, (could wraps be the best thing since sliced bread?) wraps leave less room for the fillings to escape and keep them better protected from the elements. With the protein from turkey, the goodness of apricot preserves and some spinach thrown in for Popeye, these wraps are a breeze to make when the ocean breeze is calling.
Ingredients:
1/2 cup reduced-fat cream cheese

3 tablespoons apricot preserves

4 whole wheat tortillas (8 inches), room temperature

1/2 pound sliced reduced-sodium deli turkey

2 cups fresh arugula or baby spinach
Directions:
Combine cream cheese and preserves in a small bowl. Spread onto each tortilla allowing a ½ inch of space between the spread and the edge of the tortilla. Layer with turkey and spinach. Roll up tightly. Serve immediately, or store in plastic wrap overnight.
Broccoli Feta Pasta Salad
Do you ever think that all you need in life to be happy is a spot on the beach and a Tupperware container filled with an endless supply of pasta salad? Aside from meditation, most agree there is no experience quite as in the moment as downing some Tricolore al fresco, utensils notwithstanding. We've been meditating a lot on pasta salad, and when we visualized the broccoli feta, we had a bit of an epiphany. Here is a recipe for happiness, with a side of broccoli feta pasta salad.
Ingredients:
1 lb. dried rotini or short pasta, tri-color preferable

4 tablespoons extra virgin olive oil, separated

2 tablespoons red wine vinegar

Freshly ground black pepper

8 oz. feta cheese

I cup pitted kalamata olives, chopped coarsely

Kosher salt
Directions:
Bring a large pot of water to a boil and cook according to package directions. While pasta is cooking, combine 3 tablespoons of the oil, vinegar, and a few grinds of pepper in a small bowl. Set aside

Drain pasta under cool water until it stops cooking. Place in a large bowl and set aside.

Heat the last tablespoon of oil on a saute pan until shimmering. Cook the broccoli about 5-7 minutes until crisp and tender. Combine with the pasta.

Crumble feta cheese and add olives over the top. Add dressing of your choice and toss gently. Sprinkle with salt and paper to taste. Refrigerate until serving or overnight.
Notes to Picnic Enthusiasts:
Pasta salad can be made a day ahead and stored overnight.

Leftovers can be stored for up to five days in an airtight container.
Cold Fried Chicken Salad Sandwiches
On the beach, buckets are for building sandcastles, picnic baskets are for holding fried chicken. Others will get beach blanket envy when they see you kick the bucket to the curb and break out some handmade cold fried chicken sandwiches, no help from Colonel Sanders necessary. The cold fried chicken sandwiches combine the flavor of fried chicken with the creaminess and zest of chicken salad packed onto a toasted brioche. Tuck in and enjoy.
Ingredients:
1 cup mayonnaise

minced shallot (from 1 shallot)

2 tablespoons 1/2 cup chopped celery (from 1 stalk)

1/4 cup Dijon mustard

2 tablespoons chopped fresh chives

2 tablespoons fresh lemon juice (from 1 lemon)

3/4 teaspoon kosher salt

3/4 teaspoon black pepper

6 cubed cold skin-on fried chicken (from 1 [8-piece] box)

6 iceberg lettuce leaves

6 (1/4-inch-thick) heirloom tomato slices

6 brioche hamburger

buns, split and toasted
Directions:
Combine celery, lemon juice, chives, mayonnaise, mustard, salt, pepper and shallot in a medium-sized bowl. Gently stir in the cubed chicken.

Divide lettuce leaves and tomato slices evenly among the buns. Top with chicken salad and press upper halves of brioche rolls on top. Serve and enjoy.
Peanut Butter and Jelly Cookies
Peanut butter and jelly sandwiches on a picnic? So last generation. Now cookie dough is the new white bread and peanut butter and jelly have never been in such good company. Made with five wholesome ingredients, these cookies are the dessert that will melt in your mouth before they melt in your picnic basket.
Ingredients:
1 egg

3/4 cup sugar 

1 cup creamy peanut butter 

1 teaspoon vanilla extract 

Nonstick cooking spray

4 teaspoons reduced sugar grape jelly
Directions:
Preheat oven to 350 degrees F.

Whisk egg and sugar together in a medium bowl until combined thoroughly. Stir in peanut butter and vanilla extract.

Using a one tablespoon portion, drop the batter on to a wax paper lined baking sheet.

Spray a small spatula with cooking spray and press portions down to a 1/3" thickness, making a small well in the middle.

Fill each with ¼ teaspoon of grape jelly and spread in a thin layer.

Bake until golden brown, about 15-18 minutes. Let cookies cool and eat.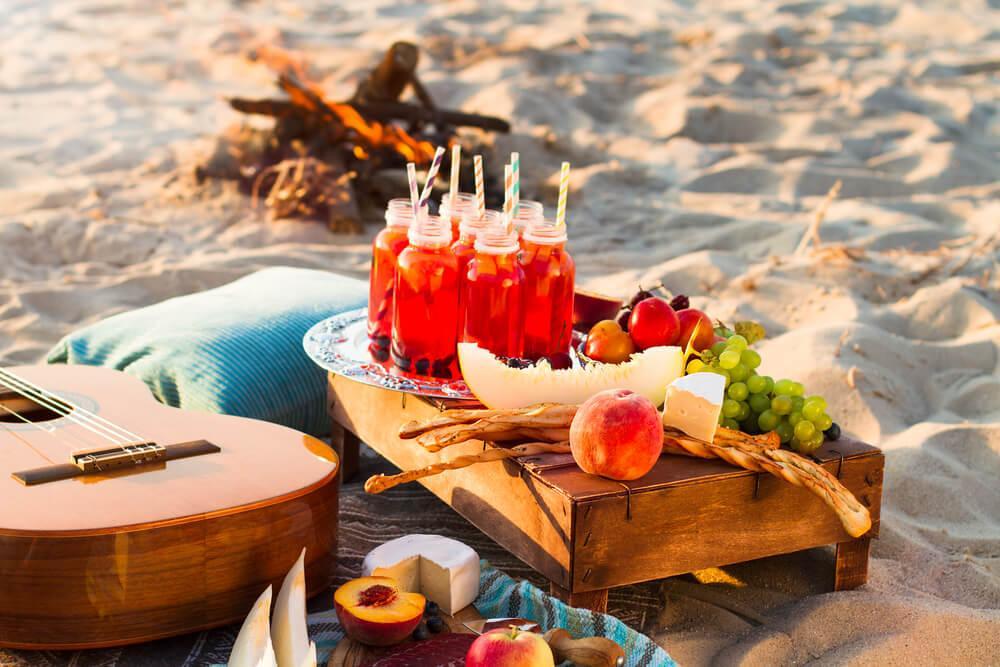 Fruit
If you're planning to get in your five servings a day, a beach picnic is a great way to start. Not only does fruit help to keep you hydrated, (they don't call them watermelons for no reason), they're also chockful of antioxidants so you can build up your defense against the sun's rays at just the time when they're at their worst. Of course, fruits always have that short prep time working for them (like zero to two minutes), and they're also so wonderfully delicious and healthy! Fresh fruits last longer than chopped, so we recommend keeping them whole if possible. And don't go bananas – after a few hours on the beach, they have a way of losing their ap'peel.