Gap years are on the rise, with more and more people seeking out the exciting and life-changing experiences that gap years can bring. 
Haven't started planning yours yet? 
Here are some of the best gap year destinations around the world. 
South Africa
For those who want to spend their gap year exploring some of the most magnificent natural beauty in the world, then South Africa is the country to travel around. 
To see some of the best that the country has to offer, consider taking a road trip along the 190 mile Garden Route, which showcases some of the finest scenery in South Africa. 
Things to do along the way include: 
Go whale and dolphin watching from the shore of Robberg Beach, or take a boat ride out from Pettenberg Bay
Visit the free range elephant sanctuary Knysna Elephant Park

 

Give the world's highest bungee jump a try, which is sat 650 feet above a river

 

Give surfing or diving a try at Buffalo or Victoria Bay

 

Go skydiving at Mossel Bay

 

Try the abseiling and paragliding available at the town Wilderness

 
Of course, you can't visit South Africa and not go on a safari to see the Big Five. 
There are some fantastic parks throughout the country, but the following are exceptional enough to make it worth planning your trip around: 
Addo Elephant Park: home to more than 600 elephants, plus some black rhino, Cape buffalo and more

 

Hluhluwe Umfolozi Game Park: the oldest in South Africa, this park features hides located above popular watering holes, giving you the opportunity to see the Big Five close up

 

The Kruger National Park: the most famous and popular safari park in South Africa, there is an amazing selection of animals and plants here

 

Lion Sands Game Reserve: home to the largest concentration of wild animals in the Southern Hemisphere, meaning that you are likely to encounter plenty of different species during your visit

 

Shamwari Game Reserve: this park is connected to the Garden Route mentioned above
For those of you who want to do some good while you're away, there are a number of volunteer opportunities dotted throughout South Africa, and you will no doubt be able to find something that matches your skill set. 
India
A vast and exotic country with so much history, culture and energy, there is nowhere else in the world that will offer you the experience that India will. 
Of course, being a country that's 3,287 million kilometers squared in size, you will unlikely be able to explore India in its entirety, even if you have a whole year. 
So, where about in India should you go? 
Here are some incredible options: 
Leh-Ladakh: home to alpine lakes, lush valleys and ancient Buddhist monasteries, Leh-Ladakh is wonderfully peaceful and spiritual. It also offers up plenty of adventures for those seeking an adrenaline rush in the wild, such as trekking on the frozen Zanskar River
Agra: this is where you will find the world famous Taj Mahal
Varanasi: the holiest city in India, Varanasi is thought to be over 5000 years old, and is filled with ancient temples, chaotic streets and one-of-a-kind shopping experiences

 

Sunderbans: considered to be one of India's hidden gems, Sunderbans is where you will find the largest mangrove forests in the world, complete with populations of Bengal tigers

 

Sikkim: not only are there charming villages set among the snow-topped mountains in Sikkim, but this area is home to many sporting opportunities, from white water rafting to mountain climbing
Worried about safety? 
India can sometimes get a bad rep, and you do need to exercise caution if you find yourself in an isolated area. Women also need to make sure that they adhere to local dress codes and customs too, as a sign of respect. 
So long as you practice safe travel, you will no doubt have a thrilling and unforgettable time in India. 
The United States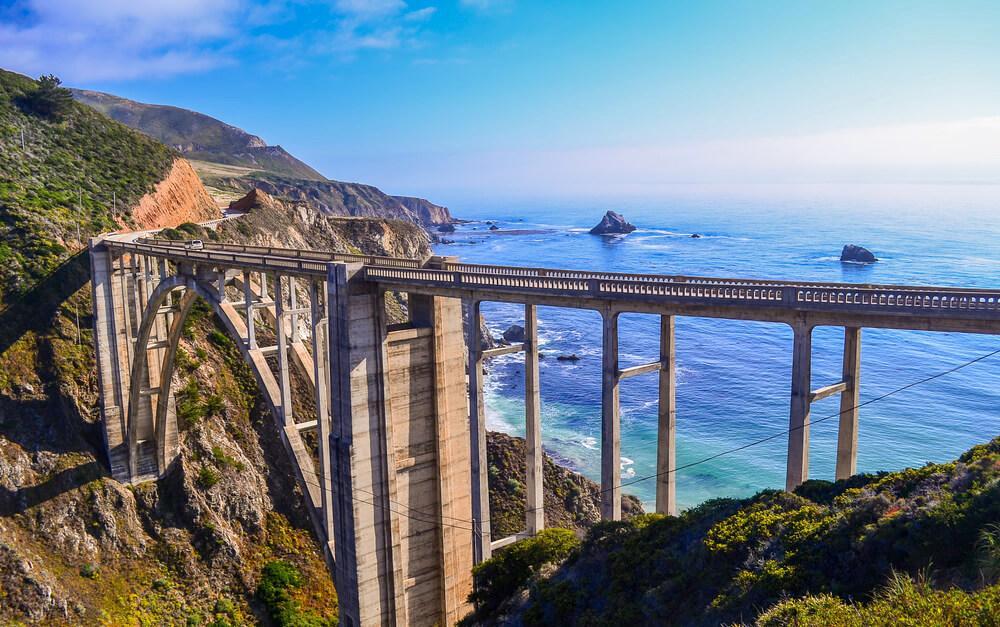 What could be more classic than a great American road trip during your gap year? 
This is the perfect way to explore the USA, taking in its many diverse regions. 
While you could easily plan your own route throughout the country, there are some popular road trip routes that you may also want to consider, such as: 
Route 66: travels from Michigan to LA, and requires at least two weeks
Great River Road: this route follows the Mississippi River, taking you through ten different states and showcasing everything from wildlife resorts to quaint towns

 

Pacific Coast Highway: the famous Pacific Coast Highway takes you from San Francisco to San Diego, offering plenty of beachy fun

 

The Loneliest Road: running from East to West, from Maryland to California, this route travels through 12 states, and includes an incredibly long and isolated section through Nevada, which is what gives this route its name
Since you have a whole year to spare, you could also spend a longer amount of time in each state, getting to know the unique culture there. 
Cambodia
A small country in South East Asia, Cambodia may not be as popular with gap year travellers as some of the other destinations on this list, but this hidden gem is definitely worth a visit. 
Why? 
Well, let's begin with Angkor Wat, a temple complex that is one of the largest religious monuments in the world. Built in the first half of the 12th century, this 162 hectare complex is not only a UNESCO World Heritage Site, but also one of the seven wonders of the world. 
Tempted to visit? 
Whichever time of the year you choose to do so, try to time your visit for sunrise or sunset, because watching the sun rise or fall behind the ancient city is truly a sight like no other. 
For those who want to give diving a try, this is another reason to spend some time in Cambodia… 
The country is home to some of the most beautiful dive spots in the world, such as: 
Koh Rong: features a diverse underwater ecosystem, home to scorpionfish, stingrays, curious cobia and more

 

Condor Reef: considered to be the best dive spot in the country, there is great visibility here, as well as sharks and underwater architecture
Koh Russel: next to the Ream National Park, meaning that the waters here are truly untouched and offer high visibility
Italy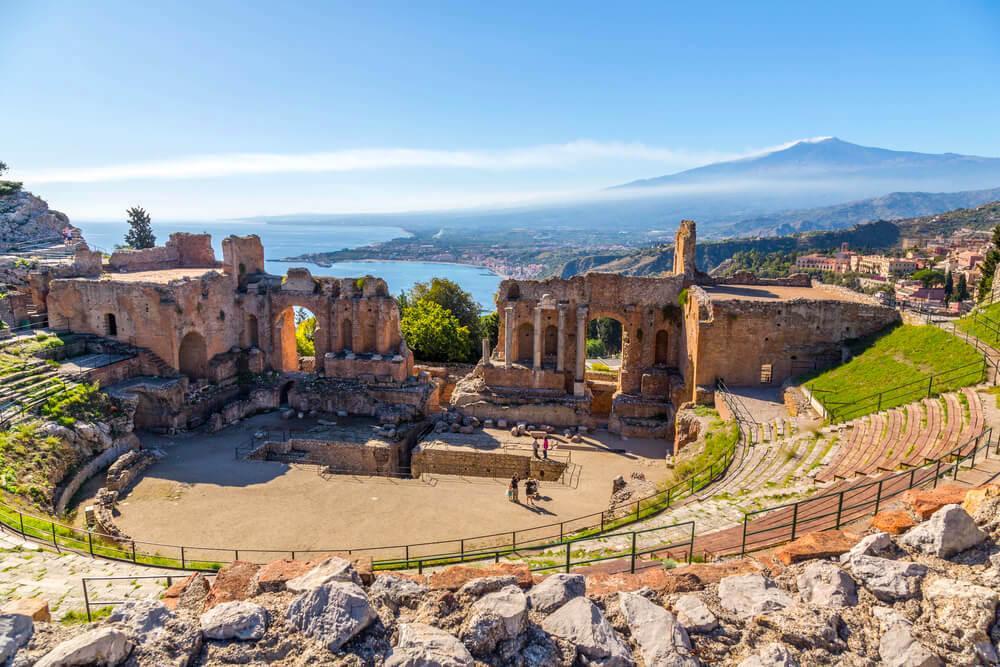 If the food alone isn't enough to convince you to visit, Italy is also home to some stunning natural landscapes, as well as plenty of history and culture. 
Since the country is a lot smaller than many of the others on this list, you will likely end up feeling so much more immersed in Italy after spending a year exploring this grand European nation. 
Where exactly in Italy should you go? 
Here are some options: 
Sicily: it takes about two weeks to thoroughly explore Sicily, which is home to baroque towns, ancient ruins and the famous Mount Etna

 

Venice: beautiful at any time of the year, and a city that can't be missed when in Italy

 

Matera: designated a UNESCO World Heritage Site, Materia is home to unique food and wine, as well as a few eccentric landmarks, from rock churches to deep caves

 

Capri: idyllic beaches encircle this island, which has long since been a getaway destination for the rich and famous

 

Siena: one of the most untouched towns in Europe, with architecture that dates all the way back to Medieval times

 

Tuscany: beautiful countryside, classic art and architecture, and some of the finest cuisine in all of Italy

 
If the food itself is enough to convince you to visit Italy…
Consider planning your gap year around the various food festivals that are held around the country throughout the year. 
Argentina
The largest Spanish-speaking country in the world, Argentina attracts thousands of visitors each year, and there is enough to see here to keep you occupied for your entire gap year. 
Wondering what there is to do in Argentina? 
This all depends on what you're interested in…
If you are sporty – the Tigre Delta boasts fishing, kayaking and boating, and a horse ride through the Glaciers National Park is unforgettable. Glacier El Martial is also not to be missed, and the skiing, snowboarding and sledding here is definitely worth a try. 
If you are a foodie – travel around the country tasting its fine wine and visiting its many vineyards, from the Cabernet Sauvignon of the north to the Mendoza Malbec in the central part of Argentina. The local Argentinian steaks also need to be tried, with the cows being raised traditionally, and fed on grass rather than grains, giving the meat a much tastier flavor and texture. 
If you love nature and animals – again, Glaciers National Park is not to be missed, while the Beagle Channel is where you will be able to catch a glimpse of penguins, seals, orcas and native birds. There are also many horse riding opportunities throughout the country, with Argentine cowboys being a strong part of the local culture.
Australia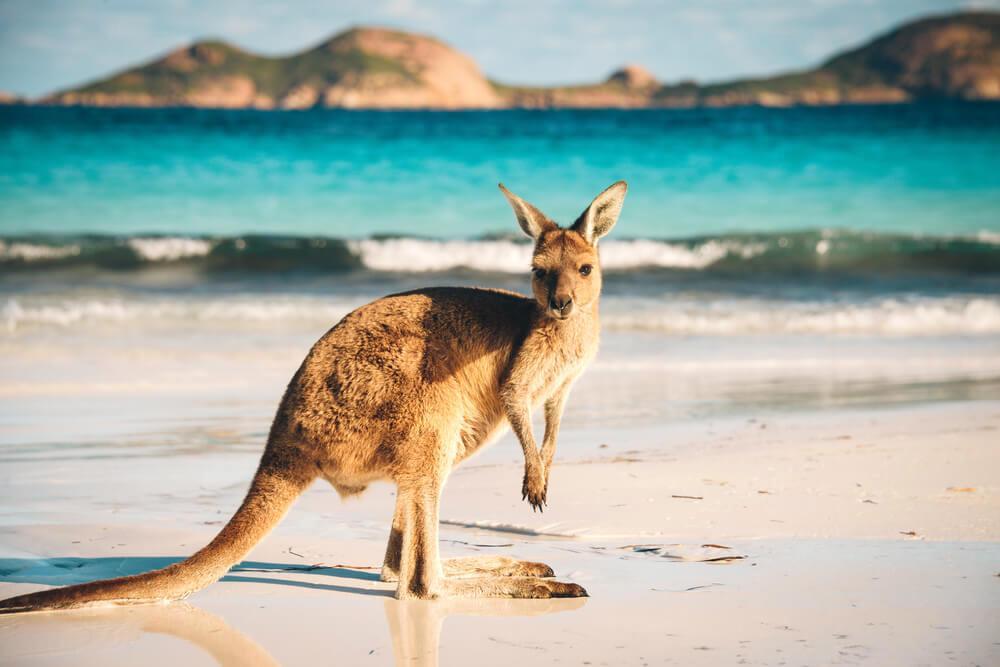 Australia is one of the most popular gap year destinations in the world, and for good reason too…
There is so much to see on this vast continent, making it easy to spend even more than a year here. 
If you only want to spend a couple of weeks in Australia, it is still possible to see the entire country on Highway 1. This 15,823 kilometer drive can be done in 14 days, although you will end up missing out on so many highlights. 
For those who are wisely choosing to dedicate more time to exploring Australia, here are some of the top spots to visit: 
Sydney: the largest city in the country, Sydney is famous for its Harbour Bridge, Opera House, the Sydney Tower, its beaches, and, of course, its fine dining scene

 

Mornington Peninsula: located just south-east of Melbourne, this peninsula is home to vineyards, beaches, beautiful landscapes and indulgent spas

 

The Sunshine Coast: arguably the most spectacular strip of coastline in Australia, with wide white sandy beaches and the magnificent Noosa National Park

 

Uluru: probably the most recognizable landmark in the country, the rock of Uluru is sacred to the Aboriginal people, and has also been declared a UNESCO World Heritage Site

 

Launceston: home to the longest single span chairlift in the world, as well as the Bay of Fires, where you will encounter some awe-inspiring scenery
Japan
An island nation famous for its quirky culture, delicious food and natural beauty, Japan will definitely make for a unique gap year experience. 
One thing that puts many off of visiting Japan in their gap year is the language barrier. 
Fortunately, the higher ups around the country are realizing this, and have started developing a range of tourism signs that make it much easier for English-speakers to communicate with locals. These signs are already up in destinations around the country, and it will not be long before they are nationwide.
Still not convinced that you'll be able to handle a year in Japan? 
Don't worry, it's not going to all be chaotic cities…
Start your year off by taking a trip into the Japanese countryside, from the colorful hills of Nikko to the bamboo forests of Honshu. Hokkaido is another quiet place to go, being the largest and least-populated region in the country. Not only are there incredible national parks here, but also a ski resort and traditional onsens. 
While you will no doubt want to spend some time in the bustling cities of Japan, peace and solitude is never too far away. 
No matter what your budget may be, there are so many options open to you when you have an entire year to dedicate to travelling. Take the time to really plan your trip well, so that the experience you gain from it can help to shape your future.