Achieving the perfect balance between stylish and professional can be tough, which is why so many women simply don't know what to wear to the office.
If you have been having a hard time putting together a work-appropriate wardrobe that you love, here are 10 fashion tips to help you out. 
Get Picky with Your Colors
The color of the clothing you wear may not seem like a very big deal to you, but this can actually have an impact on how others in your office perceive you. 
Here are a few guidelines: 
Red: a powerful color that exudes confidence and leadership abilities

 

Blue: makes you appear warm, with blue being synonymous with trust and peace, as well as intellect

 

Black: implies sophistication and authority, but should always be paired with a pop of color somewhere in your outfit

 

Brown: a sign of reliability and stability

 

Green: produces the least amount of strain on the eyes, making it a restful but fresh color. Green is also associated with money
What about all of the other colors out there? 
Colors such as white, orange and purple are great to incorporate into your outfit as accent colors. However, stay away from yellow and gray, as these often bring about weak and passive connotations. 
Blazers Go With Everything
If you don't want to spend too much more money on your work wardrobe, the one item of clothing worth investing in is a high-quality blazer.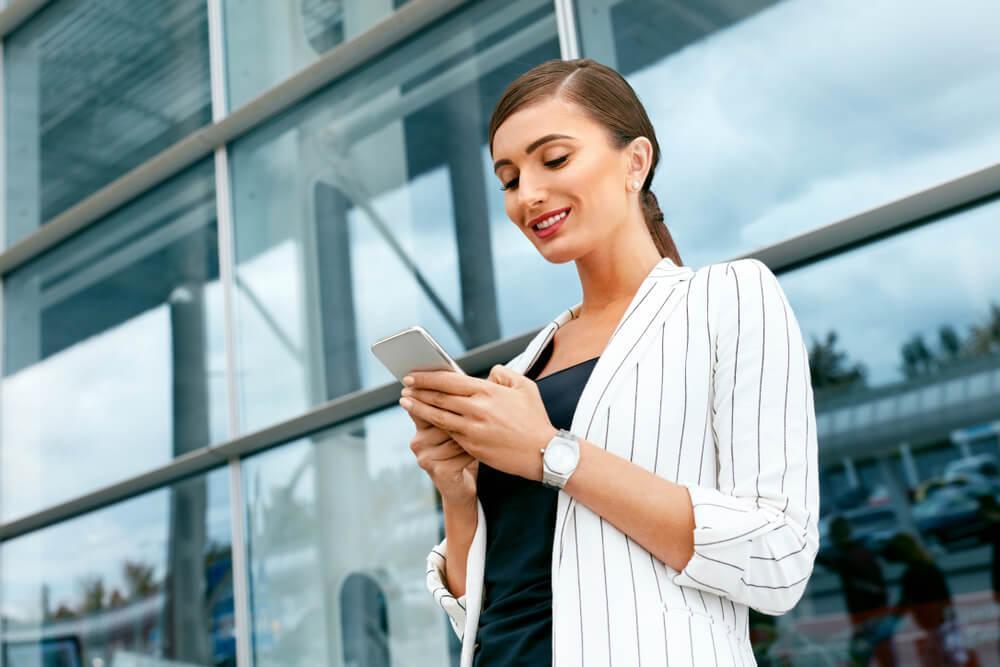 You, as well as everyone in your office, will immediately be able to tell the difference between a quality blazer versus a cheaper one, not only because of the way in which the blazer fits and looks, but also for the way in which it feels. 
Once you have a go-to blazer, you can either dress this up with formal office wear underneath, or use it to add a touch of sophistication to a casual outfit if your office dress code is more relaxed. 
When choosing a blazer, make sure that its fit and style work with your body shape: 
Pear-Shaped – go for a longer blazer or a cropped blazer, avoiding styles that fall at the hips

 

Apple-Shaped – thinner fabrics will minimize any bulk, while a blazer that cinches in at the waist slightly will help to define your waistline

 

Athletic – blazers that cinch in at the waist will give your body shape some added curves

 

Inverted Triangle-Shaped – slouchier blazers are best, and make sure you stay away from any styles that contain shoulder padding
No matter where you purchase your blazer from, you are likely to need some alterations carried out in order to ensure the perfect fit. Find a reputable tailor near you to do this. 
Tailored Dresses Are Always In
Tailored dresses are becoming more and more popular, because not only can they be worn to the office, but they are easy to dress up for evening wear too.
When choosing a dress, there are a couple of things to keep in mind:
Neckline – make sure that the neckline does not lie more than four inches below your collarbone
Hemline – sit down when trying on a dress, so you can see where the hemline rides up to and determine whether or not its length is too short
The color of your dress is also important, so try to stick to the color guidelines mentioned earlier when picking a shade.
Pay Attention to Your Watch
Research shows that for many, the watch is often the first area that the eye is drawn to when meeting someone for the first time. 
Wearing an old and scruffy watch will only be detrimental to your overall look, so make sure that your watch is one that is a reflection of your personality.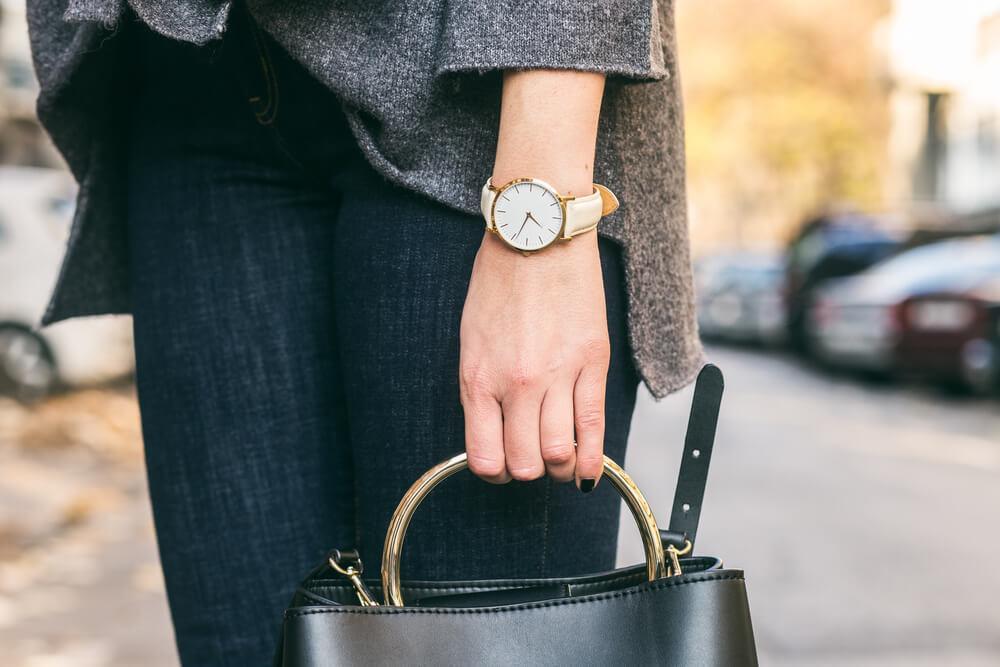 From Gucci to Chanel to Coach to Furla, there are so many designers out there that have produced some spectacular watches, so spend some time exploring all of your many options. 
Can't find a new and improved watch that you like? 
You may be best off removing your watch completely then, rather than wearing an unprofessional one to the office. 
Keep Your Bag Organized
This may not seem like a fashion tip, but your bag is an extension of your whole outfit. You may think that what's within your bag matters to nobody else but you, but this isn't strictly true…
It can be easy to have personal items visible within a bag, especially if your bag doesn't feature a zip to keep it closed. Any mess or disorganization within your bag will only reflect poorly on yourself, making it important to keep your bag organized. 
If the style of your bag makes it difficult to do this, it may be worth purchasing a bag organizer. These are designed to be placed within your handbag and feature multiple pockets and sections, making it easy for you to keep all of your belongings in the right place. 
Need a new bag for work? 
Here are a few of this year's popular options: 
Urban Outfitters Reversible Tote Bag

 

The Day Market Tote by Everlane

 

Cuyana Classic Leather Tote

 

Dagne Dover Legend Tote
Don't have much to carry?
Then a clutch may be a much better option for you.
Wear Only One Statement Jewelry
You never want to over-accessorize at work, because this is not only distracting, but also quite unprofessional. 
Rather than wearing multiple items of jewelry, you would be best off sticking to just one statement piece, allowing this to really speak for itself.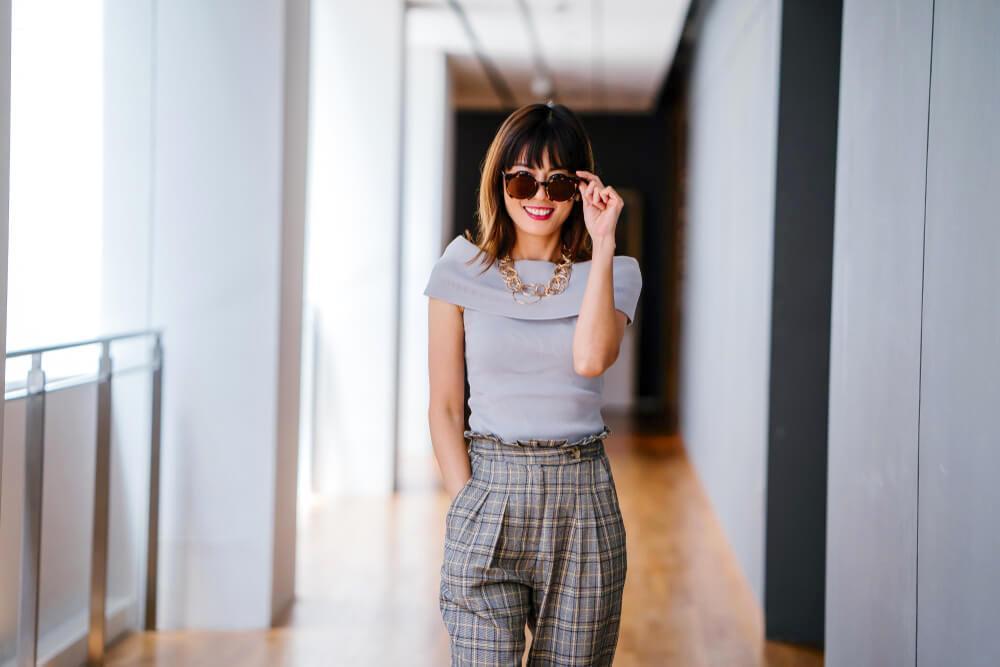 Not sure what to go for when it comes to picking a statement accessory?
You have a few options:
Earrings – go for something bold yet stylish
Rings – a uniquely designed ring, or even a few different delicate rings, can make such a statement

 

Necklace – a statement necklace is harder to pull off for the office, but can still work if you choose something that both contrasts with and complements your outfit at the same time

 

Bracelets – try stacking some bracelets or bangles together for a standout look

 

Glasses – vintage eyewear is especially popular at the moment

 

Hair accessories – not only can these transform an outfit, but they can also be really helpful if you happen to be having a bad hair day

 
Your bag can also make quite a statement, doing away with the need for many other accessories. 
How do you know if a handbag is a statement bag? 
Its color and size, and maybe even texture, are key. Make sure that at least one of those aspects really stands out when it comes to the bag you choose. 
No matter what you choose as your statement accessory, there is one thing to keep in mind…
You need to make sure that your accessories aren't noisy. This means that they shouldn't make a sound when you move, or if they happen to come into contact with your desk or any other objects around the office. This will only be incredibly distracting, making you appear unprofessional. 
Belt It Up
The right belt can really transform a drab outfit into one that is chic and stylish, making belts an accessory worth investing in when it comes to your work wardrobe.
Of course, there are some dos and don'ts when it comes to belting up…
Dresses are great for belting but make sure that you don't end up with too much extra fabric gathered around your waist, as this will only make your outfit look messy and sloppy. High-waisted skirts also look fab with a belt, so long as they are placed right so that the belt doesn't end up sliding about. 
When shouldn't you wear a belt?
If you are wearing pants that don't have belt loops, as your belt will only end up moving around, not only looking messy but also requiring you to keep constantly adjusting it through the day. 
How do you go about choosing a belt? 
Here are some tips: 
Width – if you have a longer torso, go for a thicker belt to balance out your proportions. If you have a shorter torso, a thinner belt will be more flattering
Style – choose a belt that matches your personal style
Length – your belt should buckle in the middle hole, as anything shorter than this can look stubby, while anything longer than this will cause the end of your belt to stick out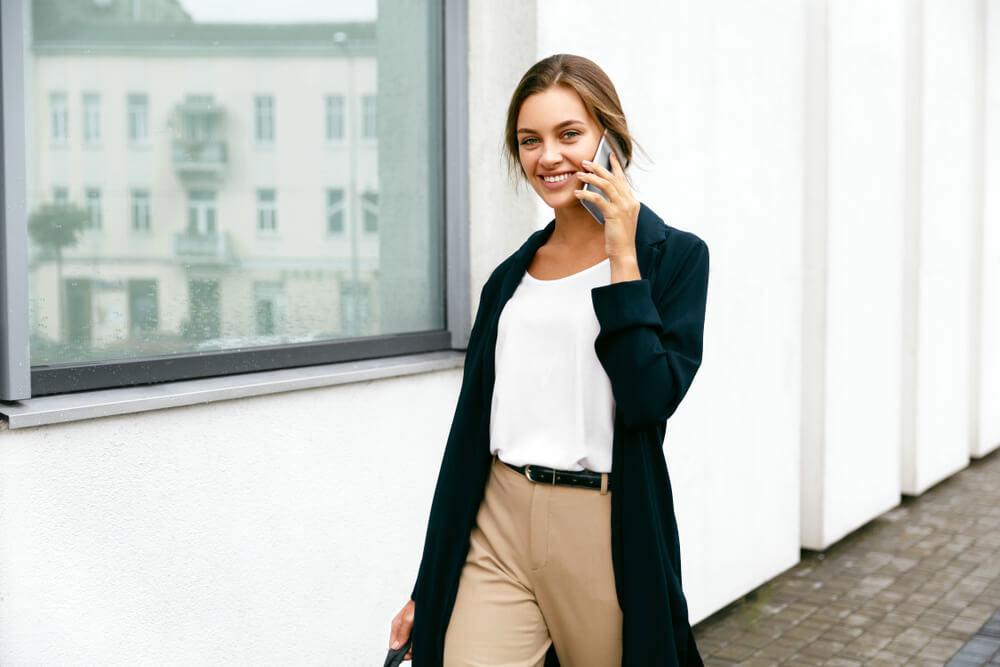 Does your belt need to match your shoes?
Not necessarily. While this can exude quite a polished and professional look, it can also appear a little boring and conservative, whereas a mismatched belt and shoes will add more character to your outfit. Of course, you don't want the two to clash, so make sure that you experiment with different colors and styles first. 
Heels Should Be Low and Comfortable
Love wearing high heels?
Since you will have to wear these the entire day, they are best avoided for the office. Chances are, your feet will end up hurting at some point, which will no doubt distract you from your work. 
If you would still like a little height, low heels are the way to go. These will still look professional, but shouldn't cause your feet any pain. 
What color should you go for? 
Neutral colors are best. This means that your heels will likely work with any office outfit you put together, making them so much more versatile than if you had opted for a brighter shade. 
One more thing to keep in mind when choosing heels for work…
Make sure that you practice walking in them on a similar surface to what you have in the office. Your heels need to be quiet – any noisy heels that clap on the floor with each step you take will only end up annoying everybody that you share a workspace with.
Furniture designers can agree with that, the angle makes it tough!
Keep A Warm Scarf Near
Do you find that your office often seems to go over-the-top when it comes to air conditioning? 
Research shows that many office buildings set their temperatures quite cool in order to match the higher metabolic rate of men.
But this then leaves the women suffering…
While many workplaces are now cutting back on the excess air conditioning, not only for comfort but also to use less energy, if you are in a colder-than-average office then you will definitely need a way to stay warm through the day. 
Scarves are great for this, as they can provide a bit of warmth without compromising on fashion.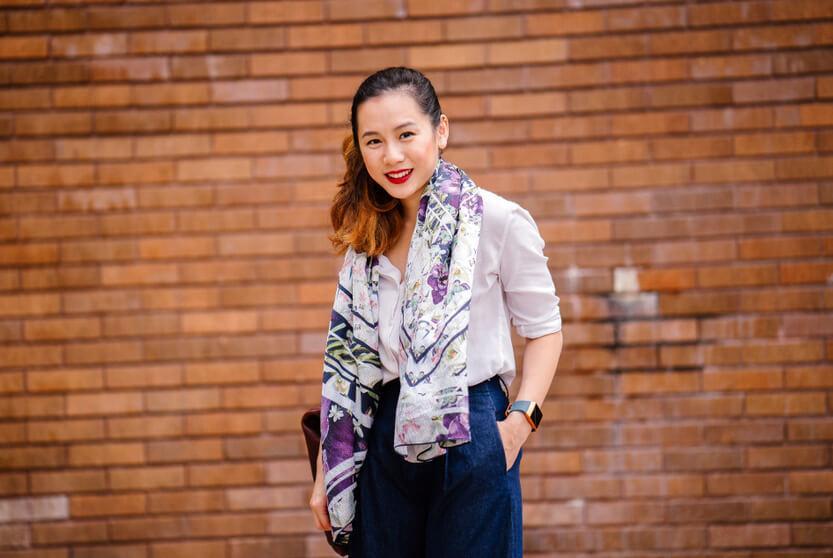 Alternatively, jumpers and cardigans are also good for keeping warm, and these can be stored at your desk, providing easy access. 
Of course, this does mean that the item you choose will need to work with all of your office outfits, so go for a neutral color, as well as a warm fabric. It can help to keep two different styles available, as this will give you more choice when it comes to picking one that complements what you are wearing. 
Keep It Opaque
Undergarments are designed to support the body, and should not be at all visible through your outfit.
If your bra is peeking through your shirt, then this means that the shirt is not one you should be wearing to the office. It may be fine for a glimpse of a bra to be seen in a casual outfit, but this is something that would be extremely unprofessional while at work.
When it comes to the dreaded panty line, this is a sign that your clothing is too tight, and you may need to move up a size.
It can be tough to know what to wear to the office, as looking chic, stylish and professional can be a tricky look to pull off. These tips will help you to overhaul your wardrobe for work, enabling you to put together pieces that make you look smart and fashionable at the same time.