Now that I'm in my 30s, it's time for me to take my skin care routine much more seriously. Let me repeat that. I really need to take my skin care routine much more seriously. I've done my research and as we age, especially as we leave our more youthful days behind, our skin's collagen levels begin to decline. The rate at which is declines is based on several different factors but how well we care for our skin care is certainly one of those factors. Up until recently, I barely made time to wash my face. Now with the Hydrotherm products from Lavelier, that's all changed.
Lavelier is a new skin care brand that "harnesses the power of the sea" using coral seaweed as its premier ingredient. They also use other exciting natural and synthetic ingredients proven to improve your skin's overall look and feel. When one of their reps contacted me about trying one of their product collections, I couldn't pass up the opportunity. Their packaging along is so luxurious.
The Hydrotherm Collection is considered the brand's "thermal collection". It comes with 3 skin care products. I tested each product for the last 3 weeks and now I am going to share my results with you, my lovely readers.
The first product I tried is the Hydrotherm Intense Masque. This first product quickly became my favorite. It wasn't like your usual clay mask. It has a more liquid-oil like texture and didn't dry even after leaving on for over 15 minutes. What makes this product so unique is its self-heating effect. All you do is put the mask on and you can instantly feel the product getting warmer on your skin. The rep from Lavelier told me you can increase that heating effect by applying the serum on top.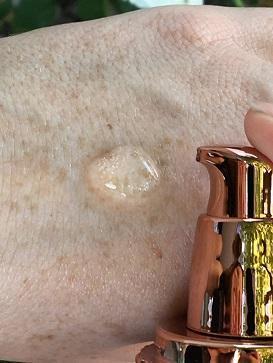 That brings me to the next product I tried from this collection. The Hydrotherm Sauna Serum can be used by itself or on top of the Hydrotherm Intense Masque. I used it on top of the mask. I was amazed at how much it increased the heating effect! I really like the sensation because I feel like I tell that the product is working. I can also tell these products are working by the results, but I'll get to that in a bit.
The last product I tried is the Hydrotherm Completion Crème. Wow – I absolutely loved the velvety texture of this rich face cream. Especially after using the mask and serum. I also used this cream every night after my cleansing routine. I set an alarm on my phone about a half hour before I usually go to bed so I can make sure I'm fresh faced before I hit the sheets.
After using the products for 3 weeks, I am pleasantly surprised with the results. My skin feels amazing. Even my husband has noticed the difference. I recently started noticing some lines on my forehead and they are less noticeable already. I plan to continue to use these products to see if the results improve even more so. I am confident there will be more to share in the future.
I'd love to know – Have you ever tried skin care products from Lavelier? What are your thoughts on self-heating masks? Write to me on social media or leave me a note in the comments.