At first, the idea of a summer accessory may not seem practical. After all, its 100 degrees out, hardly the time to throw on a scarf, and besides with bikinis the size of blindfolds, it sometimes seems like what we're wearing already might be considered closer to accessories than real clothes.
However, on second thought, summer seems to be the perfect time to accessorize. The more flesh we show, the more there is of it to decorate. Don't ponytails just scream for a pair of hoop earrings? Don't bare wrists just beg for a henna tattoo?
Not only are they fashionable, but accessories in the summer can be our best friends. Who could survive the beach without the protection of a sunhat or the too cool look of dark shades, and where could we store our sunblock if not in the depths of a quality beach bag?
So, while the subject of whether or not your objets d'accessory are objets d'necessity may still be in hot debate, here are some of the hottest summer accessories to help you decide.
The Sun Hat
Hats may be the most flattering and statement-making accessory a woman can own. There is no amount of sins a strategically placed hat can't hide and no number of different looks that the right hat can't complete.
The summer presents the perfect excuse to wear one, in fact wearing a hat in the summer is not only flattering, it's downright practical. Brimmed hats present an ideal solution to keeping the harmful rays of the sun off your face, and the choices are about endless.
The best kind of sunhat is one with a wide brim. The wider the brim the better: but if you don't want to get too dramatic, three inches is a good general guideline. Try to find something with a non-uniform brim. The sun comes from all angles, a uniform brim does a better job at deflecting its rays from your face.
Although natural materials may seem perfect for summer, they do not necessarily make the best materials for a hat. While materials like hemp and cotton do offer protection, it is the synthetic materials that you're more likely to find in UV protection hat design. As how much the hat will protect you, nowadays, you can find the UV rating of your hat right on the rag along with the description. How's that for progress?
But remember style matters too. While the derby hat may fit most people's definition of a sunhat, you are in no means limited to it. In fact, even a baseball hat will offer a good deal of protection, and it even has a little back window to stick your ponytail through. Have fun with your hats this year, they're just brimming with possibilities.
The Bag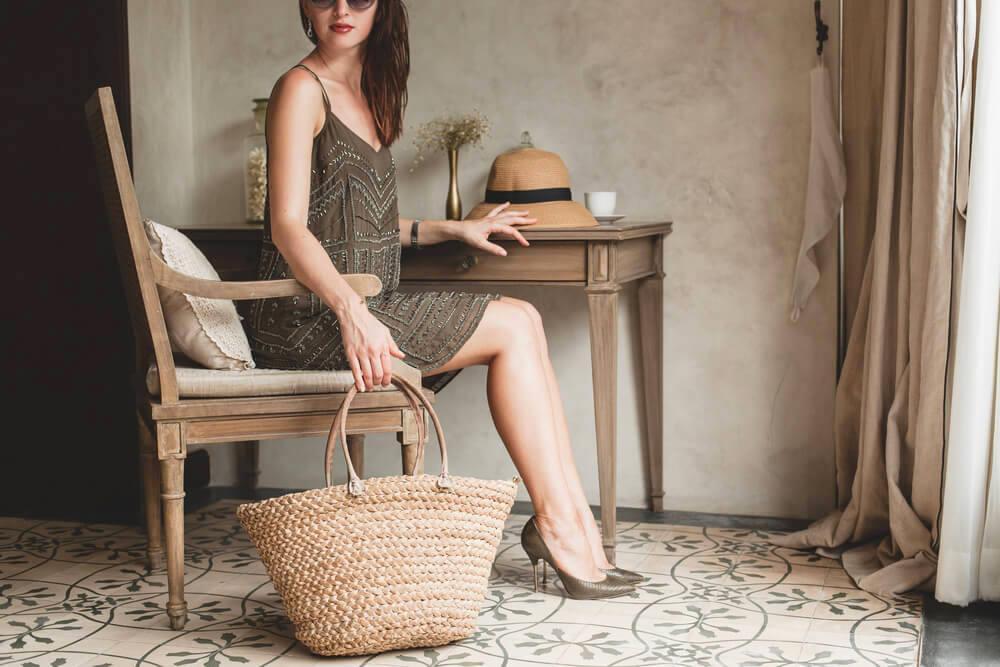 Women's clothes are not exactly known for their storage space, especially not their summer clothes. What women's clothes lose in pockets, they gain in bags, which is why bags are a must-have for the summertime, and if you're not feeling the straw bag this year, there are plenty of fashionable alternatives.
The Quirky Straw
They may be straw, but beware, these are in no way your mama's straw bags. Just think of the sales girl's face when she sees you setting the Anna and Nina Sardinian alligator shaped straw bag down on the counter, and people will have to struggle to avoid staring when you've got the Cult Gaia Babe Straw Bag on your arm. This one kind of gives a new meaning to "pigging out."
Mesh Bags
Mesh bags just scream "Summer of Love." The royal blue Nannacay Fishnet Macrame Tote has taken the mesh bag up about ten notches with its leather weaving and beaded rainbow handles and the Loeffler Randall Adrienne Net Tote set even comes with a camel brown leather pouchette, so you don't have to worry about a place to store your valuables.
Beaded Totes
If the mesh bag is a little too boho for you, you can keep it mod with the beaded tote. These are so vintage, you can just picture Twiggy strutting down the runway with one on her arm. Move over straw bags, these totes are the new summertime inspo.
One of the wonderful things about the beaded totes is the attention to detail. The Top Shop Aruba Tote Collection by Susan Alexandra is a study in eye candy. Move over straw, here comes natural wood beads and pearl embellishments. And with price tags of around $50, there's one that can hold every weight of wallet.
The Sunglasses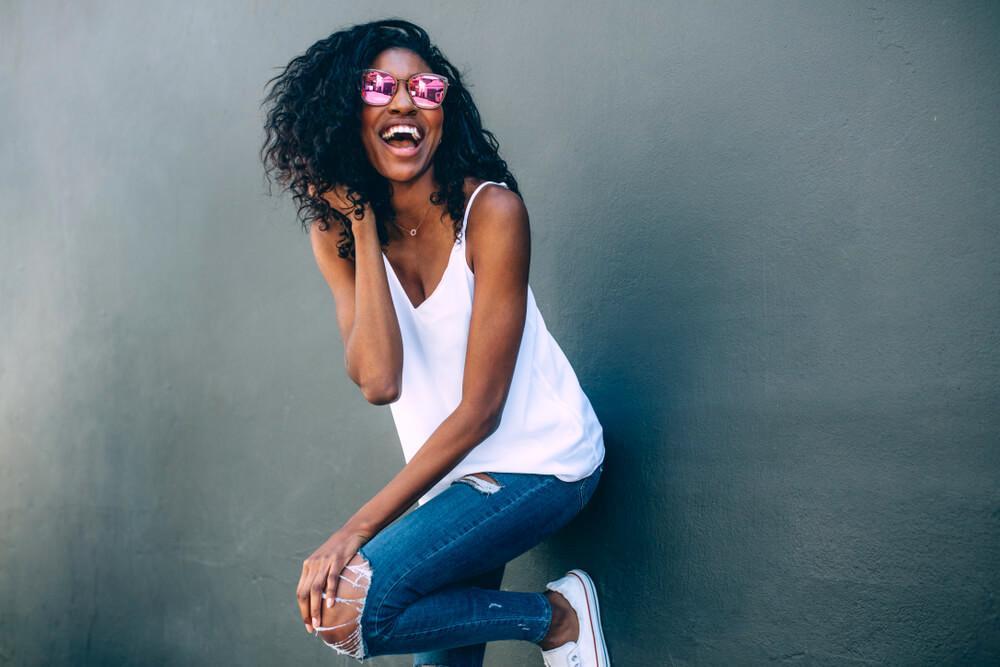 For many of us, the sunglass rack is a place where we can play dress up without having to go into the dressing room. Shoppers browse through seemingly endless selections of cat-eyes, ray bans, round shades, and aviators until they find their new summer faces: the one that looks best is generally the one that ends up going home with them. However, when buying sunglasses, there are a few considerations that need to be considered that go beyond style.
The first thing you should look at when buying your new sunnies is the amount of UV protection they provide. Anything less than 100% simply will not do. No matter how good these look on you, when it comes to taking or leaving, your best option is leaving.
These days, we need to focus on what's ahead, we can't be disturbed by distractions from the sidelines. Wraparound or oversize glasses can prevent UV rays from leaking in from the sides, so you can be peripherally protected and centrally focused. Look for big frames to keep UV rays to a minimum.
And while size might matter, color doesn't. Sunglasses lenses come in a variety of colors, that make no difference in the amount of sun protection. However, they may increase the contrast, which can be useful for golfers or baseball player.
Lastly, if you're going to look at numbers when you're buying your glasses, look at the percentage of UV protection. Price tags should make no difference. Less expensive pairs marked with 100% protection should be just as effective as more expensive pairs when it comes to reducing sun glare.
The Sandals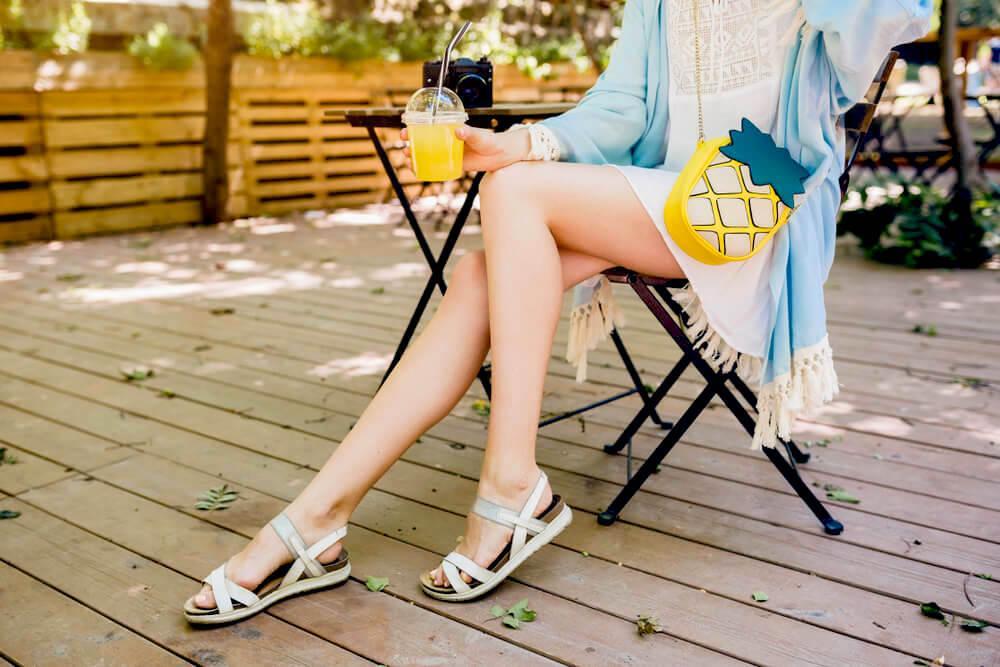 What do you do when the best shoes that go with your outfit are no shoes at all? How many times have you looked in the mirror and found that your shoes are just too heavy for your outfit? Wouldn't it be wonderful to ditch them completely?
While the complete abandonment of footwear may be out of the question for many of us, sandals may be the closest solution we have as of yet, and they also may be the most fun part of a girl's summertime wardrobe.
When buying sandals this year, there are styles to suit everything from the athleisure wear to the leisure suit. The Mango Heel Leather mules will be the perfect match for everything from your Daisy Dukes to your summer work look. No ties, no buckles, no problem!
If you find yourself with boot fever this summer, Christian Dior has the remedy. The appropriately named Dior Naughtily-D Lace Up Boots in Silver Mesh will bring a little disco cool to your hot pants on even the most sultry of evenings.
But, when you really want to light someone's fire, there is no way to do it quite like the hot pink Prada Flame Sandals. Fifty percent stripper, fifty percent upscale fashion, one hundred percent hot. Get them before they burst into flames.
The Jewelry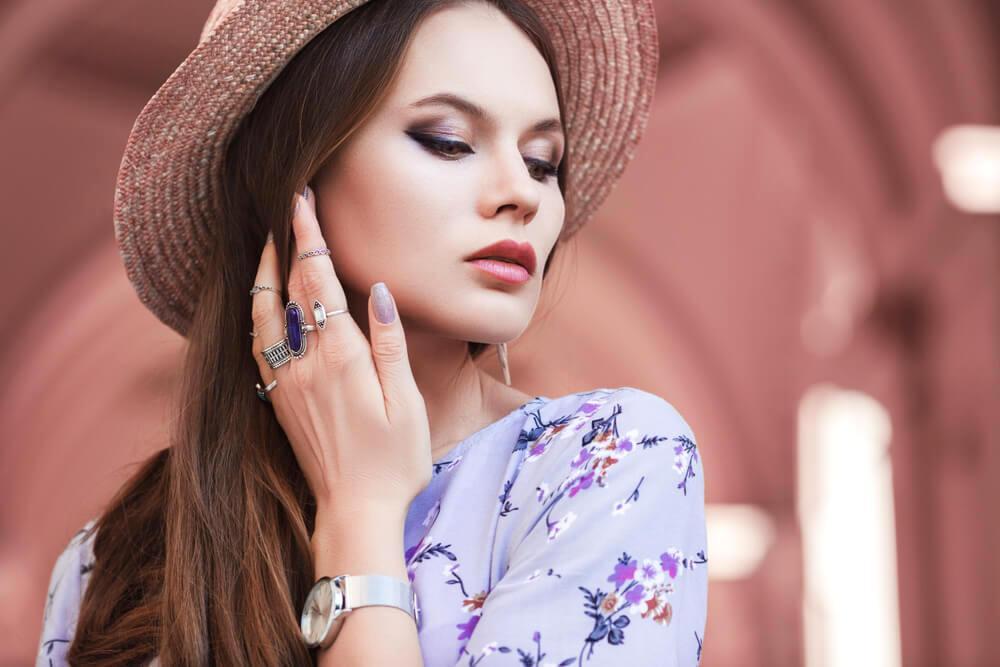 Body Chains
There is nothing to capture the sun like a glimpse of gold, and what would make the hard work you put into your abs more noticeable than a body chain? Just picture yourself emerging from the ocean Bo Derek style with a body chain glinting on your wet skin. Gotta have it. Right?
But if the body chain on bare skin thing is a little outside of your comfort zone, no problem! They also look great over a white tee or LBD, so even if you're feeling a little shy, you'll want to make sure to chain the body chain somewhere to your body this summer.
Earrings
As for earrings this year, think beach. They say that if you put your ear to a seashell, you can hear the ocean, so why not put some seashells in your ears? With Vogue Paris showing off diamond encrusted shells for the ears this summer, you'll want to collect these shells before you even hit the beach.
Everyone loves fruit in the summer, and with these quirky earrings, you'll literally have fruit coming out of your ears. Dolce Gabanas bringing the beta carotene with their carrot earrings, Jaquamus is handing us lemons, and Prada is going bananas, so hang a bunch on your earlobes and let the monkeying around begin!
Rings
Every summer needs a signature ring. A showpiece for your two-piece, the notion for your ocean. For those about to buy a rock, look no further than the turquoise blue ring by Marie-Helene de Taillac. Talk about treasure on the beach. This transparent 30.41 carat aquamarine is a cluster of inclusions and gold specks that may just turn into your new summer obsession.
And if you want to stir up your own Sharknado, put this novelty piece on your finger. This ring is fierce in more ways than one. Try silver-plated animal totem ring with cubic zircon on for size and get ready to show some teeth.
Lighter Necklace
No, not lighter as in weight, lighter as in lighter. Put your butane on a chain this summer with the lighter necklace designed by Ambush, just remember to take it off before you go in the water.
Hair Jewelry
Surf's up and so is your hair. The summer time is a great time to use your chignon to make a statement and the gold- plated Miso Sunburst bun holder is the perfect way to upgrade your updo.
Necklaces
What better way to draw attention to a bare neckline than a necklace, and what better way to draw attention to a necklace than a bare neckline.
The millennium is all about body positivity, and with the body shaped necklaces by Chloe you can literally own your body. The gold-plated femininities necklace celebrates the female curves while you show off your own very real ones in your summer attire. Anybody interested?
The Bra
When it comes to summer accessories, sometimes the most important one is the one you don't see. With strappy summer dresses, haughty halters, and tubes, the potential for wardrobe malfunctions runs high, and a girl and her girls, need to be prepared.
Strapless
With all the shoulder-baring you'll be doing this summer, a strapless bra is necessary, but how can you find one that's going to stand up to the summer heat? When choosing your strapless, look for something that has the gore tacking flat against your chest right between your breasts. If stays in place, so will you.
Convertible
Cars aren't the only convertibles you'll be riding around in this summer. The convertible bra is a must have for the summer. In tank top season, the convertible bra is the only way to keep your straps under wraps. The best come with J hooks to let you convert a really supportive bra into a raceback style to let you take on the curves without a seatbelt.
The Bralette
Wear it on its own, or over another bra for that hint of innocence look. It's the perfect way to channel your inner Madonna or simply enhance your outer body experience.
What accessories are you mad about this summer? Which ones are worth the extra baggage fee when your packing your luggage, and which ones will have to skip the trip? Let us know! We love to hear from you!