When we say something is our "cup of tea" we use it to mean that it's something we like, something we enjoy. But some have been wondering lately,  "Why tea?" Given, tea is a comforting and relaxing drink,(and full of antioxidants, BTW), but can't we do better than tea? Apparently, there are enough people out there who think we can.
The latest trend is food in cups, which means there are a whole host of new things we can use in place of tea in the old expression. How about, "It's my cup of cake," "cup of yogurt," or even "cup of quiche?" The new idioms may take a little getting used to, but it probably won't take much getting used to when we start eating the dishes – or cups rather.
Here are some of the lowdown on the food in cups and an investigation of whether or not we should start packing the teabags.
Why People Like Food In Cups
So why this sudden trend toward eating everything in a cup? Is it psychological? Do we positively associate spoon feeding with being fed by our mothers as babies?  Or is it practical? After all, cups are all about portion control. Most diets advise eating a certain number of cups of a certain food each day. Or is it just that we're too lazy to actually cook anymore? Why not just throw everything in a mug and heat it up? It all ends up in our stomach the same way.
Or is it just that how cute all that mini food looks in those little cups? Either way, people are digging it (pun intended.)
The only problem with eating food in a cup is that most food doesn't fit in a cup. That's why you have to make them in the cup. So don't bother trying to do it the other around. If food in a cup is your cup of tea, here are a few less sloppy ways of making it.
Yogurt Parfaits
Yogurt parfaits probably win the award for the most impressive looking food that you can make in five minutes, which is why you want to use a clear cup for these.
That way you can see all the pretty layers of yogurt topped with fruit, like blueberries, strawberries, raspberries (berries, especially blueberries have powerful antioxidants), and even mango and kiwi and banana.
Cap with grains like granola, toasted wheat germ, toasted coconut, sliced almonds – the possibilities are endless.
Vegan Banana French Toast
Ah, French toast. Those huge golden hunks of egg bread topped with butter and melted syrup, and heaping with fresh fruit and sprinkled with sugar. Now think of that cubed – bread cubed that is.
Not only is the vegan banana French toast in a cup is made with cubes of French toast rather than whole slices, but it's also made with bananas and coconut milk instead of eggs. Curious? Here's how you can get a handle on your French toast.
Ingredients:
½ teaspoon vegan buttery spread

1 thick slice of bread, cubed

½ ripe banana, mashed

¼ cup coconut milk beverage

½ tablespoon ground flaxseed

½ teaspoon vanilla

½ teaspoon cinnamon
Directions:
Grease a microwave safe mug using buttery spread

Add enough bread cubes to the mug to fill it to the top

Whisk together coconut milk beverage, banana, flaxseed, vanilla and cinnamon in a medium-sized bowl. Let sit in refrigerator 10-15 minutes to set.

Pour liquid into mug over bread cubes, making sure that it reaches the bottom.

Microwave on high for two minutes.

Top with powdered sugar, sliced bananas, maple syrup (optional).
Pies: Savory and Sweet
We've all heard of cupcakes, why not cup pies? Or mug pies while we're at it? If you like your pies individual, you can make them in a cup, or in a mug if you want to serve it warm. Shepherd's pie, apple pie, even chicken pot pie-there is no pie that can't be made in a cup. Best of all, they're easy as pie to make.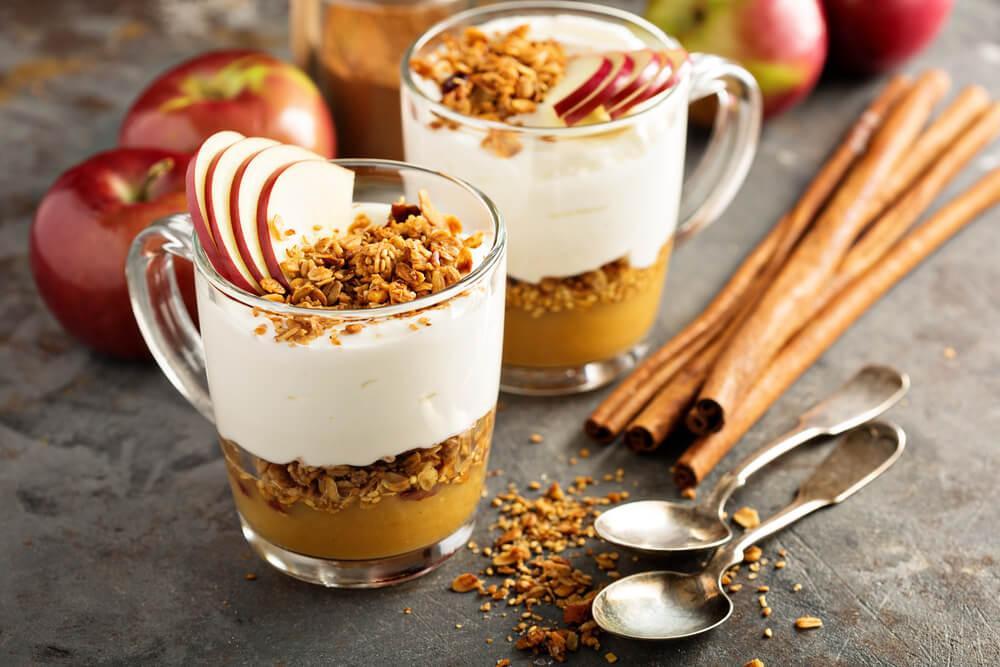 Here's a recipe for Apple Mug Cake that you can make in a microwave:
Ingredients:
¾ cup all-purpose flour

¼ cup sugar

½ teaspoon baking powder

½ teaspoon cinnamon

½ cup milk at room temperature

4 tbsp butter melted and cooled, in that order, preferably

1 teaspoon pure vanilla extract

½ cup apple pie filling

Wow! Sounds like they didn't leave anything out! Are you sure they can fit that in a cup? Of course the can, and here's how:
Directions:
Whisk together flour, sugar, cinnamon and baking powder in a small bowl

Whisk

 

in milk, butter, and vanilla

Add several spoonfuls of batter to 14 oz microwave safe cups (straight sides work best)

Sprinkle with sugar and cinnamon and add several spoonfuls of batter to each mug

Alternate layers, with sugar and cinnamon on top

Microwave on high for 1 ½

 

to two minutes for a single mug of 2-3 min for two mugs

Allow to cool
Topping with whipped cream is optional, but it comes highly suggested. Use light cool whip to keep the calorie count down.
Lasagna
Lasagna in a mug? Oh no, you didn't! That huge sheet of glorious pasta layered with gobs of cheese, cheese, and more cheese in a cup! That needs to be seen to be believed! Believe it, sister. Vito Corleone may be rolling over in his grave, but it is true. Lasagna in a mug has arrived.
The pasta in the lasagna mug isn't in sheets, but the layers are there. You can either cut lasagna noodles to fit in the mug or use penne for convenience. Get together all your favorite lasagna ingredients, and let the layering begin. You don't even need eggs or milk. Just alternate layers of pasta, gooey cheese, sauce,  and all your favorite fixings and 'divertiti' ( enjoy yourself in Italian.)
For the health conscious:  Consider using soy cheese, low-fat cheese, or Greek yogurt instead of or with the whole milk cheese. You can also substitute whole wheat pasta for pasta made from flour.
Healthy Quiche In A Mug
If you've ever baked a quiche, you know it's no easy task. You want the eggs to set with the milk, but not so much that the texture becomes rubbery. You don't want the filling to be too wet, and you don't want it to become too dry because you overbaked it in the oven. It's a wonder they didn't just think of throwing it in microwavable cup years ago.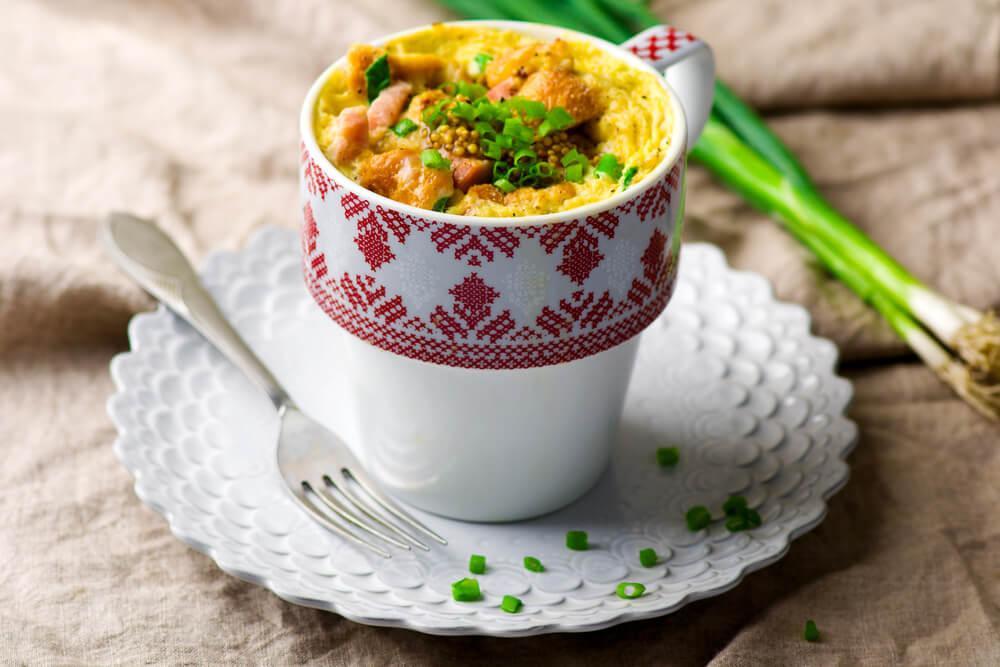 Making healthy quiche in a mug is a lot more foolproof and a whole lot easier than making it the traditional way, and you can save some calories by eliminating the crust. (If you can't do without the crust, there are some recipes with chunks of crusty bread thrown in- we have yet to try those).  Instant quiche anyone? Here's a quick recipe for a healthy spinach and cheddar quiche that won't burn in the oven.
Ingredients
½ cup

 

chopped frozen spinach, cut and drained

1 egg

1/3 cup milk

1/3 cup shredded cheddar cheese (try saying that three times in a row)

1 slice chopped cooked bacon, optional- but we know you've gotta have it

Salt and pepper to taste
Directions:
Add spinach to mug.

Crack egg into mug and add milk cheese and bacon

Cover with paper towel and microwave on high for three minutes or until fully cooked.
Coconut Flour Pancakes
Pancakes, the name suggests they are made on a pan. Does that mean when you put them in cups, they become cupcakes? That seems to have been taken already.  But we'll sort all that out later. What matters most is that the food formerly known as the pancake can now be served in cups and the days of flipping are over, which is really good news for the less coordinated. Plus, they sort of give a new meaning to "a stack of pancakes"
Just grease up the mug with butter, mix up  2 tablespoons coconut flour, 2 tablespoons Greek non-fat yogurt, and one tablespoon milk,  pour it into a microwave-safe mug and microwave for one minute. Spurt on the syrup and breakfast is served. Add some extra butter to the top – take that IHOP!
Peanut Butter and Oatmeal Cake
Speaking of breakfast, Peanut Butter and Oatmeal Cake is a sure fire way to really put IHOP out of business. Plus, with the cake in one mug and the coffee in another, you can proudly call yourself a two-fisted breakfast pounder.
Call it dessert call it breakfast, or call it delicious, the peanut butter and oatmeal cake is an old fashioned oatmeal cake with peanut butter all rolled into one. Here's how you make it:
Ingredients:
6 tablespoons whole milk

2 tablespoons vegetable oil

2 tablespoons granulated sugar
6 tablespoons all-purpose flour

3 tablespoons one-minute oatmeal

½ teaspoon baking powder

¼ teaspoon salt

3 tablespoons peanut butter
Directions:
Whisk milk, vegetable oil, and sugar together in 12-oz. mug

Whisk in flour until smooth

Whisk in oatmeal, baking soda, and salt

Spoon 2 tablespoons of peanut butter on top and push lightly into batter

Microwave in bursts until the top looks dry and springs back when you press your finger on it.

Top with remaining peanut butter and let stand 5 minutes before eating.
Throw in some mini chocolate chips for some added yum: dark chocolate for a little antioxidant power.
Healthy Brownies
Usually, brownies are real squares but put them in a cup, and just watch them let loose!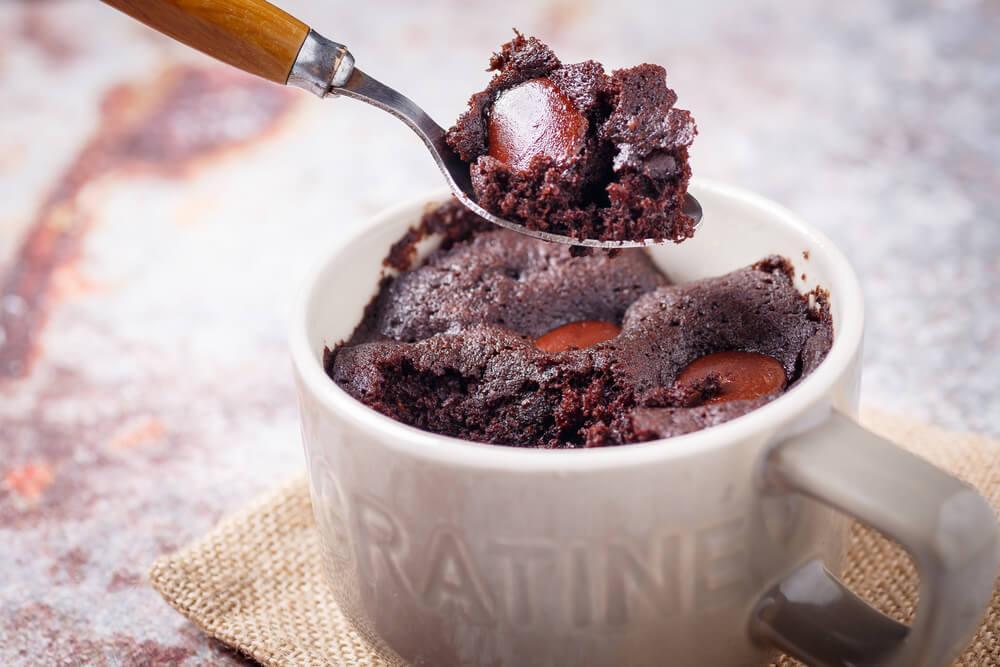 Here is a recipe for brownies in a cup for those who think outside of the box:
Ingredients:
¼ cup all-purpose flour

¼ cup light or dark brown sugar

2 tablespoons unsweetened cocoa powder

Pinch of salt

2 tablespoons canola oil

2 tablespoons milk, coffee or water

2 tablespoons chocolate chips
Directions:
Mix together flour, sugar, salt and cocoa powder in small bowls

Add oil, milk, and chips. Mix until thick and pour into microwave safe mug.

Cook in the microwave for 1 ½ minutes for a gooey brownie, and 2 ½ minutes for a well-done brownie.
If in dire need of protein, you can also mix it up a little and swap all-purpose flour for protein powder, and whisk in an egg. Pop it into the microwave and you'll have your healthy protein snack in no time!
Egg Fried Rice
When you see a  white takeout container it can only mean one thing – a Chinese food delivery has occurred.  You can practically smell the spare ribs and soy sauce just by looking at one of those cute cardboard packages.  But hold your chopsticks! Now, you can get your Chinese in a mug delivered right from your microwave, and you might have to find a new way to store the leftovers. 
If the thought of fried rice made in a microwave seems to be incomprehensible to you, you'll start comprehending it when you try this recipe. Just buy the fortune cookies separately to make the meal more authentic.
Ingredients:
1 cup cooked brown rice

2 tablespoons chopped red pepper

½ cup of sliced green onions

2 tablespoons frozen peas

1 egg

1 tablespoon soy sauce

½ teaspoon onion powder

¼ teaspoon five-spice powder

½ teaspoon sesame oil
Directions:
Place rice into a mug. Add in the peas, onions, cabbage, green onion, mung bean sprouts, and red pepper on top.

Cover mug with cling wrap. Puncture one or two small holes in the film to keep from scalding yourself. Microwave on high for 1 minute, 15 seconds

Beat egg and mix seasonings, pour mixture into mug and stir with veggies and rice

Cover mug with film again and microwave for about a minute and a half.

Let it stand for a minute so the rice can finish cooking. Fluff with a fork and enjoy.
Let us know what your cup of food is. We're always looking for new ideas!