Your lips are often the star of your makeup routine. You can even wear just lipstick without other makeup products and you'd still be able to level up your style.
Your lip color can make or break your look, so you need to pick smartly. If you use the wrong kind of nude, you may end up looking too pale. Even the staple red lipstick can give you an off-putting look if you get the wrong shade.
You can spend hours looking for the right shade for you. However, you can easily pick the best lip color by using your skin tone as a reference. And we're here to help you out!
Looking at Your Skin Tone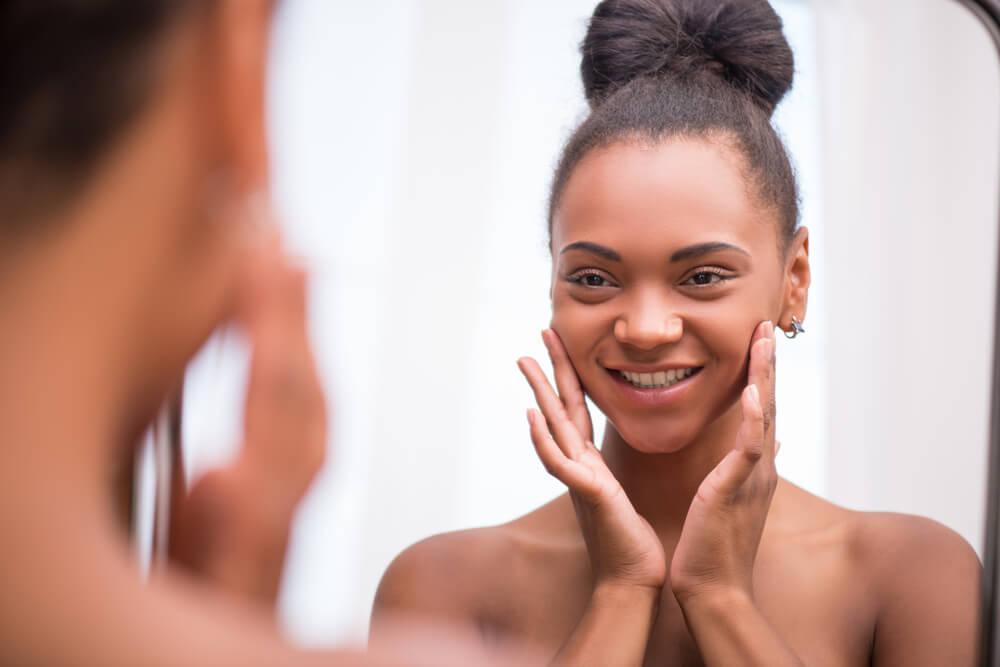 We all have our favorite colors and other personal preferences, but looking at your skin tone can also do wonders when buying makeup. You can either be fair, light, medium, tan, or dark-skinned.  
People from places near the equator, such as the Middle East, South Asia, and Africa, have darker skin. This pigmentation is because their skin produces more melanin to protect them from the hot climates.
On the other hand, fair and light-skinned people are usually from the extremes of the northern hemispheres. These people include those from the Northern parts of Europe, Asia, and America.
But migration and sun exposure can change things up, why not just use other means?
You can use a skin tone palette card to know what your skin tone is. Just compare the shades in the palette and find the closest with your own skin.
You can also observe your skin's reaction to sun exposure if you don't have a palette card. If you burn easily, then you have a lighter skin tone. On the other hand, you have a darker skin tone if you tan easily.
Your skin tone can help you find the best shades of foundations and lipstick for you. If your skin is on the fair spectrum, buy lipsticks with lighter shades. If your skin is brown or darker, try out deep-colored lipsticks.
But lipsticks are more versatile and assorted than just light and dark shades. There are reds, pinks, purples, oranges, and of course, nudes. So you should also consider your undertones when looking for the perfect lip color for you. 
Pick According to Your Undertone
So what are undertones?
Simply put, your undertone is the color underneath the surface of your skin. It adds color to your overall complexion to make you look healthy.
You may be familiar with the three undertones often mentioned by beauty gurus online, namely warm, cool, and neutral. However, there's also the olive undertone common in some Asian, Mediterranean, and Latin American women.
There are different ways to check for your undertone. You can try any one of these or do them all to double-check.
Look at the color of your

wrist veins

and determine whether they're blue or green.

Try

wearing gold and silver jewelry

, preferably earrings and bracelets.

Check the

color of your eyes

, from your irises to the smaller specks.

Wear a

white and off-white shirt

and inspect which look suits you better.

Think about your last beach trip and recall, which came first:

a tan or a burn. 
But before doing any of these steps, make sure you've got some natural lighting to help you see your natural undertone. Avoid warm yellow bulbs or intensely white LED lights when checking for your undertone.
You can also ask someone else to help you out!
Warm
Here are the results to confirm you have warm undertones.
Your veins look

greenish.

You look better in

gold jewelry.

Your eyes are of a

dark shade.

You

prefer wearing off-white

clothing.

Your skin

tans easily

instead of looking red and burned.
So if you've got almost all of these characteristics, opt for warmer shades of lip color. Warm colors include yellows, peaches, oranges, and golds.
For style and makeup reference, you can look up famous icons with warm undertones! Jessica Alba, Beyonce, and Amy Adams are just some of the celebrities with warm undertones.
Cool
On the other hand, women with cool undertones look better in cool shades such as purples, blues, and pinks. Here are characteristics to confirm if you have a cool undertone
Your veins are

bluish.

You rock

silver jewelry

better.

Your eyes have

lighter shades of blue and brown.

You look better in

white.

Your skin

burns first

before getting a chance to tan.
These results mean you should get lip colors with blue or purple undertones. Try out cherries and plums for berry shades and pinkish nudes.
You can also check out the best looks of Rachel McAdams, Adele, and Mindy Kaling since they have cool undertones.
Neutral
If you have mixed results or don't identify with any of the results above, you may have neutral undertones. Don't be sad about not belonging in any of the earlier groups because you can rock almost any lip shade!
More options, more fun, right?
Besides lip color, you can also wear clothing and jewelry fit for both cool and warm undertones.
You can opt for the warm lip colors, even the purples and blues. If you're looking for celeb style inspirations, check out looks from Sandra Bullock, Kerry Washington, and Jennifer Anniston. Learn how they style themselves and with which colors they go with best!
Olive
One last criterion before you proceed: Do you have ashen or gray hues?
If you answered yes, then congratulations on being one of the unique olive-skinned people on the planet!
If you have olive skin, finding the right nude can be challenging. So, you can try dark berries for a cool lip color. But if you want warm colors, use caramel browns or bright orangey reds.
Zoe Saldana, Mila Kunis, and Lily Allen have this type of undertone so try checking out their looks and their makeup faves!
Choosing the Best Lip Color For You
Let's now talk about what lipstick shades you should get!
Nude Shades
The general rule in buying nude lipstick is to find a shade at least one degree darker than your natural lip color. Don't buy lipsticks lighter than your skin tone, as it may make you look pale and sick.
You want your lipstick to boost your self-esteem and make you strong and confident, not weak and vulnerable. 
If you have a warm undertone, wear nudes with golden and copper tones to complement your skin. On the other hand, nudes with a touch of pink do well with your lips if you have cool undertones. And if you have a neutral undertone, try playing with color to bring out your features.
Sweet Pinks
Pinks are generally better for cool undertones, but you can also find something for you even if you have warm undertones. Just be patient as you try out some pinks with a hint of brown or peach. On the other hand, mauves work well for those with neutral undertones.
Bold Colors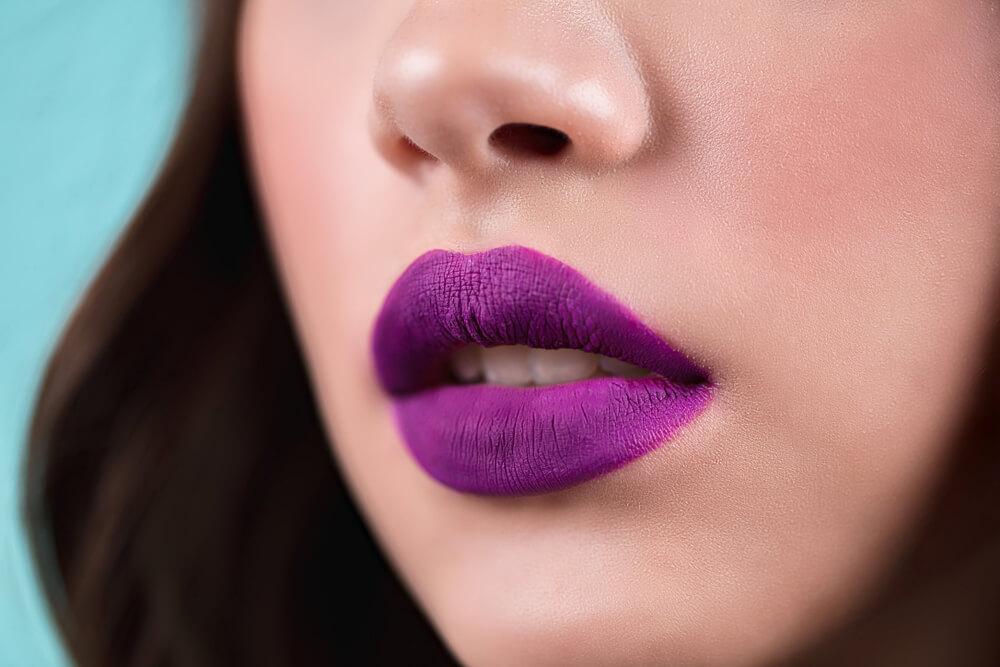 Bold lipsticks can be orange, purple, or just about any eye-catching shade you can find. If you have cool undertones, you'll look stunning with purple, plums, and black lipstick. Berry shades are also bold colors you can enjoy if you're dark-skinned with a cool undertone.
However, if you have warm undertones, you may have fewer choices with oranges and bright reds. Find a brick red shade or something like a barbecue. Since these bold colors are bright, make sure your face is fair enough not to be overwhelmed by the color on your lips.
Staple Red Lipsticks
Wearing red lipstick can make you feel powerful and confident. Truly enough, red lipstick has been and continues to be a historical symbol for women fighting for their rights.
Every woman should have her red lipstick, so take your undertones seriously when shopping for that red lipstick. If you have a warm undertone, get reds with a tinge of orange and yellow. These lip colors include scarlet, coral, or rust.
But if you're cool-skinned, get bolder colors of red. These shades include magenta, burgundy, and most berries. Just remember, you also have to match the color with your skin tone. If you have dark skin, get deeper shades to ensure your lips won't overpower your whole look.
Colors and Shapes of your Lips
Surprisingly, lip colors can also affect the fullness of your lips. Wearing nudes will make your lips look fuller, while darker shades can make your lips thinner.
Besides using colors to get fuller and poutier lips, you can also use other lip-shaping products. Use a lip liner to change your lips' form and make your lip color more long-lasting. Just make sure your lip liner is also close enough to the shade of lipstick you're wearing. If you can't find one, just use something neutral to avoid overpowering other colors.
Tips to Keep in Mind When Shopping for a New Lip Color
Mind the Lighting
Before trying anything out, make sure the store has a bright enough light. If the light is too warm or too cold, it may affect how you see the color you're trying on your lip.
What should you do if the shop doesn't have good lighting?
If the place isn't well-lit, don't hesitate to ask someone else about your look. Let them inspect the color on you and give you an unbiased opinion about it.
Unless you're buying replacements for your favorite makeup, a visit to the store can take a long time. You'll be taking the time to test out different products before buying your pick. This will help you inspect the color better because the packaging can sometimes be deceiving.
Watch the Swatch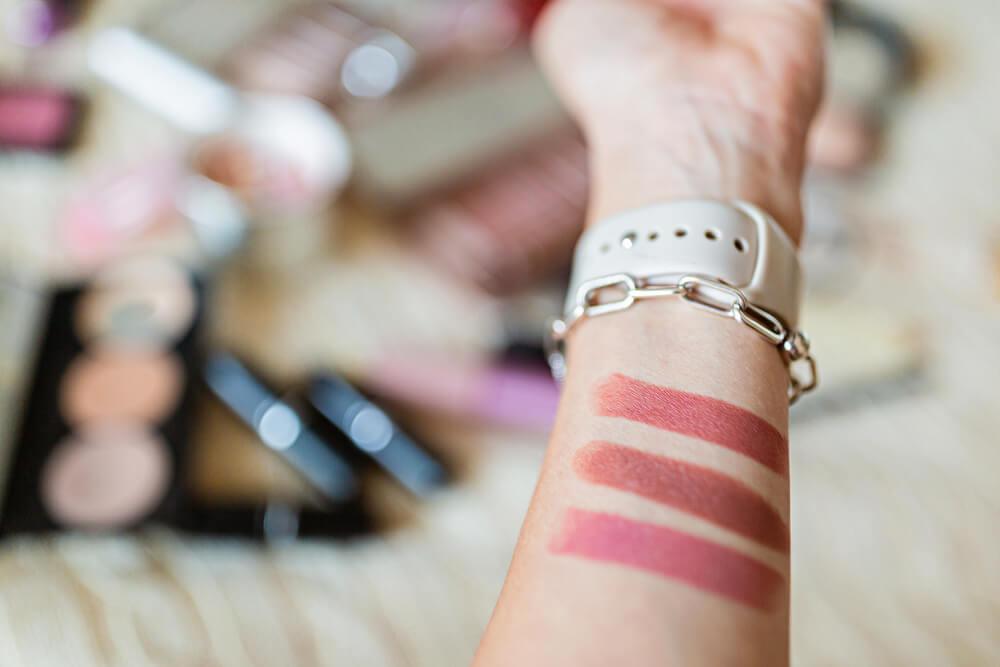 Here's a friendly tip when using testers:
It's better to test lipstick shades on your wrist than to apply it directly on your lips.
Remember, everyone uses these testers. So, instead of bringing them anywhere near your face, swatch the lip colors of your choice on your inner wrists. Remember to bring wipes when shopping to clean the swatches you made!
Another good option when testing the best lip colors for you is by using your fingertips!
Dab some of the lipstick on your fingertips and check out the color on you. You can also move your fingertips closer to your face to see how it looks.
And if you really want to try the color on your lip, make sure you've got your facial tissue packed. Use the tissue to dab on the surface of the tester before and after applying the lipstick.
No matter how pretty that lip color is—and we know it's so tempting to try it on!—proper hygiene should still be your priority.
Inspect Multiple Colors
If you're looking for the perfect red lipstick, make sure you remember our advice about undertones! However, if you have a hard time choosing which lip color you should buy, take multiple swatches on your wrist. Compare each swatch to the shade adjacent to it. This method will help you know if the lipstick shade has a yellow (warm) or purple (cool) undertone.
Just Be You!
We've given you a bunch of tips, but do you know what the real secret is in finding the best lip color for you?
Confidence!
With simple makeup products, you can boost your self-confidence for dates, presentations, and just about any occasion. These tips are more of a guide than a rule. Sure, you can follow these steps and buy the best lip colors to match your skin tone. But if you're not confident with what you are wearing, you still won't look your best.
Now you know the safest shades for your skin tone, you can stock up on your favorite lipsticks and lip glosses. You can also find the best eye shadow palettes and blushes with these tips. And if you feel like learning a new makeup technique, how about trying out the smokey-eye with that gorgeous new lipstick of yours?
If you found a color we didn't mention here but looks good on you, then go ahead and slay that look! You can be anything and everything with the right attitude and confidence. 
And your beautiful lip color? Well, that's just the cherry on top.