Vine Vera is a brand that I've had my eye on for a few years now. They're known for their resveratrol-infused skincare products, a science-backed antioxidant that offers a number of benefits, particularly when it comes to skin aging.
Being in my mid-30s, I've started to notice my skin changing in a few ways. It's no longer quite as bright, I have a couple of small dark spots that appeared over the summer, and I'm pretty sure that I'm going to soon start seeing the faint lines around my eyes turning into wrinkles. So, I decided to finally splurge on a few Vine Vera products in the hopes of stopping the clock on my complexion and restoring my skin's glow.
Did they do the job? Here are my thoughts…
Choosing Products From Vine Vera's Skincare Collections
Resveratrol is an ingredient that's found in abundance in the skin of red grapes. This is why red wine is revered for being a great source of resveratrol. This is also why Vine Vera has chosen wine as the inspiration for each of their skincare collections. From Chianti to Pinot Noir to Merlot, almost every Vine Vera collection has been named after a type of wine. 
Rather than purchasing one or two entire collections, I decided to pick 'n' mix various Vine Vera products to tackle the specific visible skin concerns I'm dealing with. 
Let's take a closer look at the products that I ended up choosing:
The Resveratrol Vitamin C Peeling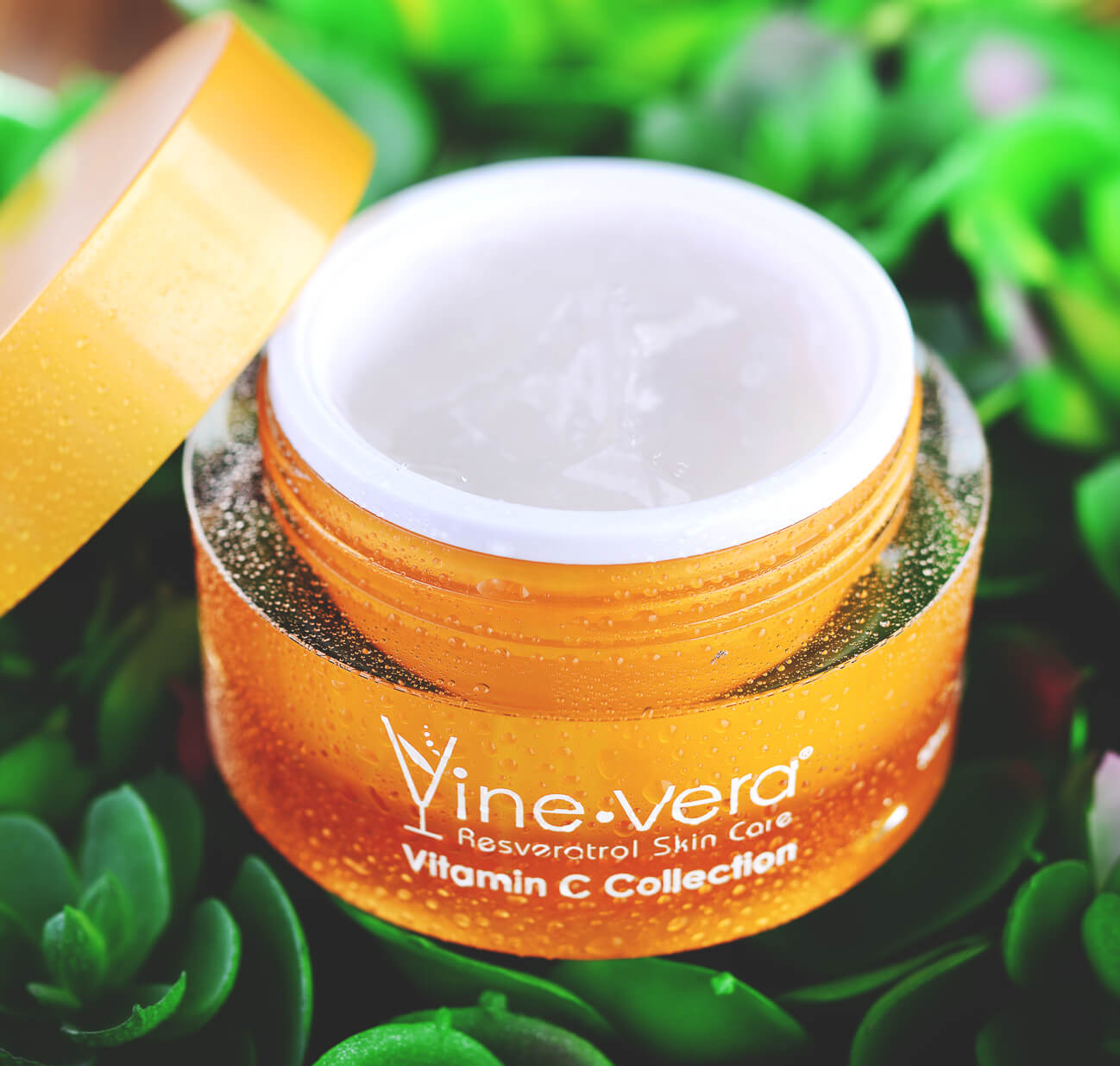 It's no secret that exfoliating is one of the best ways to brighten the look of dull skin, which is why this is something that I already do twice a week. Even then, I've struggled to regain the radiance I once had, so I was hoping that Vine Vera's Resveratrol Vitamin C Peeling would be able to help.
What's in it?
This exfoliant's gel-like texture contains an ingenious blend of ingredients. Rather than offering either physical or chemical exfoliating properties, it does both by mixing together mandelic acid and bamboo powder. It's also packed with vitamins and antioxidants, from vitamins A, C, and E to resveratrol and green tea extract.
Verdict
After using Vine Vera's Resveratrol Vitamin C Peeling for the first time, I almost couldn't believe the results. My skin looked noticeably brighter and had such a glow to it. This has only continued to improve the more I used the product (I've been using it for about 8 weeks now and don't plan on stopping!).
The Resveratrol Pinot Noir Phyto-Silk Mask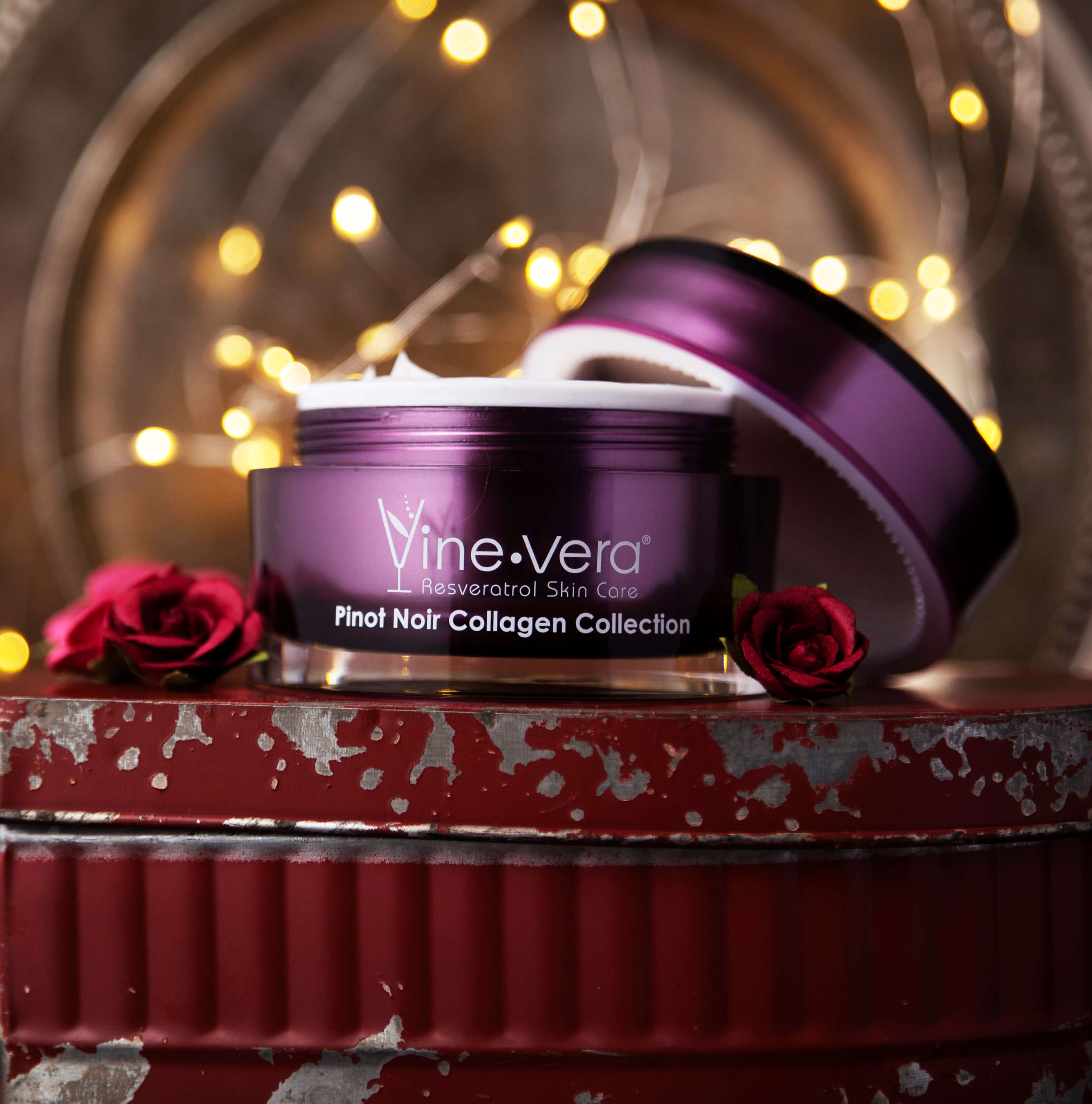 I absolutely love leave-on face masks. They're fantastic for my dry skin, especially if I apply one before bed. When I saw that Vine Vera had created a resveratrol-infused no-rinse mask, I couldn't resist giving the Resveratrol Pinot Noir Phyto-Silk Mask a try!
What's in it?
This mask's ingredient list really appeals to me. It's quite long, which is something that I don't usually like, but the majority of the ingredients on there are antioxidant-rich superfruit extracts. Goji, pomegranate, mangosteen, noni, and acai berry are just a few of the botanicals in this formula, with each one capable of boosting the complexion in its own way.
Verdict
For starters, this mask is so much fun to use! It has quite a creamy texture that transforms into droplets as you rub it into your skin. These then soak into the skin really quickly. 
In terms of dealing with my dryness, this mask has been a huge help. I use it once a week and my skin always feels much softer and silkier the morning after. I also usually notice that my skin looks smoother too, with these effects lasting well through the week. 
The Resveratrol Cabernet Travel Kit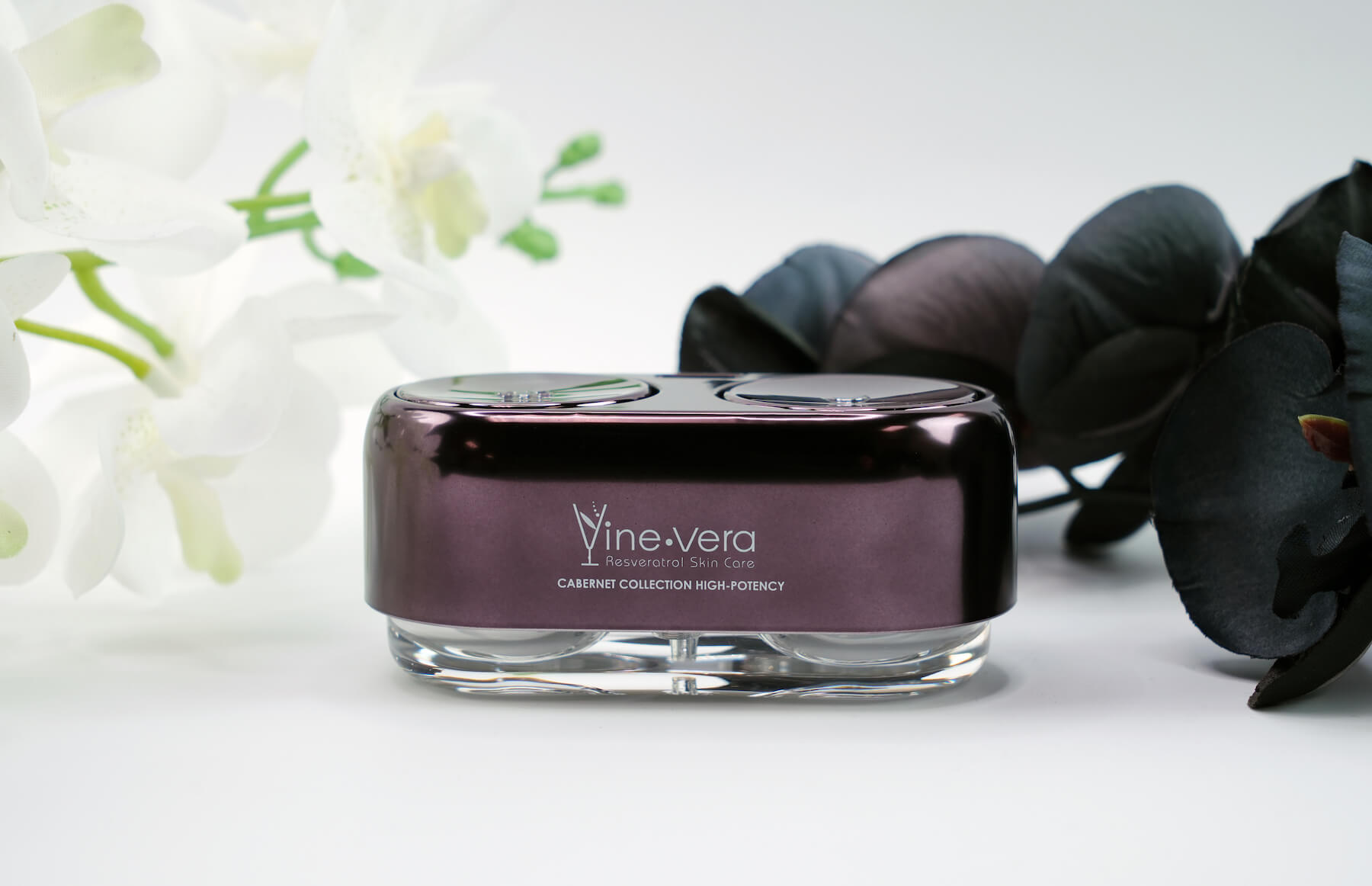 I travel quite often and hate taking bulky jars of skincare with me. That's what made Vine Vera's Resveratrol Cabernet Travel Kit seem like the perfect solution. Plus, this duo would give me the chance to try both their day cream and their night cream without having to invest in full-sized products.
What's in it?
Both the day cream and the night cream contain a similar blend of moisturizing ingredients and antioxidants. The main difference between the two is the texture of each one. They both contain shea butter, which is known for its moisturizing and conditioning capabilities, yet the day cream is much lighter than the night cream.
Verdict
This set is a fantastic buy, with both creams working really well to keep my dry skin moisturized. I really appreciate the textural differences between the day and night creams. The lightness of the day cream means that it's easy to apply makeup over the top, whereas the richness of the night cream is exactly what I need to prevent my dry skin from looking flaky in the mornings. I'll definitely be buying full-sized versions once these jars run out!
The Resveratrol Cabernet Plump & Correct Treatment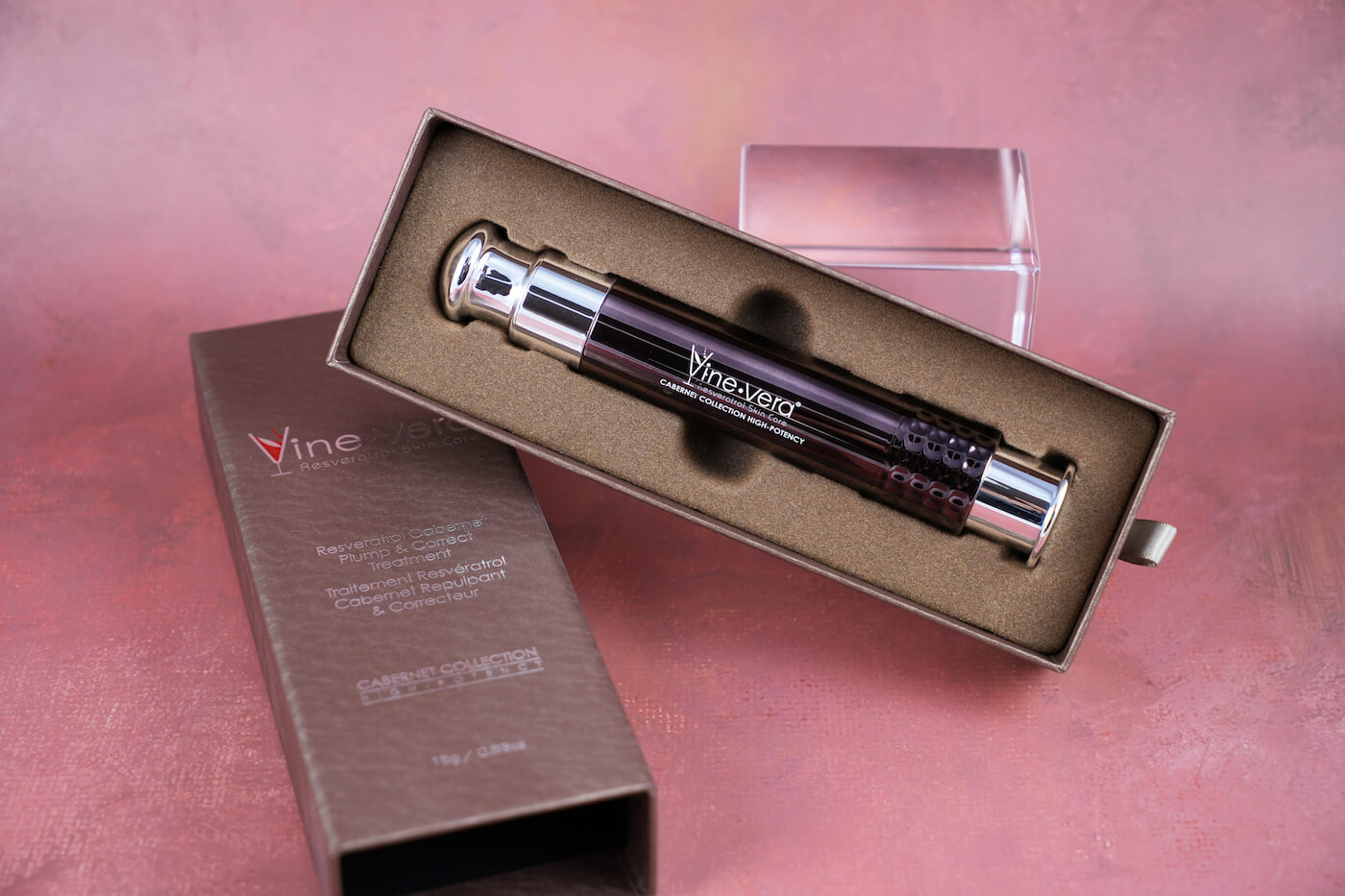 Vine Vera has a few fast-acting serum products available, all of which are very tempting! They all promise to immediately reduce the appearance of fine lines and wrinkles while also helping with other aging-related visible skin concerns. It was a difficult decision, but I finally chose to go with the Resveratrol Cabernet Plump & Correct Treatment, mainly because of its impressive ingredient list…
What's in it?
This product's instantaneous effects can be attributed to ingredients like sodium hyaluronate, DMAE, and acetyl hexapeptide-8. All of these ingredients are known for working quickly and effectively at smoothing and plumping the complexion. However, what sets this formula apart is its stem cell content. With stem cell extracts from both apple and rose, plus resveratrol, this serum contains the very best of the best when it comes to antioxidants.
Verdict
Simply put, this product is amazing. And yes, it does actually work when it comes to immediately softening the look of fine lines! Mine pretty much disappear after I use this serum, with the effects lasting until my next cleanse. 
I've been applying this serum to other problem areas of my face too, especially the dark spots that recently appeared. I noticed that they started to look lighter about one month in and now, two months later, I can't really see them anymore. A huge added bonus that I wasn't really expecting!
Final Thoughts
It's not often that I don't have a single negative thing to say about a skincare brand that I've tried for the first time, which is how I know that Vine Vera really is something special. These products have helped me in so many ways. Not only will I be buying them again but I'll also be giving even more of their formulas a try the next time around!