A smokey eye is my favorite thing to do when it comes to makeup. However, it's not always appropriate for every occasion, so I generally reserve this look for a fun night on the town. That's changing for Fall 2015 though, as smokey eyes are the number one makeup trend for this season!
Smokey eyes were taking over the Fall 2015 runways, showing they can really go with any outfit for any occasion. While a lot of the makeup on the runways was leaning toward a more natural, simple look, smokey eyes were a great alternative for those of us who prefer a bit more drama.
The key to this season's smokey eye trend is to blend, blend, blend! Blending colors will mellow out the look a bit, making it more appropriate for daytime wear. You've still got all the drama and attention-grabbing color that makes this look so great, but it adds a hint of softness that will make your eyes glow.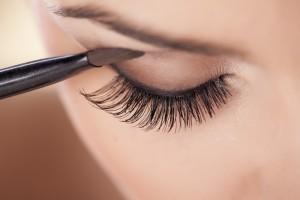 Another fun key to the look this season is that you can choose from a variety of colors. Smokey eyes aren't just made up of black and dark grey shades this year—though Diane von Furstenberg and Elie Saab were keeping it pretty traditional at their shows—but brown palettes are what really stood out. Tom Ford, Burberry, and Nicole Miller were all putting browns in the spotlight, taking what could otherwise be used for a natural look, and going heavy to create some beautiful smokey eyes.
Because you're bringing so much drama to the eye, it's best to go light for the rest of your makeup. A light berry color on the lips is a great accent, or even a subtle peach would look great. Avoid any highlighting or contouring, opting instead for a light dusting of pink or red blush if you must, and let your eyes speak for themselves.