Review by Kristine Protopsaltis
Over the past two weeks, I have had the opportunity to test the CBGöld Basic Collection, the main product line by CbGäRDN. I have been curious about the hype surrounding skin care products containing CBD and hemp seed oil, so I did a little research before signing on to this project.
So, the answer to your first question is no, you will not get high. While CBD oil and hemp seed oil are derived from cannabis plants, they do not contain any THC, the stuff that gets you high.  CBD and hemp seed oil are becoming common ingredients found in skincare lines, and the reason is that they are great for your skin.
CBD is a powerful antioxidant that not only nourishes the skin, but it also acts as an anti-inflammatory that helps soothe the skin and reduce redness. CBD oil may also help relieve the pain associated with sunburns, as well as combating dryness. And yes, CBD oil will help reduce the signs of aging, leaving your skin hydrated and healthy.
Hemp seed oil is a natural moisturizer that helps hydrate the skin. The moisturizing qualities of hemp seed oil help to combat dry areas without clogging the pores, which helps reduce acne caused by excessive oil.  It, too, has anti-aging properties that assist in reducing fine lines and wrinkles.
A significant reason why CbGäRDN stands out amongst its competitors in skincare is their addition of another valuable ingredient, gold. Gold has been a prized element in beauty dating back centuries: even Cleopatra supposedly used gold in her daily skincare routine.
Some of the primary benefits obtained from gold added into your skincare products are:
Reduces dryness, which slows down premature aging.

Increases elasticity, which results in firmness and toning, and less fine lines and wrinkles.

An improvement in blood circulation, due to the ions present in gold.
All of these factors derived from the implementation of gold in your skincare products will leave you with a healthy, youthful glow.  
Click here to go to the CbGäRDN website for more information regarding the ingredients used in their skincare lines.
Now that we have talked about some of the main ingredients in CbGäRDN, let me tell you what I thought about each of the products in their main skincare line.
CBGöld Cleansing Elixir Kit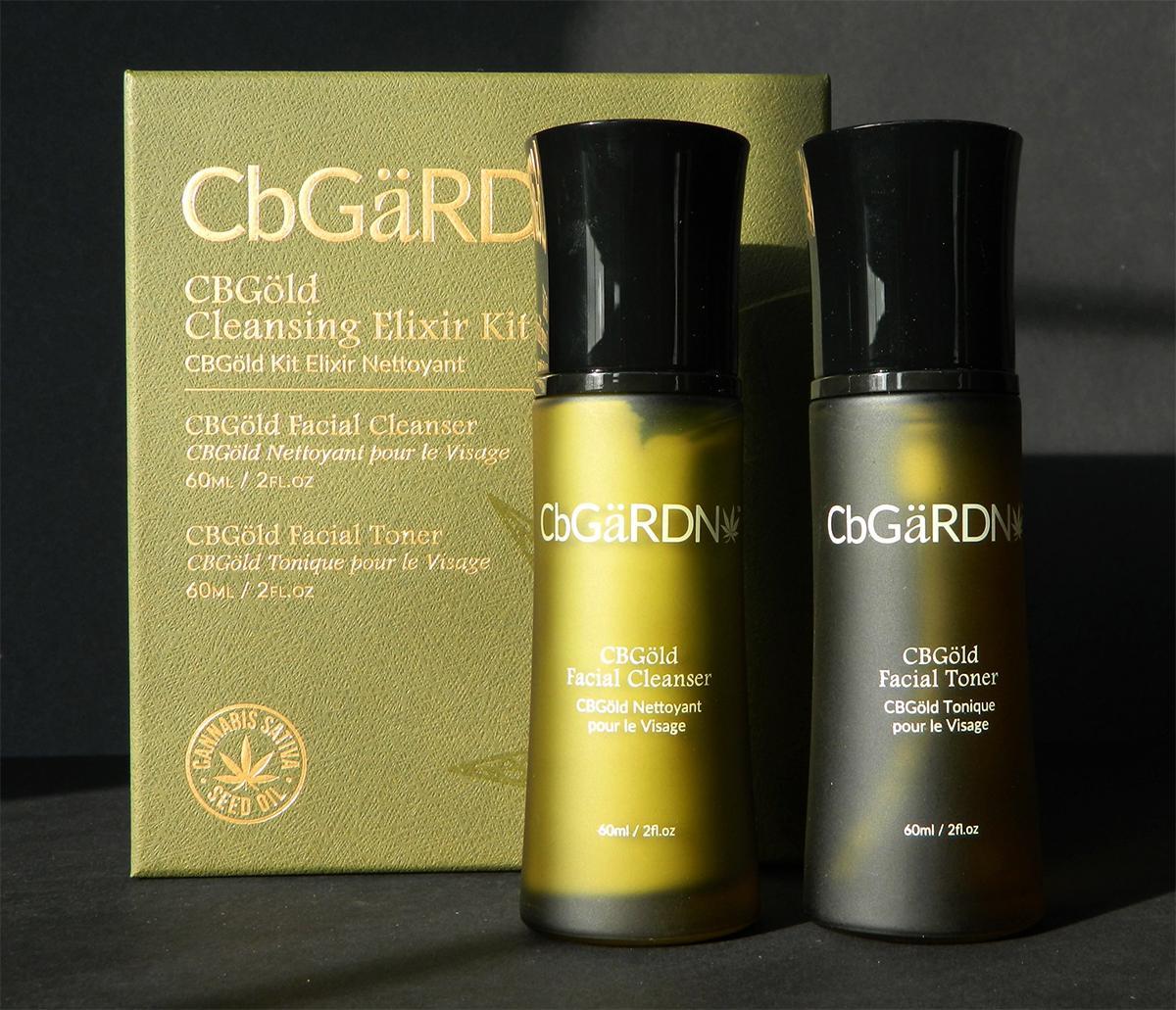 The CBGöld facial cleanser is light and refreshing. It comes in a decorative dark glass bottle with an easy to use pump dispenser. You only need about two pumps to get enough to wash your face. While the directions say to work into a lather, you would need to use quite a bit more than two pumps to get a lather built up. With the price of this delicate cleanser, two pumps are plenty to get the benefits needed. Your face will feel smooth and refreshed after washing.  
Directions for use:
Apply a small amount of facial cleanser over moistened skin. Work into a lather and massage gently for one minute. Rinse your face thoroughly with warm water, then pat dry.  
The CBGöld facial toner is revitalizing and works without too much drying. Some toners have a lot of alcohol, but this one feels refreshing without the antiseptic feeling. It also comes in a dark glass bottle container with a pump dispenser matching the facial cleanser.
Directions for use:
Administer the toner onto a cotton ball and apply to the face after cleansing. Avoid eye areas.
CBDGöld Anti-Wrinkle Confidence Solution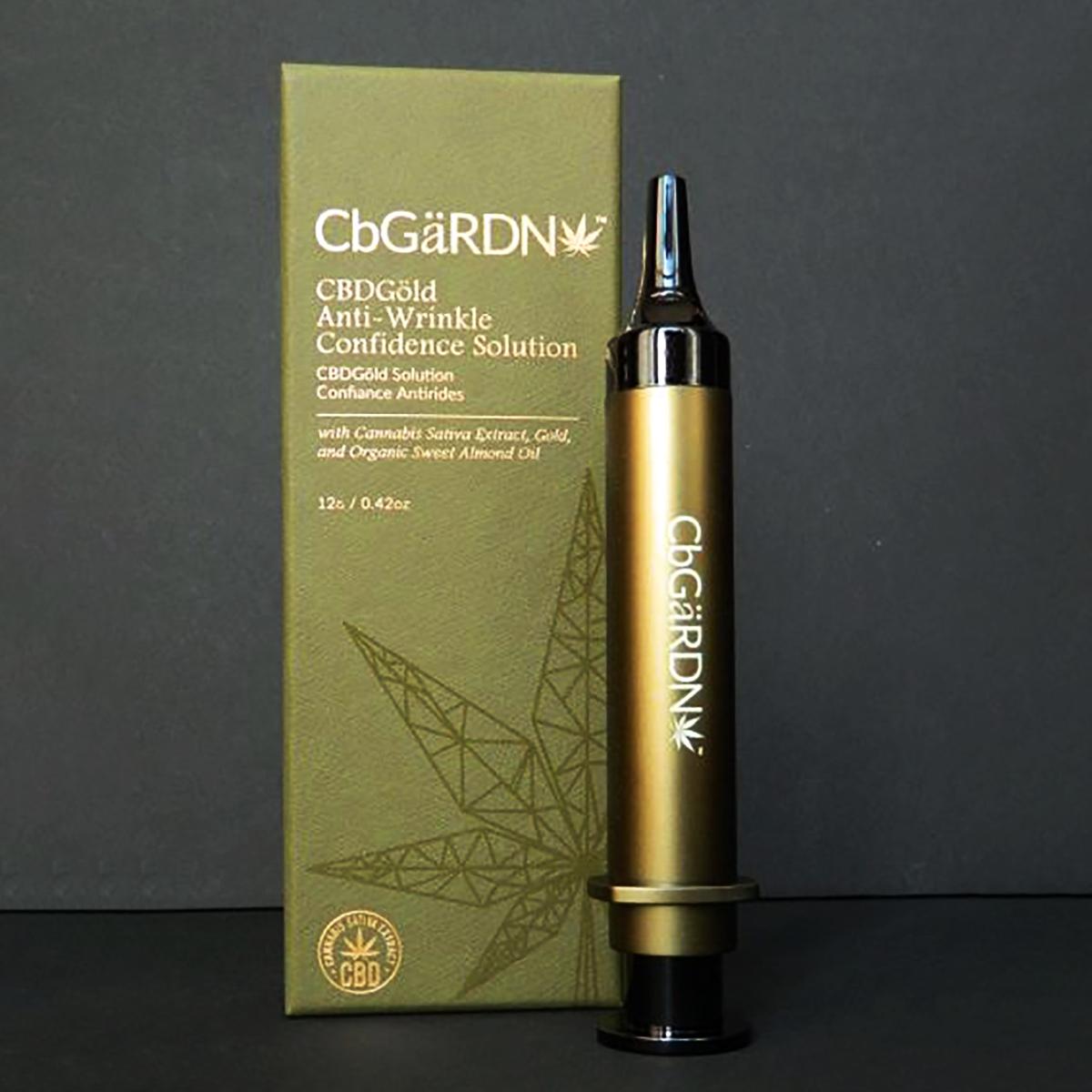 The CBDGöld anti-wrinkle solution is wonderous. I have never tried anything quite like this before.  I followed the instructions and used the syringe to apply the formula directly to my fine lines. You will need to lightly rub the solution into your fine lines and wrinkles for an even application.  
Immediately after application, I felt a tightness in the areas where I applied the anti-wrinkle solution. The tightness feeling lasts for about thirty minutes, and you will notice the texture of your face become smoother in the areas where the solution was applied. While my fine lines and wrinkles did not vanish, their appearance was significantly lessened, especially under my make-up.
Directions for use:
Apply the solution to clean, dry skin. Firmly press the bottom of the syringe and administer the solution directly onto your fine lines and wrinkles. If necessary, lightly tap the formula into the wrinkles with your ring finger.
The anti-wrinkle solution is an excellent addition to your skincare toolbox, especially for those special days you want to look your best. While I have tried some other anti-wrinkle creams, this particular one certainly feels as though it is working. While you can't make the wrinkles completely vanish, this solution will certainly help diminish their appearance.
The formula is a dark beige and reminds me of tinted BBcreams in texture. The ingredients listed on the front of the box include Cannabis Sativa extract, gold, and organic sweet almond oil. While the fragrance is minimal, the scent is of the sweet almond oil.
CBDGöld Eye Serum Concentrate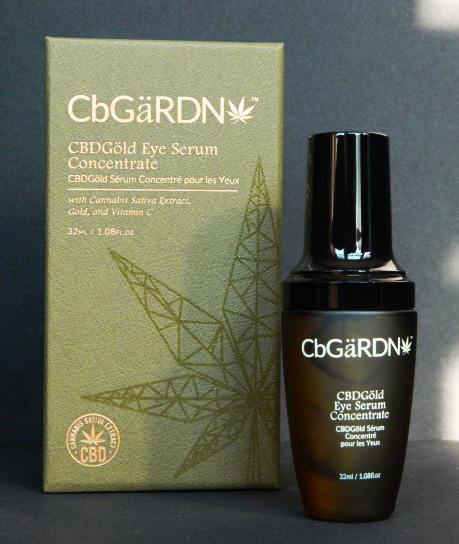 The CBDGöld eye serum concentrate is a must-have item from the CbGäRDN skincare line. It feels so refreshing while applying to the eye area; it will tempt you to use more than the recommended morning and night.
The CBDGöld eye serum concentrate contains Cannabis Sativa extract, gold, and vitamin C, along with organic green tea extract. The green tea extract helps reduce the dark shadows and puffiness below the eyes.  
Directions for use:
Apply the eye serum morning and evening for optimal results. Pump the eye serum onto your ring finger and apply gently in a clockwise motion around the eyes.
Before using CBDGöld eye serum, the areas under my eyes had been looking a little too delicate. I have noticed those fragile areas beginning to look firmer after two weeks of using the eye serum morning and night. I am hoping that with continued use, I can delay the aging around my eyes a bit longer. The CBDGöld eye serum will most assuredly remain in my skincare arsenal for many years to come.
CBGöld Bio-Restorative Crème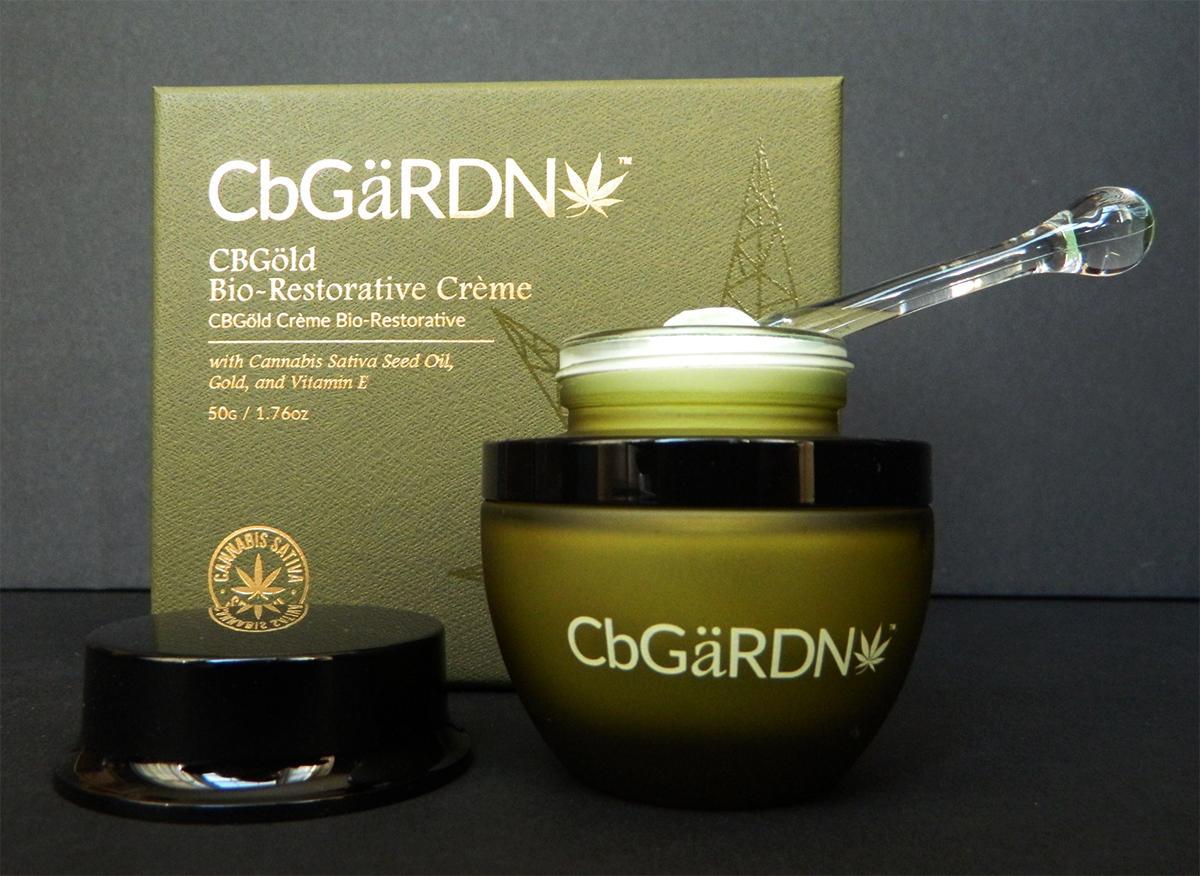 Since the CBGöld Bio-Restorative Crème is my absolute favorite to slather on, I decided to give you two pictures of this luscious cream.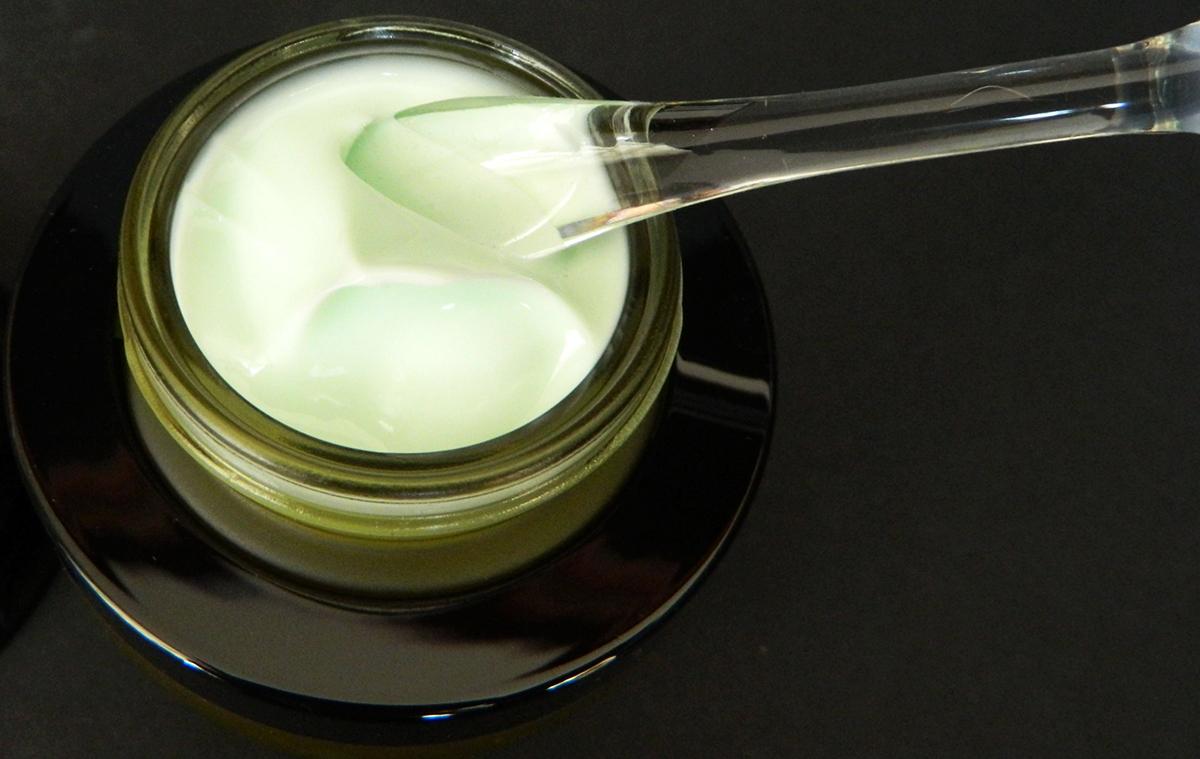 The CBGöld Bio-Restorative Crème is a beautiful minty color with a rich, smooth, and creamy texture. It doesn't take long for the cream to settle in, leaving you with a nourished and dewy face without any greasy residue.  
The ingredients include Cannabis Sativa seed oil, gold, and vitamin E, along with shea butter and sunflower seed oil. The shea butter helps replenish moisture loss, while the sunflower seed oil helps soften the skin.  CBGöld Bio-Restorative Crème will help your skin maintain a healthy glow, which is a plus for all of your make-up free days.
Directions for use:
Use daily after cleansing your face. Apply the cream using upward motions on the face and neck.
I am using the CBGöld Bio-Restorative Crème daily after I have applied the eye serum. If I am using the anti-wrinkle solution, I also apply it before using the bio-restorative cream.  
CBGöld Microexfoliant Plus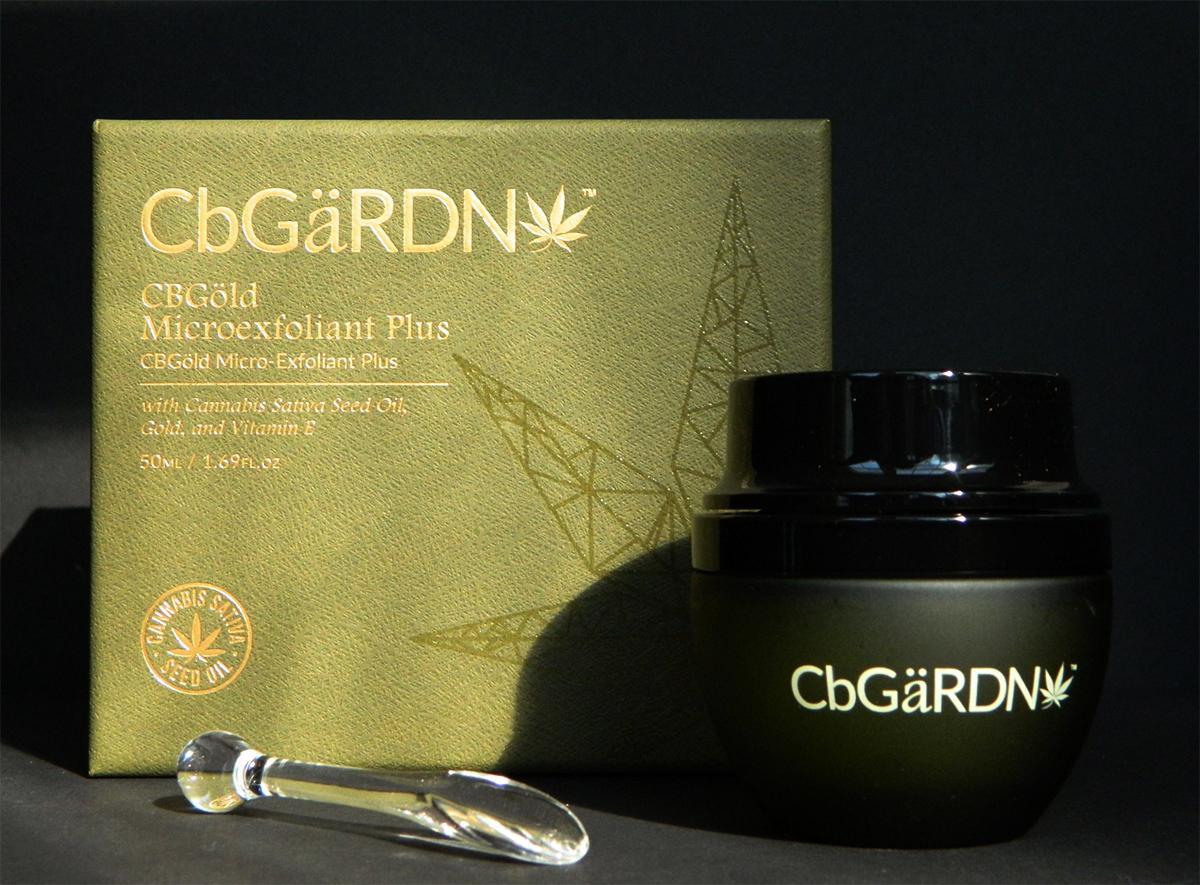 The CBGöld Microexfoliant Plus is an excellent way to rejuvenate your skin. The mighty little gel works quickly to remove impurities leaving your skin looking brighter and feeling smoother and tighter.  
Cannabis Sativa seed oil, gold, and vitamin E top the ingredient list in this impressive micro exfoliant gel. CBGöld Microexfoliant Plus does not have a scent, and it is not sticky like most gels. It feels as if it almost evaporates once you start rubbing it in your skin.  There isn't a lot of moisture, but you feel the tiny granules working.
Directions for use:
Begin by thoroughly cleansing your face. Apply a small amount onto the face and gently massage in circular motions for 30 seconds. Immediately rinse with cold water, then pat the face dry. Apply CBGöld Bio-Restorative Crème to keep your skin hydrated and moisturized.
For best results, use 1-2 times per week.  
Be sure to follow the directions and rinse the gel off within the recommended thirty seconds.  Although the gel is light, and you don't feel like it is working because it kind of dissipates, you will be remarkably surprised at its effects once you have rinsed your face. I followed the directions and found little flakes of skin on my lower jawline. I was a little bothered at first with my skin flaking a bit, but I figured it was doing its job. There was no redness, just smooth skin. I immediately followed with the Bio-Restorative Cream. The CBGöld Microexfoliant Plus packs a powerful punch in facial exfoliation.  
CBGöld Night Renewing Crème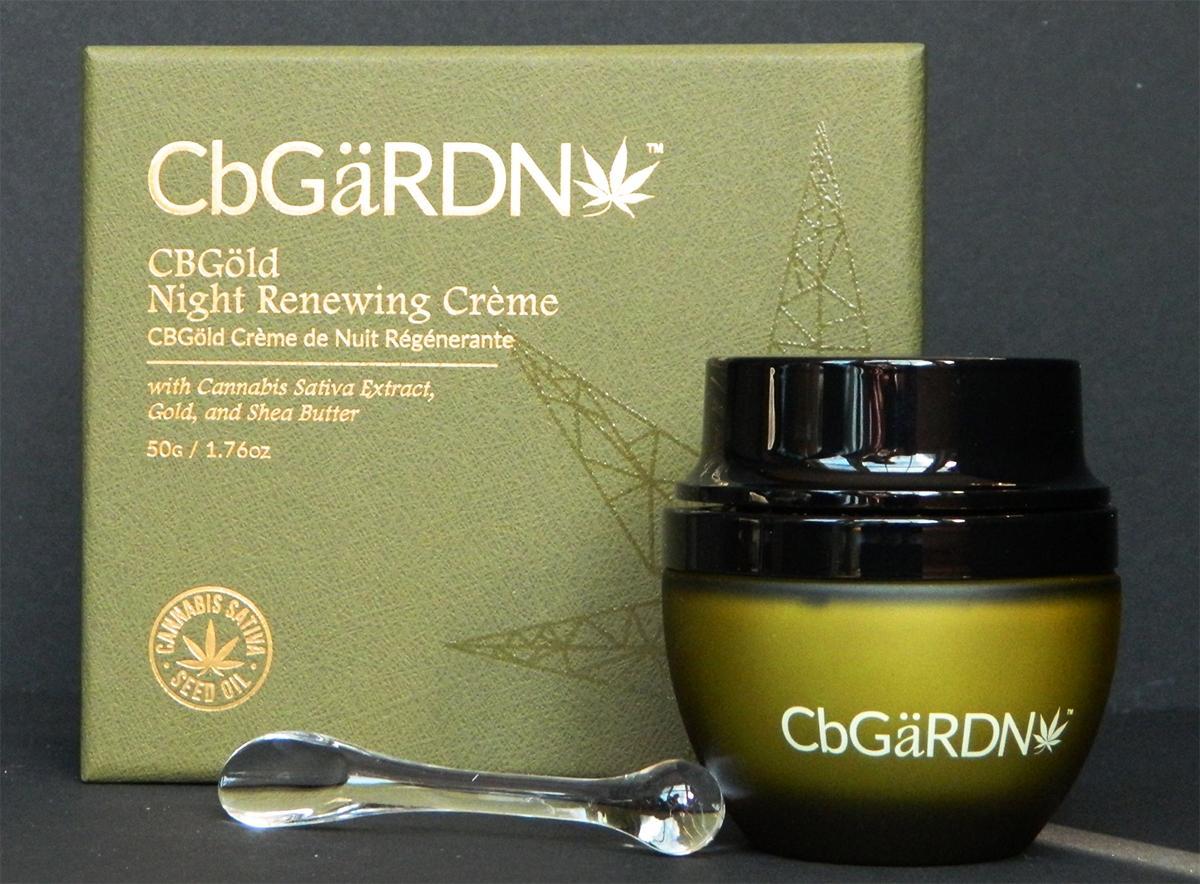 The CBGöld Night Renewing Crème is also an impressive product that I am enjoying very much. The night cream is soft and gentle and is similar to the Bio-Restorative Cream in color, texture, and fragrance. The cream is hydrating, so your skin still feels moisturized in the morning without any greasy residue.  
CBGöld Night Renewing Crème includes Cannabis Sativa Extract, gold, and shea butter along with antioxidant-rich botanical extracts. The recipe for this sumptuous night cream leaves skin feeling soft, smooth, and radiant.
Directions for use:
For best results, smooth CBGöld Night Renewing Crème over face and neck. Recommended for use after cleansing with CBGöld facial cleanser. 
Packaging

All of the products come in attractive and thoughtful packaging. The outer box for each product lists all of the ingredients along with the directions for use. The products are presented in dark glass bottles and jars. The black plastic lids are easy to open, and the black plastic pumps work smoothly and efficiently. You will be happy to leave your CbGäRDN skincare line decorating your bathroom counters.
Product Stamps

The products in the CBGöld Basic Collection have several stamps on the side of each box.  While they are evident in what they mean, I tried to find out if they were official. Unfortunately, I wasn't able to find out too much about each one. Since I have not seen stamps on some other skincare lines I have used in the past, I am concluding this may be due to the use of Cannabis Sativa seed oil or extract used in each product.
The stamps include:
Dermatologist Tested

:

A dermatologist has reviewed all of the products in this line.

GMP – Good Manufacturing Process

: 

The product ensures consumer safety, and the company follows specific rules and regulations throughout the manufacturing process.

Cannabis Sativa Seed Oil or CBD Cannabis Sativa Extract

: 

While I could not find these exact stamps, I believe they represent a COA, certificate of assurance.

Tested and Approved in the USA
Made in the USA
Made in US FDA Registered Facility
Contains Organic Ingredients
The CBGöld Basic Collection is an excellent value for all of the products listed, but if you are looking only to purchase a few of the items, here are my top choices:
CBGöld Eye Serum Concentrate

gets my top vote.  The serum has made a difference in the areas below my eyes.  The skins look firmer and healthier, and I am hoping this trend will continue.

CBGöld Bio-Restorative Crème

is a close second, if not a tie for first place.  This cream is exquisite, and I know I will probably go through it rather quickly.  I am a true believer in keeping your skin hydrated and moisturized, and this cream does not have to be applied a second time.  I highly recommend purchasing this particular product.

CBDGöld Anti-Wrinkle Confidence Solution

is my third favorite addition to my beauty toolbox.  I consider it the cocktail dress in my medicine cabinet.  I don't need to use it every day, but when I do use it, it makes me feel amazing.
Overall, I have been delighted with the CBGöld Basic Collection by CbGäRDN. This was my first experience with skincare products containing Cannabis Sativa extract or seed oil, as well as gold. While I don't expect my fine lines and wrinkles to disappear, I will continue to use the CBGöld products to fight any new lines and help retain my ever-youthful glow.