Review by Rachelle Sandoval | Licensed Esthetician 
It's no surprise that self-care and skin care have made the headline's lately; and personally, I am soaking up every minute of it! I have recently tried a couple of products from a luxurious skin care line that is slowly (but surely) making its own headlines. 
Truffoire is an up and coming line that uses truffles (yes truffles!), in all of their products. According to their website, "Research has shown that these fungi deliver a range of hydrating benefits and bring about a natural and well-preserved glow." 
What Exactly is a Truffle?

A truffle is a fungi! There are a variety of different kinds of truffles, however Truffoire focuses on the two most popular: white truffle and black truffle. Which resulted in the creation of two different collections: 
White Truffle Collection (contains the truffle 'Tuber Aestivum')
Black Truffle Collection (contains the truffle 'Melanosporum')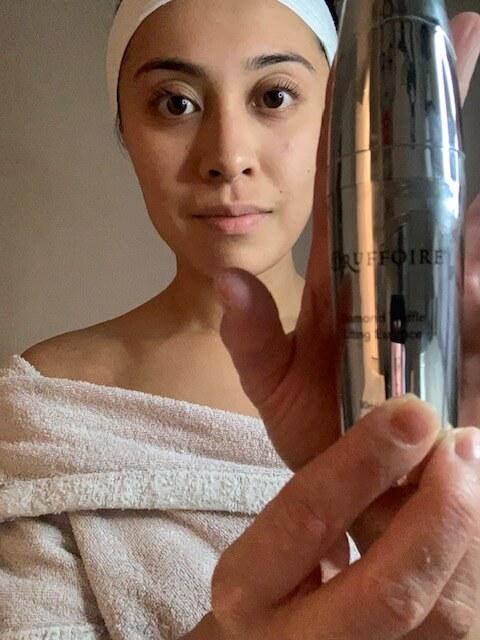 My skin type ranges from: dry-normal, so I decided to try the Diamond White Truffle Collection.
Upon receiving the packaging, I was in complete awe! The luxurious and reflective packaging truly felt like the products are encased in diamonds. Each package has a magnetic flap on the front to open and close the box, this made the presentation leading up to the product even more special and unique.  
The products I tried: 
Diamond Truffle Neck & Chest Mask (16 masks total)
Diamond Truffle Lifting Mask (52g/1.83 oz)
Diamond Truffle Lifting Essence (30ml/1 fl. oz.)
Diamond Truffle Neck & Face Cream (30g/1 oz.)
Diamond Truffle Neck & Chest Mask
Key Beneficial Ingredients:
Sea Algae Extract (pulls toxins from the skin)

Aloe Extract (natural anti-inflammatory as it contains soothing properties)

Lavender Oil (natural anti-septic)

Collagen (protein)
When you order the Diamond Truffle Neck & Chest Mask, you receive a total of 16 masks: 8 masks for the neck and 8 masks for the chest. Since I am petite, I was able to utilize just one for both my neck and chest. 
After cleansing face and neck, I first tried the truffle neck and chest mask. The neck and chest area are often a forgotten in most skincare routines! I was looking forward to seeing how my skin would respond. 
To peel open the sealed packaging took a little bit of some grip strength, and it made a bit of an unpleasant noise when opening. The mask itself however, provided much needed hydration for my skin this winter season. Most of the beneficial ingredients in this product are natural humectact ingredients, meaning they help to attract water to the skin. 
The effects of this mask gave my skin a dewy and radiant complexion after removal! My favorite key ingredient in this product is the collagen. Collagen is what gives our skin the youthful plumpness! 
The mask is gel-based and cool to the touch. It is thin enough where you are able to sculpt the mask to your own unique neck and chest shape. After removal, you may have remaining product on the skin, to which I left on, and gently patted in for absorption. 
The directions say to leave the mask on for 15 minutes and use 3-4 times a week. I immediately gravitated towards this product after first-use and applied it at the maximum recommendation of 4 times a week. 
I began to notice overtime that my skin felt and looked more hydrated. It is winter season, so it deems appropriate. 
Diamond Truffle Lifting Mask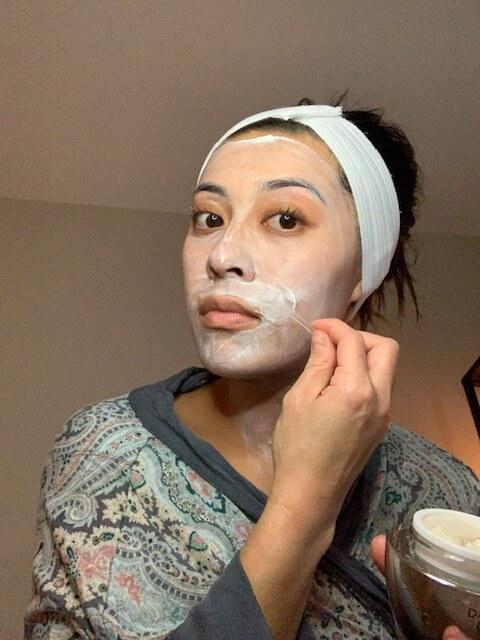 Key Beneficial ingredients:
Bentonite (detoxifies the skin)

Honey (antioxidant)  

Helianthus Annuus Seed Oil (sunflower extract, to replenish skin barrier)

Ginkgo Biloba Leaf Extract (anti-aging, fights free radicals) 

Titanium Dioxide (protects skin from environmental factors) 
With the truffle mask, I loved that the package came with a flat round applicator to help with sanitation and application. 
Per the directions, "Apply an even layer to the clean skin. Leave on for 10-15 minutes. Rinse off with warm water. Use weekly." 
I used the mask two times a week and applied a thicker application around the mouth and nose area, where I have smile lines surrounding the mouth and pore congestion on the nose.
There is a light fragrant smell of the truffle mask, which was pleasant to me. The consistency and texture of this mask is thick (because of the bentonite), but the applicator given helps to control and spread the mask more evenly. 
I did decide to extend the mask down to my neck as I have minimal neck lines there as well. There is slight tingling activity with the mask, as it contains the ingredient, retinyl palmitate. This ingredient is a derivative of Vitamin A, and used as a deep layer exfoliant to increase cell renewal in the dermal layer of the skin. 
After 15 minutes goes by, the mask dries, and I rinse the it off with lukewarm water and notice the smiles lines and neck lines do not appear to be as deep in depth! The congestion on my nose also brightened.

Diamond Truffle Lifting Essence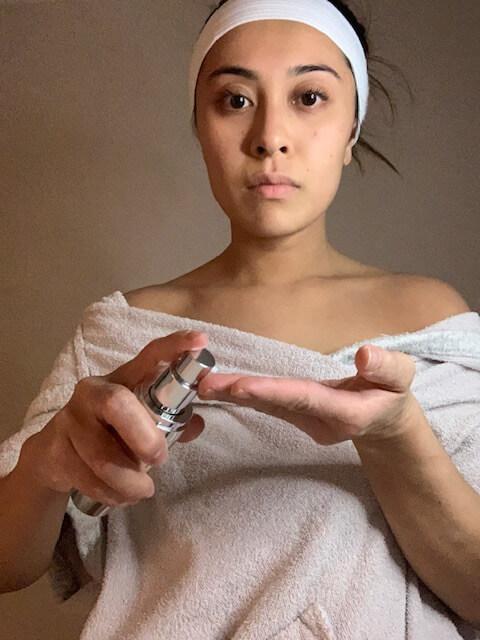 Key Beneficial Ingredients:
Sodium Hyaluronate (attracts water to the skin in order to stay hydrated) 
After the mask, I applied one full pump of the lifting essence into my palm of my hand, rub my palms together to allow for an even application, and apply onto my face and neck with gentle patting motions. 
As you can see from the picture above, one full pump was enough for both my face and neck. Referencing the third picture, the essence gave me an immediate uplifting natural glow! 
The texture and consistency of the essence is thin and glides very well. It absorbs deep through the layers of the skin quickly because the essence contains small molecules of hyaluronic acid, Sodium Hyaluronate. This is also another ingredient that acts as an humectant to draw in more moisture onto the skin's barrier.  
This is a product I could personally see myself using throughout the year, no matter what season. It is a great humectant and I can easily layer this naturally with other products, or even as a primer before makeup application. 
For that reason, I would have to say I favor this product the most out of all the other ones I tried from the Diamond White Truffle Collection. For the reason being that it is light, quickly absorbent, and gives an immediate bright and fresh complexion. 
Diamond Truffle Neck & Face Cream

Key Beneficial Ingredients:
Squalene (anti-inflammatory)

Beeswax (natural moisturizer)

Glycene Soja Oil (increases production of healthy skin cells) 
Finally, the White Diamond Truffle Neck & Face Cream! The texture and consistency of this cream is velvety smooth and also glides well onto the skin. It is occlusive, helping to lock in the hydration of all the products I applied onto my skin before this last step. 
I used this cream both morning and night for a few a few days, and decided it felt best to use the cream mainly at night because of its rich texture. 
I noticed profound results the next morning; while we sleep our body transitions to a state of restoration and repair mode, which means our skin does so as well. Normally, when I wake up my skin feels dry and taught. 
After using the cream as a part of my nighttime routine, I woke up with my skin still feeling plump from yesterday evenings application. I feel that this is the effect of the key benefical ingredients listed above, especially from the beeswax! 
Concluding Thoughts…


Overall, I enjoyed all of the Truffoire products and look forward to trying more from their line; specifically, the Truffoire Body Butter from their body skin care line and the Black Truffle Deep Renewal Vitamin C for the face. 
Their website is also extremely helpful and knowledgeable, if you find you want to dig a little deeper on how to use your purchased products and other helpful key ingredients are in them. 
Truffoire also provides beauty tips to you on the order of application to use the facial products for morning and nighttime skin care routine.