Love traveling? Love food?
These five destinations combine the two to provide the ultimate foodie adventure…
1) San Sebastian, Spain
Located in Spain's Basque Country on the Bay of Biscay, San Sebastian is not only famous for its beautiful sandy beaches, but also for its obsession with good food. Yes, obsession may be a strong word, but that's because the people of San Sebastian take their food extremely seriously.
In fact, San Sebastian boasts more Michelin stars per square meter than any other city in the world (apart from Kyoto), beating the likes of Paris and New York.
So, what makes the food in San Sebastian so good?
It is partly down to the city's location…
Being situated directly on the Bay of Biscay, San Sebastian is able to bag itself some of the freshest seafood out there. Many of the dishes that the city is famous for are seafood-based for this very reason.
San Sebastian also sets itself apart when it comes to its pintxos.
Wondering what pintxos is?
Pintxos is basically the Basque version of tapas. The dishes consist of small pieces of bread that have been topped with a selection of different ingredients, from chorizo and prawns to wild mushroom and cheese croquettes. These chunks of bread are usually speared on a stick and then placed on a bar, where diners can then go and help themselves to whichever they want, paying a set price per stick.
You will find pintxos being served up just about everywhere in Tapas, with San Sebastian being known for the best pintxos in Spain.
Here are a few other must-try foods in San Sebastian:
Fresh anchovies – try this as part of pintxos (mentioned above), usually on a stick with olives and local peppers, or go for freshly grilled anchovies for a burst of flavor
Kokotxas – a local delicacy, consisting of hake or cod cheek that has been cooked with the classic pil pil method, which sees the serving dish being constantly moved while olive oil is added to it
Salt cod – you will find numerous salt cod dishes in San Sebastian, with salt cod brandade cooked pil pil style (see above) being a must-try
Idiazabal cheese – a local sheep's milk cheese with deep, smoky notes
Txuleta – a steak from aged, grass-fed beef is a must when in San Sebastian
2) India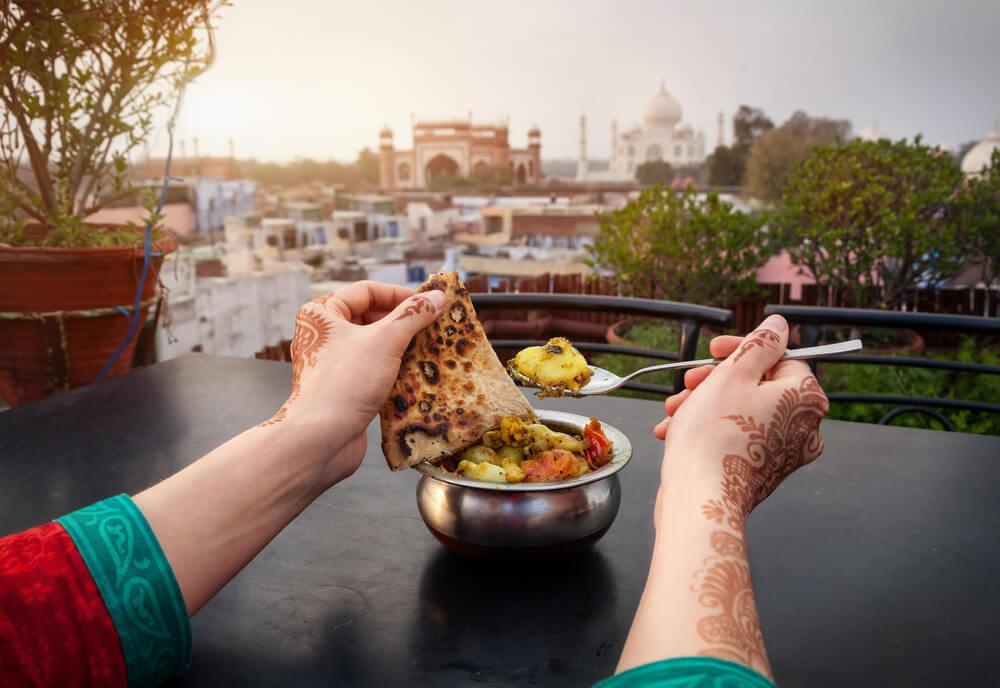 India is a massive country, so listing it on its own as a foodie destination, without including a specific city, may seem a little vague.
However, there is a reason for this…
Indian cuisine is so diverse and varied, with each region producing such distinct flavors. If you were to visit just one part of India, this would give you a fantastic insight into the cuisine from that region, but it would mean that you would end up missing out on so many of the other aspects that make up this country's culinary heritage.
So, the only way to get around this would be to go on a food tour of India, stopping off at various towns and cities along the way. There are numerous tour operators that offer packages along those lines, making it easier to plan than you would think.
However, if you decide you want to put together your own Indian foodie tour, here are some of the cities that you should definitely stop at, along with the must-try foods from each:
Delhi and other North Indian cities – the food here is often cooked in a tandoor (a charcoal-fired clay oven), and is generally quite hearty, featuring thick and creamy curries. Give tandoori chicken, butter chicken and rajma a try here, as well as roti and naan breads that have been cooked fresh in a tandoor oven
Goa – since Goa is located on the coast, many of its best dishes are seafood-based. The Portuguese influences on Goan cuisine give the dishes here a unique twist, with the dominant flavors being spicy and sour. Be sure to try xacutti, which is a coconut-based curry, and Goan sausages here
Tamil Nadu – just like other South Indian cities, the food in Tamil Nadu tends to be hot and fiery, and each meal usually contains rice in some form. Many of the dishes here are vegetarian-based, although seafood is a specialty in some South Indian areas. Don't miss out on the idlis, which are steamed rice cakes, as well as the masala dosa, a crispy, super thin pancake stuffed with a spicy blend of onions and potatoes
Bengal – seafood is the star in Bengal, especially hilsa, which is a variety of fish. Give it a try in maacher jhol (the local fish curry), or gently fried with vegetables. Milk-based sweet dishes are also popular in Bengal, such as sandesh, which is made from sugar and condensed milk, and rasgulla, which is cottage cheese that has been cooked in a sugar syrup
Nagaland – located in North East India, the food in Nagaland is quite unlike other forms of Indian cuisine. It does not contain all of the oil and spices that Indian food is so commonly associated with, but does still boast the hot and spicy flavors. Pork is surprisingly popular here, especially in a stew with bamboo shoots. Be sure to also try some of the region's more unusual ingredients, from hornet larvae to ant eggs
3) Osaka, Japan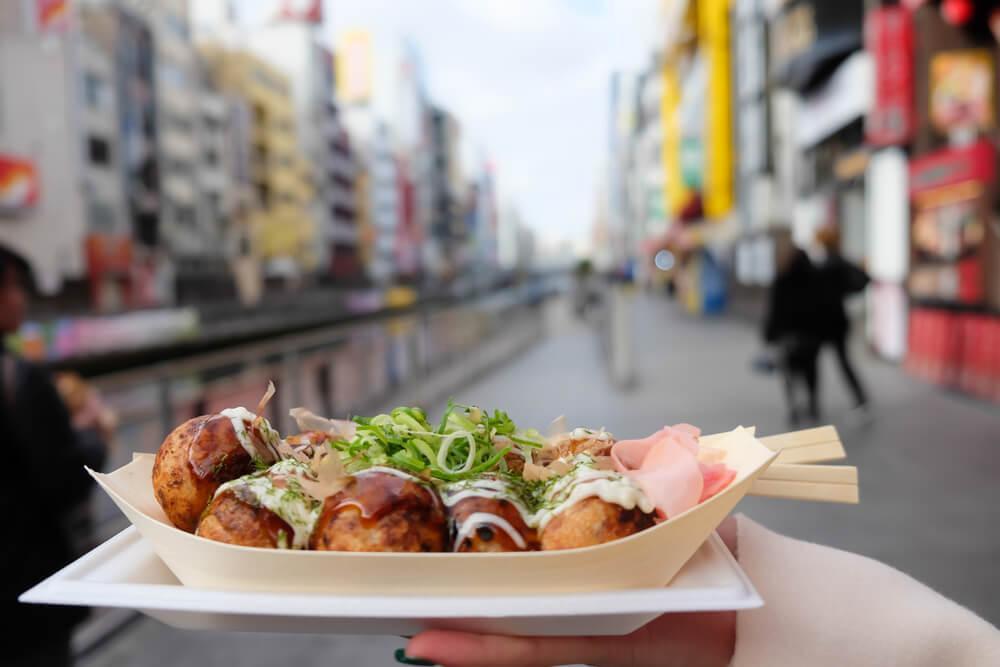 Japanese food is famous all over the world. After all, which city doesn't have at least a couple of sushi joints?
However, there is nothing quite like sampling the real deal, and, while many Japanese cities may offer there own unique take on Japanese cuisine, Osaka is the place to go.
Why Osaka?
For a few different reasons, with the first being Dotonbori.
Now, if you're a true foodie with a passion for all things Japanese, you have probably heard of Dotonbori before. This area of Osaka consists of eight blocks in the city's Namba district, with just about every inch of space taken over by a restaurant or a street food vendor. You will find every type of Japanese food imaginable in Dotonbori – be prepared to feel completely overwhelmed by all of the choice!
Don't worry if you feel lost, here are some of the must-try restaurants in Dotonbori, along with a recommended dish to order:
Daruma – famous for their Kushikatsu, which is deep-fried meat or vegetables that have been skewered
Kani Douraku – grilled crabs are the specialty here
Kitazo – stop here to experience a traditional Japanese tavern, complete with fresh seafood and some fantastic sake
Genrokuzushi – this restaurant is said to have given birth to the conveyor belt sushi restaurant trend
Of course, there's so much more to Osaka than Dotonbori…
Let's begin with sushi and sashimi. If you're a fan of Japanese cuisine, you have probably already eaten sushi and sashimi countless times, but nothing quite beats the freshness and flavors you will experience when eating this in Japan. Since Osaka is home to one of Japan's biggest fish markets, freshness truly is key when it comes to the seafood served up in the city.
While Japan may be famed for its seafood, Japanese barbecue is something else worth trying. Yakiniku is the word to know, with this phrase referring to the Japanese style of grilling beef, where you grill the meat yourself on a charcoal grill at the center of your table. You are probably thinking that Kobe beef is the one to try, with Kobe being located just 30 minutes from Osaka, but wagyu beef, as well as Matsuzaka beef, is a must-try too.
4) New Orleans, Louisiana, USA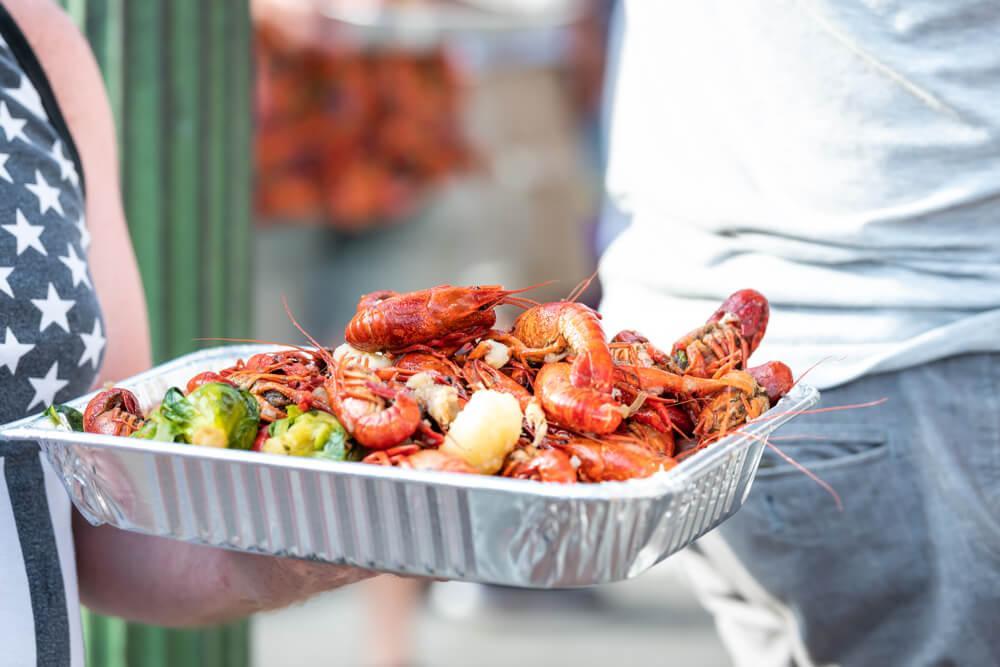 There are several American destinations that would provide an incredible foodie adventure, but New Orleans is at the top of the list, with many referring to it as the culinary capital of America.
Why?
Because this is a city with such a distinct and unique style and culture, and this is reflected in its local cuisine. Some of the best chefs in the world have set up shop in New Orleans, showcasing the city's one-of-a-kind culinary personality.
One of the most iconic dishes to sample in the city would be chargrilled oysters, which are so popular throughout the South. However, in New Orleans, they taste even better, with the delectable blend of breadcrumbs, cheese, fresh herbs and melted butter contrasting beautifully with the charred flavor of the oysters. Head to the Acme Oyster House in the French Quarter to sample this specialty, with this restaurant having been around since the start of the 20th century.
Don't fill up too much on the oysters, as there are so many other foods that you need to try in New Orleans, such as:
Po'Boys – this street food sandwich consists of French bread that has been filled with either roast beef or fried shrimp, and then dressed with a salad and mayonnaise
Gumbo – this famous stewed dish is packed full of flavor, with everything from chicken, sausage and seafood added in, along with plenty of spices
Jambalaya – this rice dish is usually made with either pork or seafood, with many comparing it to the Spanish dish of paella
Muffulettas – another popular sandwich, this one is big and round, stuffed full of deli meats, cheeses and usually a homemade olive salad too
Make sure that you save some room for dessert, as there is one sweet treat in New Orleans that you won't want to miss out on…
Beignets, which mean fritter in French, were first served up in the city in 1862, at a local eatery called Cafe Du Monde. These sugar-filled donuts that have been cut into squares before being fried into a fluffy, airy bite of perfection are enough on their own to attract hoards of tourists into the city.
It goes without saying that the best place to eat a beignet would be at Cafe Du Monde, where you will be able to sample a beignet 24 hours a day, seven days a week, with the only day the cafe is closed being on Christmas Day.
5) Addis Ababa, Ethiopia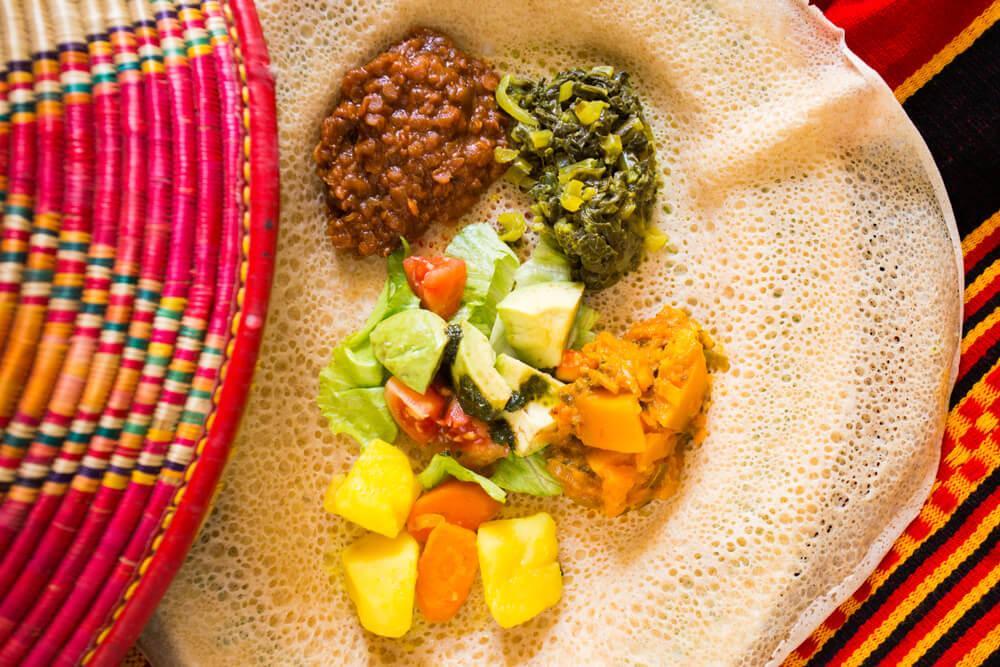 The capital of Ethiopia may be lesser known than some of the other destinations on this list, but it is still equally capable of providing an unforgettable foodie experience. While many may still equate the city with the famine it suffered in the past, Addis Ababa is home to one of the healthiest, and most flavorful, cuisines in the world, with locals being so proud of their culinary heritage.
Hospitality is huge all over Ethiopia, so expect to be fed until you truly cannot even comprehend eating another bite. Food here is often eaten with the hands, enabling you to really get involved in what you are about to taste.
If you've never had Ethiopian food before, you're probably wondering what it's all about…
Here are a few dishes you need to try:
Injera – this sourdough flatbread can be found served up alongside just about every Ethiopian meal, as this is used as a utensil to scoop up the rest of the food
Tibs – this popular meat dish consists of small chunks of beef cooked up with spices and herbs
Kitfo – another beef dish, but this time raw, being the Ethiopian version of beef tartare
Of course, don't leave without sampling some authentic Ethiopian coffee, with this country being the birthplace of coffee. You will find hundreds, if not thousands, of varieties to try here, with most of these being grown and harvested on a small scale. Coffee is a big part of the culture in Ethiopia, with a coffee ceremony consisting of a small cup of espresso that has been brewed in a clay urn over the top of a charcoal flame.
If you're a passionate foodie, then chances are you're always seeking out new, exciting destinations to sample some unexpected flavors. Well, whether it may be the Spanish coast or deep within a Japanese city, these five destinations promise to surprise and delight with the amazing foods that they have to offer.