The ongoing pandemic has kept us closed and immobile for quite some time now, affecting both our mental and physical state. Many of you who were used to exercising regularly in the gym or outside are now confined to their homes, where there is very little room for doing that properly.
There are also many of us who just spent our time watching TV but are now just fed up with it.
But what to do when you find yourself in that pickle?
Well, a good idea might be to start exercising.
But, yet another hurdle finds its way into our thoughts. How, oh how, to even exercise in these conditions? What to do?
Well, don't you worry, we have a perfect solution that will meet all your requests – exercise bikes that fit even the smallest spaces!
Why Stationary Bikes?

They help your heart and lungs work better

Cardio exercising, such as bike riding, will improve the strength of your heart.
What does that mean? Well, it means that you will be able to go up five flights of stairs without feeling that you have just climbed Mount Everest.
With continuous cardio exercise, your heart rate will improve, which means that it will be lower during both rest and exercise periods. Moreover, it will help you lower the risk of getting a heart attack, or other heart conditions.
However, a small note for beginners – you need to be persistent. Don't expect to feel the difference after only two workout sessions. You have to start slowly and then build up your strength.
As for the lungs, riding a bicycle can help your lungs by making your muscles stronger. In time, as your exercises and your muscles become stronger and stronger, they will need less and less oxygen to work. In that way, after a period of continuous exercise, you will be able to do a lot of exercise with steady breathing and thus you will not put any strain on your lungs.
They're a good way to strengthen your muscles

Stationary bikes are especially beneficial for the lower part of your body, the gluteus, and all of the muscles of your legs. They also strengthen the muscles of your arms.
However, it is extremely important to maintain a good posture while riding a bike, because you can cause a back injury by exercising in an improper way.
If you want to pump the muscles of your legs and gluteus, then this form of exercise is not for you. Since it is a type of cardio exercising, it will help you tone and strengthen the muscles of the lower part of your body, but it will not increase their volume.
They're a (near) perfect way to lose weight

Are you, as many of us, guilty of eating a bit too many burgers and cookies during the Covid-19 pandemic? Perhaps adding a couple of more pounds than you intended?
Well, don't beat yourself up! Everybody has gained weight.
Ok, maybe not everybody (yes, we're talking to you, people with the will of steel).
But the rest of us did. And that is why stationary bikes are the perfect solution. Going outside to exercise will not be an option for a while, so not use the time to exercise so you could lose that extra weight till the end of the pandemic!
It will not only help you burn calories but also shape your legs.
But remember, you will need to be persistent, or work out a semi-regular schedule of exercising. In order to lose weight, it is advised to ride a stationary bicycle at least for an hour three times a week. But if you feel like this is perhaps too much, start slow and build up your stamina. You'll be there in a jiffy!
They even help with diabetes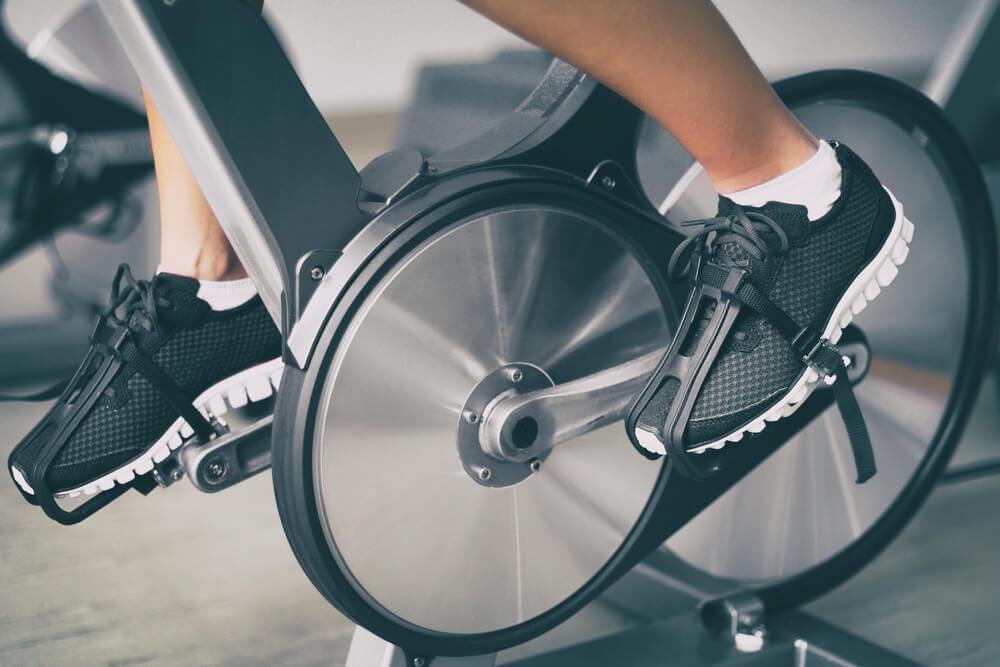 Diabetes is a very difficult and very dangerous illness, where the blood glucose levels are very high, and the body doesn't produce enough insulin to regulate the sugar levels.
As you may know, exercising is important if you have diabetes. While exercising, muscles use the glucose from the blood, thus leveling it out.
Exercising also influences the insulin in the body, by making the body more sensitive to it.
If any diabetics are wondering how to start or continue their workout habits, it might be a good idea to look into this option. The benefits are truly amazing.
They simply make you feel happier

Due to a generally stressful lifestyle, where people are obliged to be available 24/7, the feeling of anxiety has hit an all-time high, research shows.
A great deal of effort was put by scientists and doctors alike in helping people deal with the problems in a different way.
One of the most important ways of dealing with stress is, of course, exercising. By riding a stationary bike, for example, the body releases endorphins and serotonin which have an extremely positive effect on your state of mind.
By exercising for an hour 3 times a week, you will have accumulated enough endorphins to get you through a rough week. This is a hard time for everybody, so help yourself feel better!
They also have other benefits for our health

By now you must have heard about the difference between the good and the bad cholesterol. But have you heard that doing light exercising at home, such as riding a stationary bike, can help reduce your levels of bad cholesterol and increase the levels of good? Much research has proven that doing a small amount of exercise at home can help your bad cholesterol levels drop.
Apart from that, if you have suffered any injuries, especially any injury to your joints, there is no better way of rehabilitation than to do a light spin on your stationary bike. It will relieve you of the pain, while also helping you restore mobility in due time.
What Should You Pay Attention to Before Buying an Exercise Bike?

The most important thing you have to look out for is the size of not only the bike you are buying but also the space designated for its usage. Be sure to check the dimensions of your bike.
If you are a tall person with long legs, you have to choose bigger bikes that can suit you. But if you only have a small amount of space available, you have to choose the best type of bike so you can be sure it can fit. These are some things that absolutely need your undivided attention before you decide to shop.
You also need to pay attention to how serious you are about getting some exercise and, depending on that, choose between "simpler" and more advanced types of bicycles.
Of course, you also have to take the warranty each brand offers into consideration. But always be careful, since there are brands that offer different warranties for the frame and other parts.
Types of Stationary Bikes
Upright bikes

These types of bikes are the most common ones with the pedals situated right beneath your body. You can use them both from a sitting or a standing position and they put emphasis on exercising your legs and core muscles. However, they can sometimes cause pressure on your wrists, so if you have problems with your joints, be sure to choose a different type of bike.
Recumbent bikes
If you have the aforementioned wrist problems, then this type of stationary bike is a better solution for you since the position of the seat is different. It is placed back from the pedals, thus letting you sit in a more relaxed position. Exercising in this way puts less stress on the upper part of your body. This bike is perfect for people who want less intense workouts.
Dual-action bike

The name says it all – this type of bike makes you work twice as hard, since the handlebars move while you are pedaling, thus stimulating both the upper and the lower part of your body. This bike is for the really ambitious ones!
Choices, choices…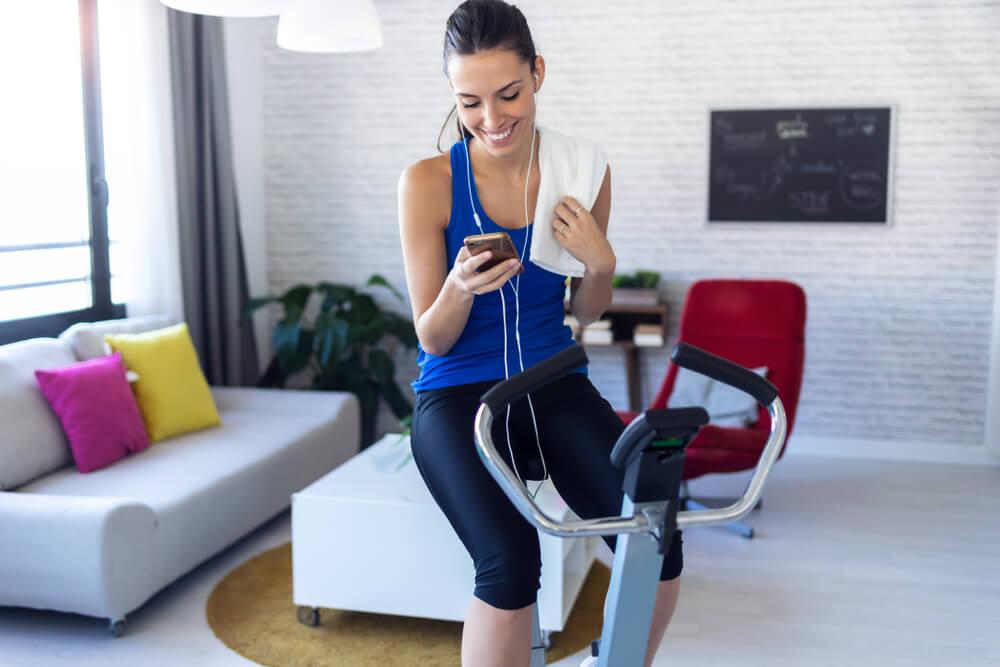 Because there is really a vast ocean of bikes intended for small spaces, we have narrowed it down to 5 best stationary bikes according to user reviews and general features.
So be sure to check these ones out since there is no doubt you will find one to your taste that is perfect for both your space and you!
Folding Magnetic Upright Bike by Exerpeutic

According to everybody who is anybody in this niche, this is the best available stationary bicycle not only because of its performance, but also because of its size and space usability. It is foldable, so it means that it occupies very little storage space, which makes it perfect for small living units. Its frame is very firm, making it one of the most stable ones on the market.
As for its performance, with its advanced magnetic tension system that provides different levels of intensity, hand pulse sensors that measure your heart rate, large LCD display, and large seat cushions it makes it a top-notch product which you will not regret buying.
Marcy Foldable Upright Exercise Bike

This item offers you everything you ever wanted of a stationary bike – easy usage, compactness, and a stable frame.
It focuses on the lower part of your body, strengthening your glutes and leg muscles, giving you nicely-shaped legs. It has adjustable resistance levels and a simple LCD screen that makes it easy to see the details of your exercising. As the previous one, this one also provides 8 levels of resistance control.
It is perfect for storage since it can be folded easily. Moreover, it has special rubber protection on the bottom, so you don't need to be afraid you will scratch your floor while moving it.
Exerpeutic Gold Heavy Duty Foldable Exercise Bike

The feature that separates this stationary bike from all the others is its weight capacity since its steel frame construction has the power to endure as much as 400 lbs. This makes it the firmest and the most endurable such bike on the market, and makes it perfect for all body types and sizes.
Like the previous two, it also has 8 levels of magnetic resistance and an LCD screen. Moreover, it can be folded in half and put away fairly easily. It has a special cranking system that allows you smooth and quiet pedaling, so you can do other things while exercising, for example, listen to music on your phone.
XTERRA Fitness FB350 Folding Exercise Bike

If you have back problems, then this stationary bike is the perfect solution for you. It has good, padded lower back support with a wide padded seat which makes your ride that more comfortable. Another plus is the padded seat handles that make you change seating positions easily.
As for other features, they are pretty standard, like the rest of the bikes on the list – this bike also has 8 levels of resistance, it notes down all your exercising statistics and monitors your heart rate, which is extremely important, and it can be easily folded.
But, all in all, if comfort is what you look for, then look no further.
Lanos Folding Exercise Bike

If you are an experienced user and you like a more advanced workout session, then look no further, this recumbent bike is the stationary bike for you. It offers 10 magnetic resistance levels, so you can opt for more intensity during your workouts. It supports up to 330 lbs, so it is perfect for people all sizes and shapes who decide to exercise.
It has a big LCD screen that shows your mileage, time spent on the machine, and the calories burnt, and one of the most interesting characteristics is that it has pulse sensors built in the handlebars. With a phone you can safely have by your side, since it has a special holder, you can listen to music or watch videos while you exercise.
The thing that makes it essential if you don't have enough storage space and you are having second thoughts is the fact that it can be folded to half its size, so you can easily store it anywhere.