Summertime presents its own special challenges, when it comes to looking nice and fresh, and while a lot depends on the items of clothing you choose to wear, whether you will be indoors or out and the relative temperature and humidity, the way you wear your hair can have a lot of influence on just how cool you appear to be. In spite of all the work and preparation that you may have applied to getting ready, if your hair is not styled comfortably yet fashionably, you will likely not be able to pull off looking good, no matter how much money and time  you spent getting ready.
Naturally Curly Hair
Women with naturally curly hair have an advantage over others, especially when it comes to summertime. Even those who simply struggle with the frizzies can take advantage of summer's higher heat and elevated levels of humidity. Summer is the time to give up the fight and go natural. Put away the heated tools that you normally use to blow dry,  flatten, straighten and style your hair into a predictable style that you can trust to remain intact for any period of time — you aren't going to need them now. Just go with the flow, and set those curls free! There are even products now on the market that accentuate your hair's ability to curl, so check them out. When you conscientiously style your hair by taking advantage of its natural tendency to curl, you will be confident that your hairdo will remain the same, the entire time you are out and about.
Put up With it!
More appropriately stated, "put it up!" During the warmer weather, there is no better time to play with up-do styles, lifting longer hair up and off of your neck and face. Many women with longer hair share that pulling their long hair up is actually cooler than when they sported short tresses. There are many different ways you can accomplish pulling your hair up. You can start with a retro ponytail, and for a dressier look, poof up the hair directly in front of the ponytail on top of your head. Add some jewels or a nice sheer scarf for a summery accent. When you are getting ready for a summer soiree that is more formal, why not try a more pristine bun, either directly on top of your head, or at any angle from there on down to the nape of your neck? For a slightly less formal approach,  you can leave out a few sparingly chosen strands to hang down, loose and free.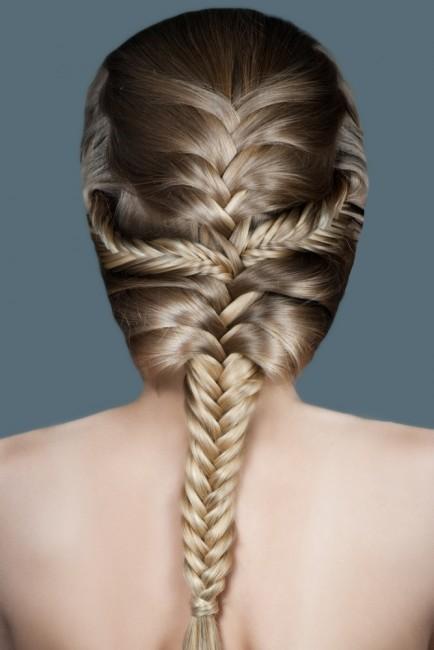 Braids
Braiding your hair is a fun way to beat the summer heat wave, however learning the art can take a little time. With some practice, you'll find that it is not all that difficult. Start out simple, and then check the Internet for an incredibly rich variety of braiding styles and techniques. Another benefit of braiding is that when you take down the braids, you have a secondary hairstyle immediately!