My hair is my pride and joy. There isn't much I wouldn't do, or spend, on hair care products to keep my long hair looking its best. I've always felt like my hair is a part of who I am, I mean aside from the obvious reason of it being attached to my scalp. As someone who takes all necessary measures to provide great care of my hair I've gone through a number of different hair styling tools and products. I'll be honest with you it takes a lot to impress me at this point in my life. I think most women feel the same, because we have so many options available to us in the hair world. That being said, I recently tried a few new hair products and dare I say…I'm IMPRESSED. Really, though! Let me explain…
Over the past few weeks I've had the opportunity to try a new hair straightener, the Nubi 'Get It Straight'. As a self-proclaimed hair enthusiast I've used a number of hair straighteners throughout my hair styling years. When I say I've tried a number, I mean it. There was a point in time when I had an alarming number of different straighteners at home because I was determined to find the BEST option available. The truth is most of the straighteners I've used throughout my life were just 'ok' but I really never loved any enough to stay loyal. I know I'm not alone here! 
But let's get back to the Nubi straightener, shall we? When I had the opportunity to give this a try I jumped at the chance to see if this was going to be the straightener that stood up to the challenge of impressing me. Well, I already told you I was impressed but I want to talk about WHY I'm actually in love with this straightener. 
Why I Fell In Love with the Nubi 'Get It Straight' Ceramic Styler
For starters, the exterior design and function of this particular tool is sleek and simple. Over the years I've learned that when it comes to hair tools, specifically with straighteners, anything that has too many 'extras' tends to make it more difficult to use. I know I'm not the only woman who's had their hair caught in parts of a straightener…am I? Well the Nubi is as straightforward as you can get, which is something I personally love and NEED. However, just because the design and function on the user's end is simple doesn't mean the styler itself is. This baby is loaded with advanced technology, which is what's actually making it so easy to use for the actual user of the tool. FYI – they built in a unique 'floating' plate system specifically designed to prevent your hair getting caught on the tool. Hallelujah! 
The 'Get it Straight' straightener is a ceramic styling tool with 1" plates. But this isn't your average ceramic straightener, ladies. This particular tool offers salon quality results, without having to actually be a salon professional. The heat technology they've put into this product is what I think really makes this unique and so effective. Nubi uses what's called a Negative Ion, infrared heat technology. Now if you're anything like me, that doesn't mean a WHOLE lot because I'm no science expert. What I do know is this type of heat is significantly less stressful on hair – total win in my book. One of the main reasons I've always struggled to stay loyal to straighteners is because I always felt like my hair looked really dry and brittle after using them after a while. Personally, this is always a pet peeve of mine. Part of me wondered if that was just something that came with using this type of hair tool, or if there really was another option. Well, after using the 'Get it straight' tool I've realized it's NOT the only option. I've honestly never used a straightener that kept my hair looking so healthy. In fact, the type of heat is specifically designed to seal the cuticle of your hair which is what helps prevent frizz and dryness. Cool, right?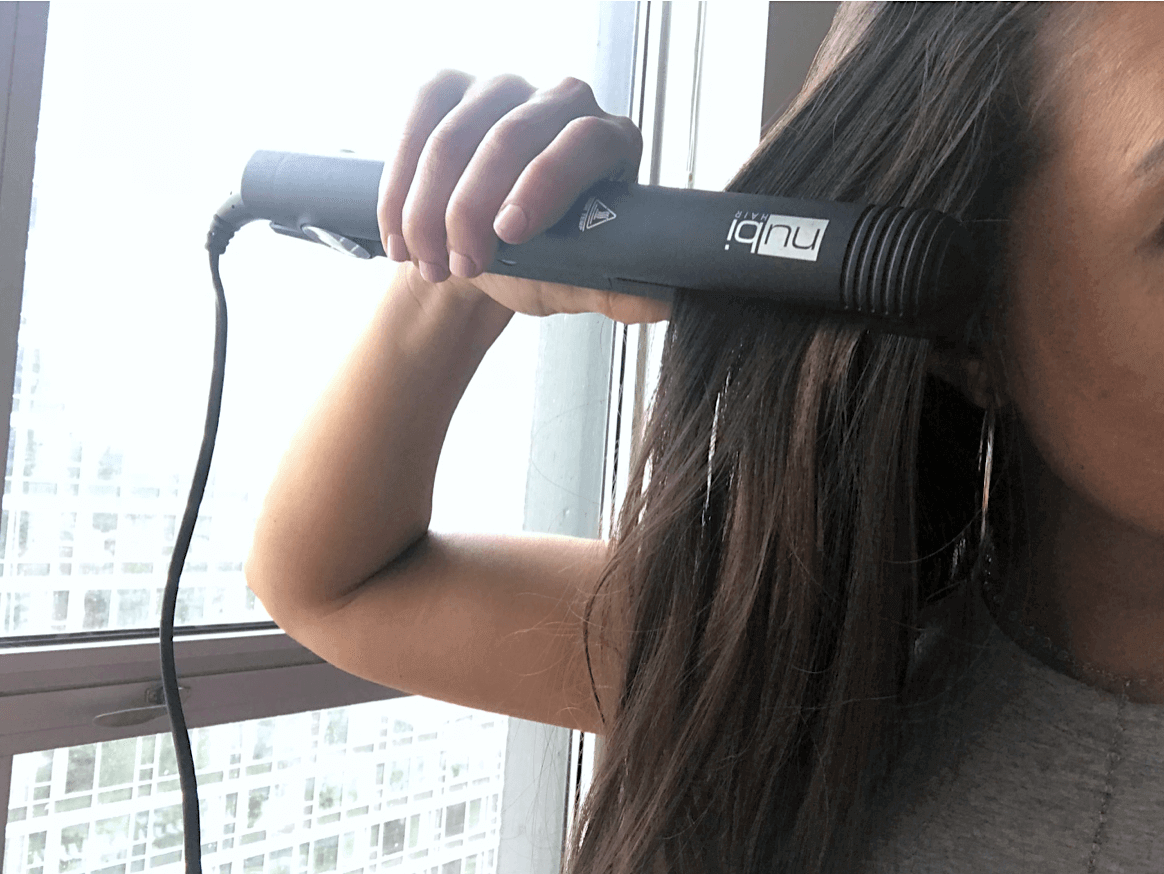 What I've always loved about 1" straighteners is they're easy to handle, store and travel with but they can also add time onto your getting ready process because they're not covering as much hair as a larger straightener would. This has always been a struggle for me because I do have long, coarse hair and not a lot of patience. That being said, I noticed that this particular straightener actually straightened my hair pretty quickly. Even with long, coarse hair I was able to straighten all of my hair in about 20 minutes. So even if you have a lot of hair like I do this tool isn't going to slow you down while you get ready. I think between the adjustable heat settings and the heat technology, the tool straightened my hair more effectively so I didn't need to run it through my hair as many times as I typically do to get that straight look. You ladies know what I mean – we've all felt like we were trying to straighten the same chunk of hair forever before it FINALLY straightens. 
The 'Get it straight' styler heats up REALLY quickly and offers heat settings that go up to 420 degrees Fahrenheit. I'm not exaggerating when I say it heats up quickly, the first time I used it I stepped away for a minute expecting it needed a little time to get warm only to find that it had been warm! Seriously, this styler doesn't need much time to get warm so don't walk away for long after turning it on. From my personal experience, adjustable heat settings are a crucial element to a great straightener because it allows you to customize the tool to fit your hair type and desired style. The first few times I used the styler I played around with the heat settings a bit to determine where it worked best for my hair. Personally, I found right in the middle was the money spot for my hair. Word to the wise, because this straightener has unique heat technology and heats up so quickly start with the lower heat settings and work your way up (as needed). Even though it's a gentler heat it's still heat! Better safe than sorry – in my humble opinion. 
Aside from the heat setting experimental phase, I suggest to get the best results with this straightener (and really any 1" straightener) is to section your hair off working from the lower layers up. Creating sections in your hair makes is significantly easier to have more control over the hair you're styling and also helps you keep track of the areas you styled so you're not repeating any spots. Also, because this styler gets pretty hot rather quickly remember not to hold the straightener onto any one area for too long. I found it's best to glide the straightener from root to tip rather quickly as opposed to slowly. I know it may seem odd to glide the tool quickly but the type of heat doesn't need much time to style your hair and it will help you avoid over heating your hair at all. 
Best Paired with the Nubi Boosting Hair Serum with Marula Oil
While I was in the experimenting mood, I decided to also try Nubi's Boosting Hair Serum. If you're not using a hair serum when using heat to style your hair you NEED to start doing so ASAP. Serums are a must to keep your hair protected. Yes, even though the Nubi straightener is much more gentle on hair you still should be using something pre-styling. Similar to straighteners I've never been incredibly loyal to a hair serum, once again I never really saw a huge (positive) difference when using them so I won't lie to you – I've skipped using a serum a time or two (shh, don't tell anyone). That being said, I've known for a while I really needed to find a serum I liked to keep my hair as healthy as possible so I was looking forward to adding the Nubi serum into my routine to see how it worked with my hair. 
The first time I used the serum I applied a little too much product to my hair. Here's the deal, the biggest frustration I have with serums is I tend to HAVE to apply a significant amount of product and usually end up with my hands covered in the product. So naturally since I was used to needing to apply a good amount of product I did so with the Nubi. (Note to self: read and actually follow the instructions more often). After realizing I didn't need more than the suggested amount of product I was THRILLED. I usually go through serum pretty quickly because of the amount of product I have to use to see results, discovering I only needed 2 pumps of the Boosting Hair Serum was like Christmas morning. If you have a lot of hair you know what I mean.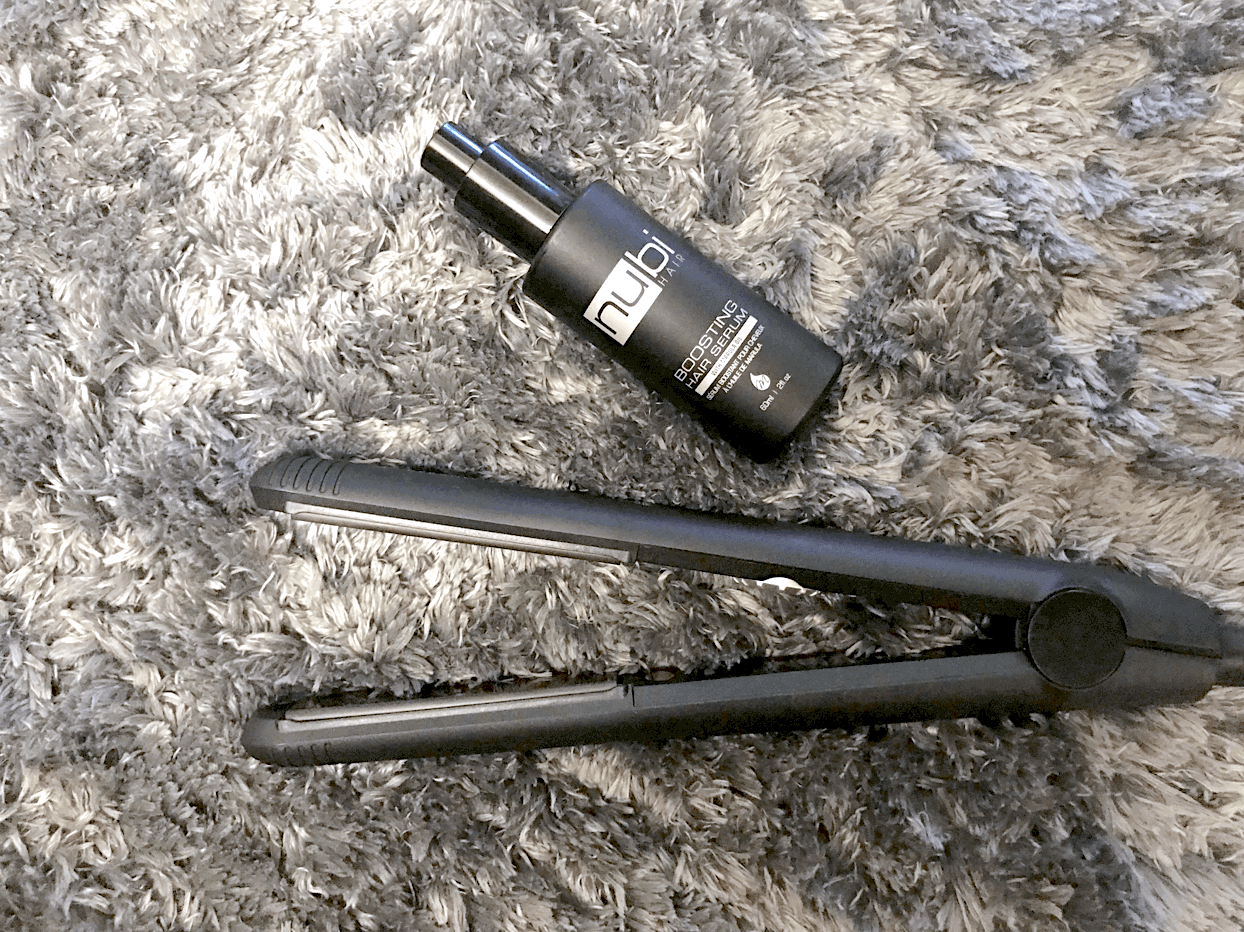 After working out the logistics around how much product is needed with the serum (user error), I've never been so impressed by a hair serum. I'm not kidding! The first time I used it I honestly thought the results were too good to be true, or a fluke somehow. I mean how could two small pumps of a serum make this much of a difference? My hair tends to be quite dry, especially this time of year, but after I applied the serum to my hair I couldn't believe how smooth and shiny my hair looked. 
The boosting serum was (go figure) formulated specifically to help with dry, frizzy hair. Now don't get me wrong, I've used plenty of serums formulated to do the same thing but like I said I haven't ever noticed a life changing difference. The Nubi formula consists of marula oil and aloe vera, among other ingredients. Personally, I'm all about the natural oil trend that's been happening in the beauty industry. If you're anything like I am, when you think of oil you think of a greasy feeling product. The intriguing, and effective, use of marula oil in the Nubi serum is that it's said to NOT leave any greasy residue. I know, we've all heard it before but I'm telling you they weren't exaggerating on this one. My hands didn't even have that greasy feeling on them after applying it to my hair. This was a huge deal to me because I've always struggled even holding onto straighteners and curling irons properly after applying serums because of the leftover residue. No one wants slippery hands when doing hair! 
Whether you've tried a lot of hair serums or you need to add one to your routine, this one is incredibly easy to use and gives great results from a small amount of product.  Both products are incredibly easy to use, whether you're an expert or newbie! I've been using both the hair boosting serum and get it straight styler by Nubi for a couple of weeks now and can't get over the difference in my hair. The serum doesn't just work great with the Nubi tool, though. I've used it even when I allowed my hair to air dry and it really helped to soften my hair and added some shine. I actually recently went on a weekend getaway and swam in water that had a lot of chlorine which generally leaves my hair feeling SOOO dry, so I decided to apply some serum after swimming and was so happy I did because my hair felt so much better afterwards. It helps give your hair a nice healthy boost no matter how you decide to style it. For the best results, stick to the suggested amount of product (1-2 pumps) placed onto the palm of your hand and massage the product into your hair. Because it's not a product that feels really oily you may feel like you need to apply more but you don't! A small amount will cover a lot of ground with this particular serum.