Have you ever used stem cell skin care before?
I've always been curious about it, so decided to take the leap with three products from Introstem:
The Thermostem Mask from Introstem's Thermostem Collection

The Stem Cell Firming Eye Cream from Introstem's Intro Collection

The Stem Cell Day Moisturizer from Introstem's Intro Collection
Not heard of Introstem before?
It's a specialty skin care brand that makes use of stem cell technology, in the form of plant stem cells. (Keep in mind that animal stem cells can also be used in skin care, so make sure to double check this if this is something that is important to you.)
What Exactly Are Stem Cells?
If you've never really looked into stem cells before, you're probably wondering what they actually are…
To put it simply, stem cells are cells that are able to transform themselves into any type of cell that can be found in the tissues that surround them. For example, they have the ability to mimic cells in the skin, heart, liver, kidneys and just about anywhere else in the body.
The stem cells that you will find in Introstem's products are grape stem cells, which are extracted from both the skin and the seed of a grape. You will find these grape stem cells listed as Vitis Vinifera Fruit Cell Extract on Introstem's ingredient lists.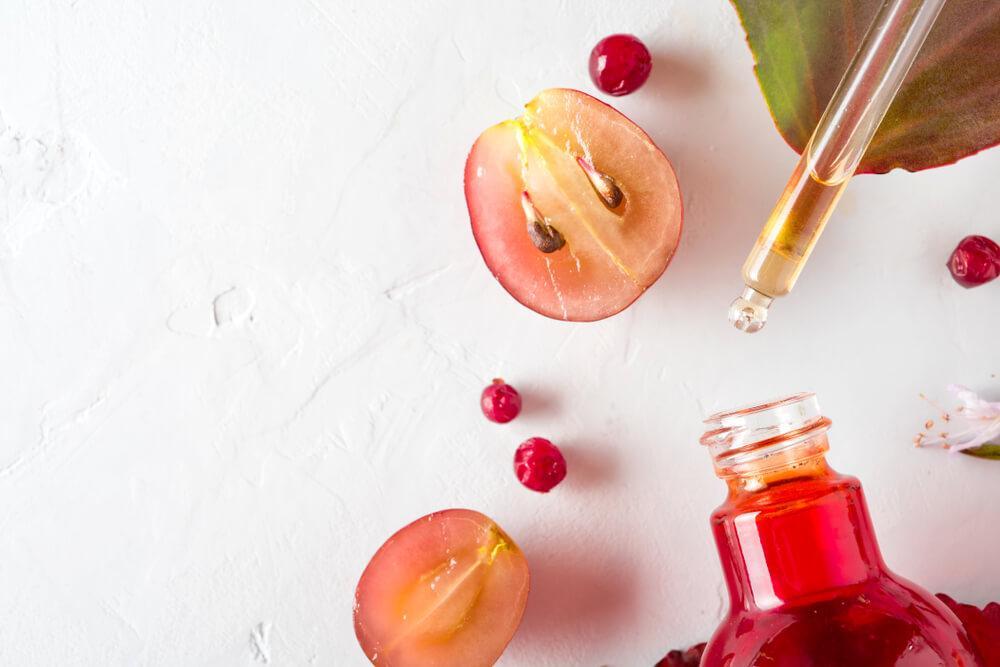 What Do Stem Cells Do for the Skin?
So, what do stem cells actually do for the skin?
Well, according to Introstem, they do the following:
Prevent the breakdown of collagen

Reduce inflammation

Protect skin cells from damage
Is all of that true?
Research suggests that it is, with grape stem cell extract able to significantly help with fine lines, wrinkles, loose skin and sun damage. 
As you can imagine, these are benefits that just about everybody could do with, which is why I was so excited to give Introstem's products a try.
Adding Introstem Into My Skincare Routine
Skin care routines vary greatly from person to person.
For myself, I have days when I'm too busy for an elaborate routine, so stick to just a cleanser, toner, serum and moisturizer. However, on other days, I really do love to pamper my skin, so my skin care routine will consist of several different steps.
I decided to incorporate my new Introstem products into my longer routine to begin with.
One thing to keep in mind when it comes to your skin care routine…
It is so important to ensure that you are layering your products correctly.
The general rule of thumb is: always begin with the lightest product and then work your way up, ending your routine with your thickest and richest product.
So, the first Introstem product waiting to be tried was the Thermostem Mask, meaning that I needed to cleanse my skin first. I do usually also use a toner, but I prefer using this after, rather than before, a face mask.
Once my skin had been cleansed, it was time to open up the box for the Thermostem Mask…
The Introstem ThermoStem Mask
The Introstem Thermostem Mask is a self-heating clay-based mask (something else I've always wanted to try) that has been infused with some amazing ingredients. 
The ingredients that really stood out to me (other than the stem cells) were:
Ascorbic Acid – the most powerful form of vitamin C, ascorbic acid is a fantastic anti-aging ingredient that also helps to brighten the skin. It works even better when combined with vitamin E, which this formula also contains
Arnica Montana Flower Extract – this botanical is a powerful anti-inflammatory that is great for restoring suppleness and elasticity to the skin
Hemp Seed Oil – extremely moisturizing and hydrating, while being packed with nutrients
Sweet Almond Oil – a potent source of moisturizing fatty acids, and doesn't clog up the pores
Housed in a solid black box that lifts open, the Introstem Thermostem Mask is contained in quite a heavy, opaque, jar-type container. Sat next to it in the box is a small transparent applicator.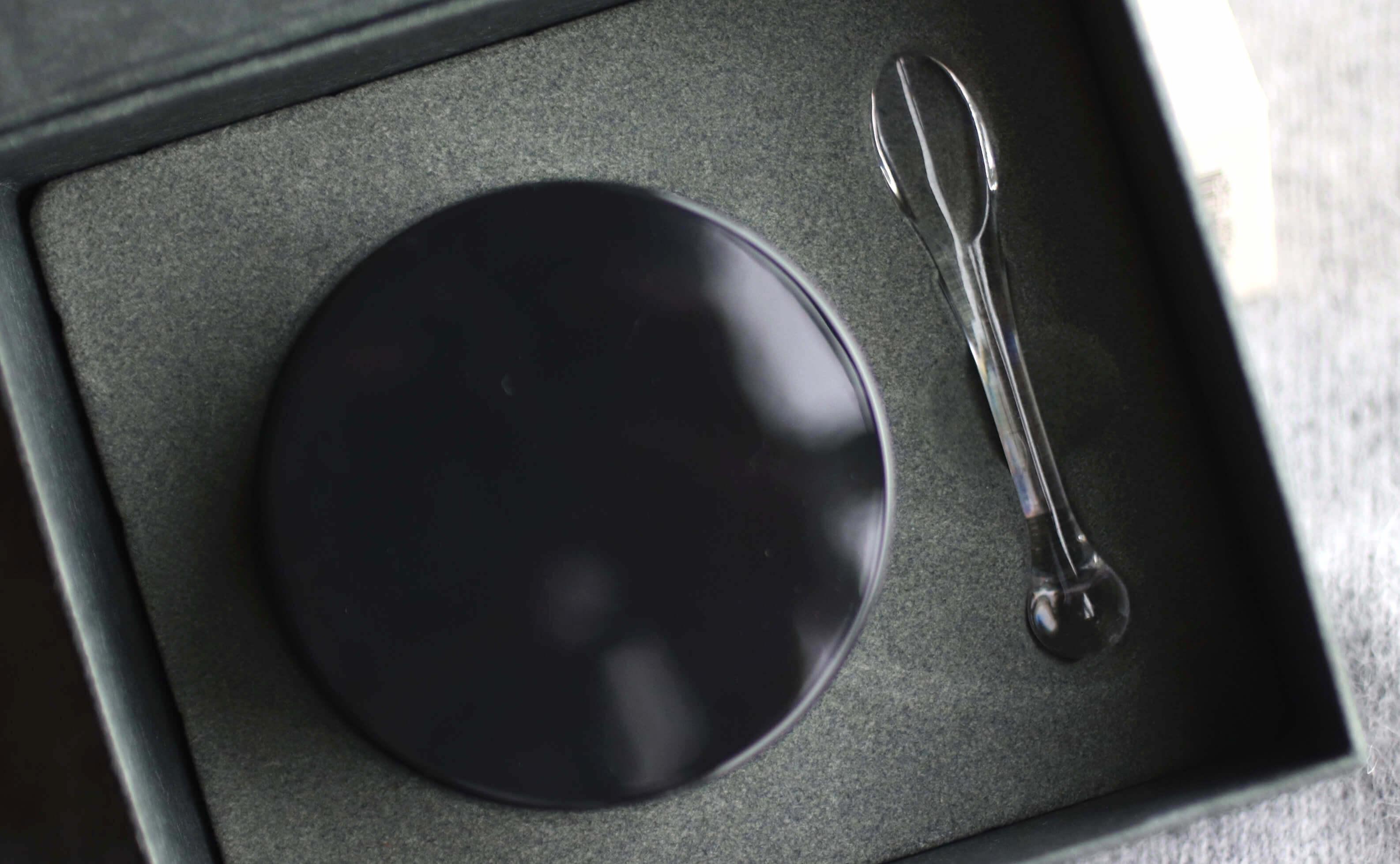 I definitely appreciated the opaque nature of the box – this is key when it comes to extending a product's shelf life, as it prevents the light from coming into contact with the active ingredients and degrading them.
The mask's jar also featured an additional plastic lid within, preserving the product even more.
How to Use the Thermostem Mask:
The directions on the box state to apply the product on to wet and clean skin, massaging it in using upward motions.
So, I did exactly that, using the applicator to scoop the mask out of the jar.
The very first thing I noticed was the texture of the mask…
It seemed runnier than most of the other masks I've used, and this really intrigued me.
Now for the impressive part…
The product felt quite cool when I first applied it to my skin. However, as soon as my hands came into contact with it to massage it on, it started heating up.
How hot did it get?
Warmer than I thought it would, but it was still very comfortable.
Wondering how self-heating masks work?
For the Thermostem Mask, zeolite is the key ingredient. When you massage the mask's formula onto your skin, the chemical bonds within the zeolite are broken down, and this energy is then released as heat.
Self-heating masks can actually be extremely beneficial for the skin when compared to traditional masks, as they do the following:
Open up the pores, enabling the other ingredients in the mask to better penetrate into the skin

Boost blood circulation, immediately giving the skin a healthy glow
So, back to the mask…
The box states to leave the mask on for 10 to 15 minutes. I have to admit, I got a little distracted at this stage (new puppy!), and the mask ended up staying on for about 20 minutes. I was concerned that my skin would feel dry and tight once I washed the mask off, but, surprisingly, it didn't.
Instead, my skin felt beautifully clean, soft and refreshed. It was so smooth to the touch, and while I would have happily stood there stroking my skin for several more minutes, it was time to move on to the next step of my skin care routine.
The Introstem Stem Cell Firming Eye Cream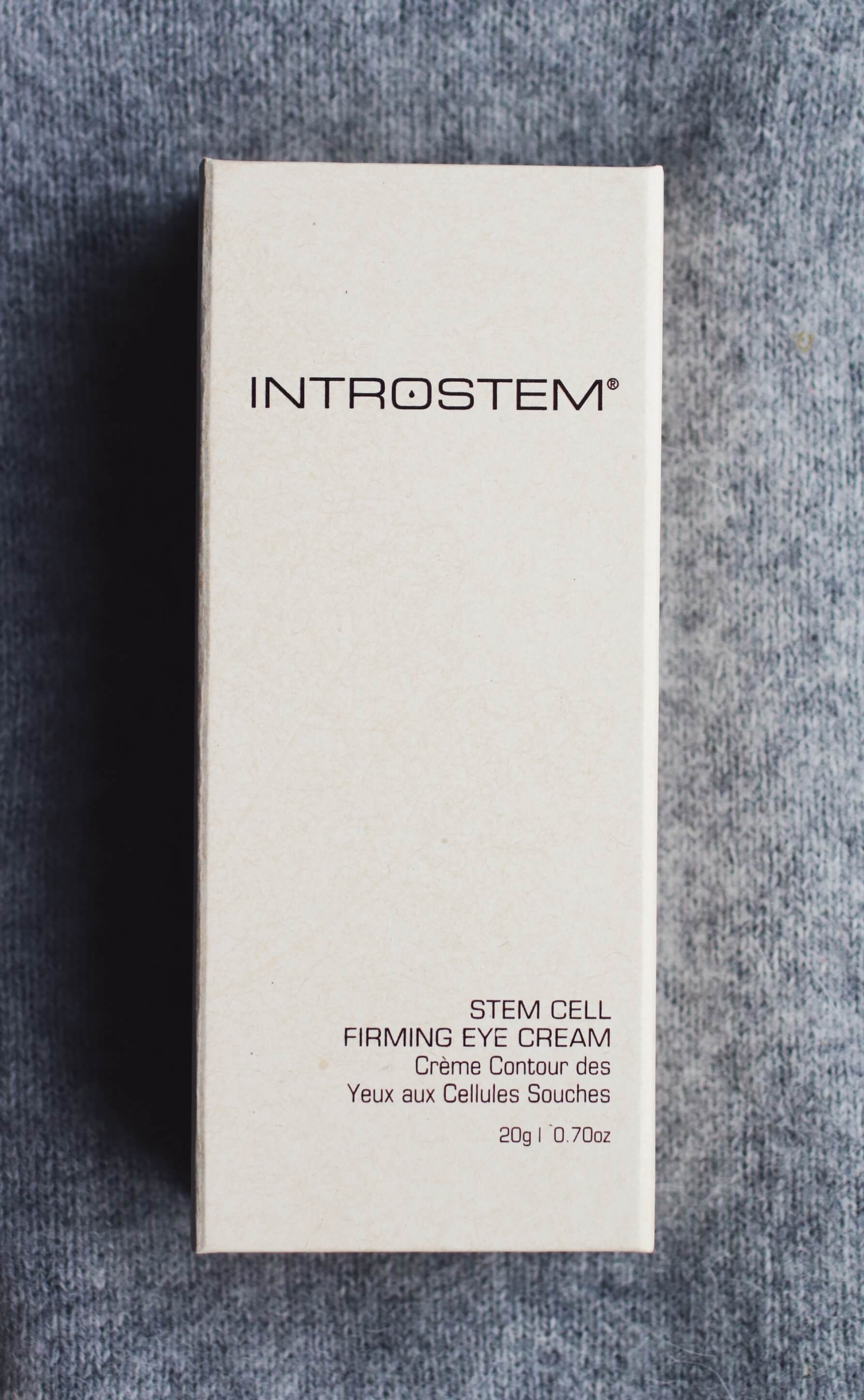 After rinsing the face mask off, I dabbed on some toner, an essence and a serum, before moving on to the eye cream.
Wondering if you need to be using an eye cream?
The answer is yes. It doesn't really matter how old you are – the skin around your eyes can be up to ten times thinner than the skin on the rest of your face, making it much more vulnerable to damage. The fact that the skin here contains fewer oil glands doesn't help either, and is the reason why the skin around the eyes is usually the first place on the face to develop fine lines and wrinkles.
Just like the face mask, Introstem's Stem Cell Firming Eye Cream is packed with nourishing botanicals. It also contains a few added extras, such as:
Retinyl Palmitate – a form of vitamin A that helps with skin regeneration, collagen production and so much more
Collagen Amino Acids – used by the skin to build collagen, giving your skin a smoother and firmer texture
Caffeine – constricts blood vessels to reduce puffiness and dark circles, giving the skin a tighter appearance
The eye cream comes in a tube, which fits into a beautifully-branded box. I noticed that it states a 30 month shelf life symbol on the box, which is pretty impressive!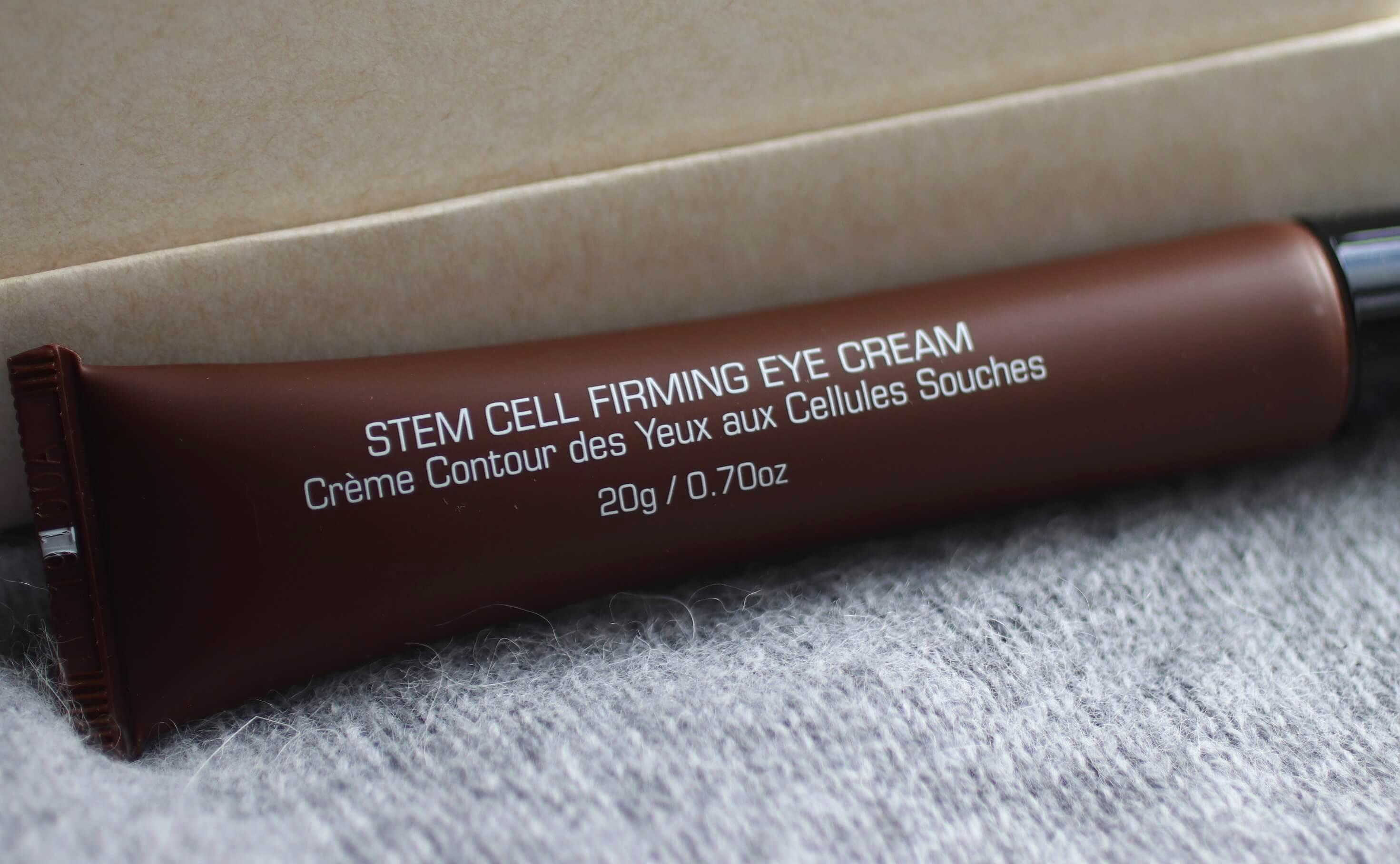 The instructions on the box state to use your ring finger to dab the eye cream in, so I unscrewed the lid to get started…
…I wasn't expecting to see three metal "balls" staring up at me!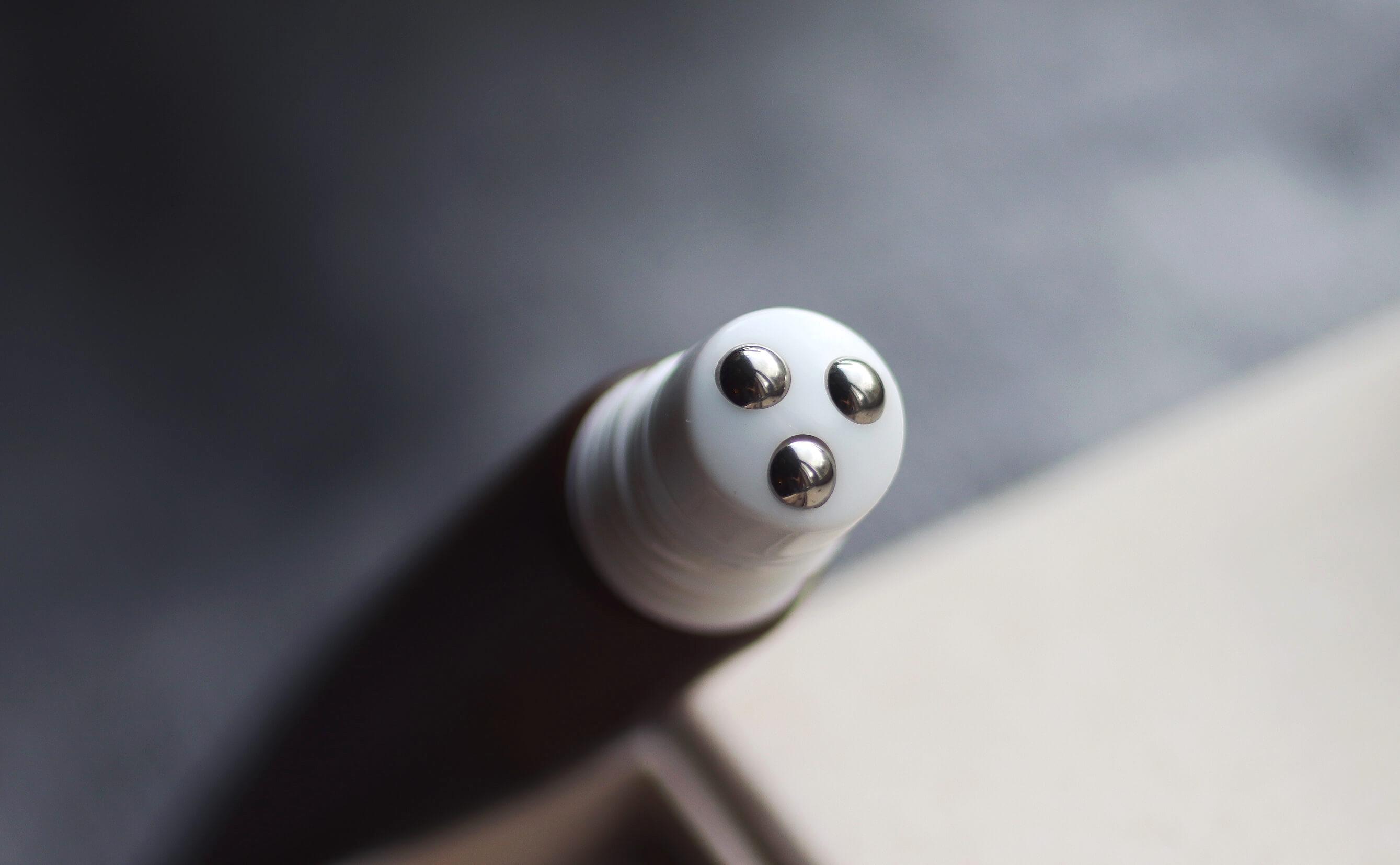 When I touched them, I realized that they moved, and could be used to massage the eye cream into the skin. To me, that was pretty awesome! I've never seen an eye cream like that before, and it seems a shame that the brand doesn't promote this unique feature on the box itself.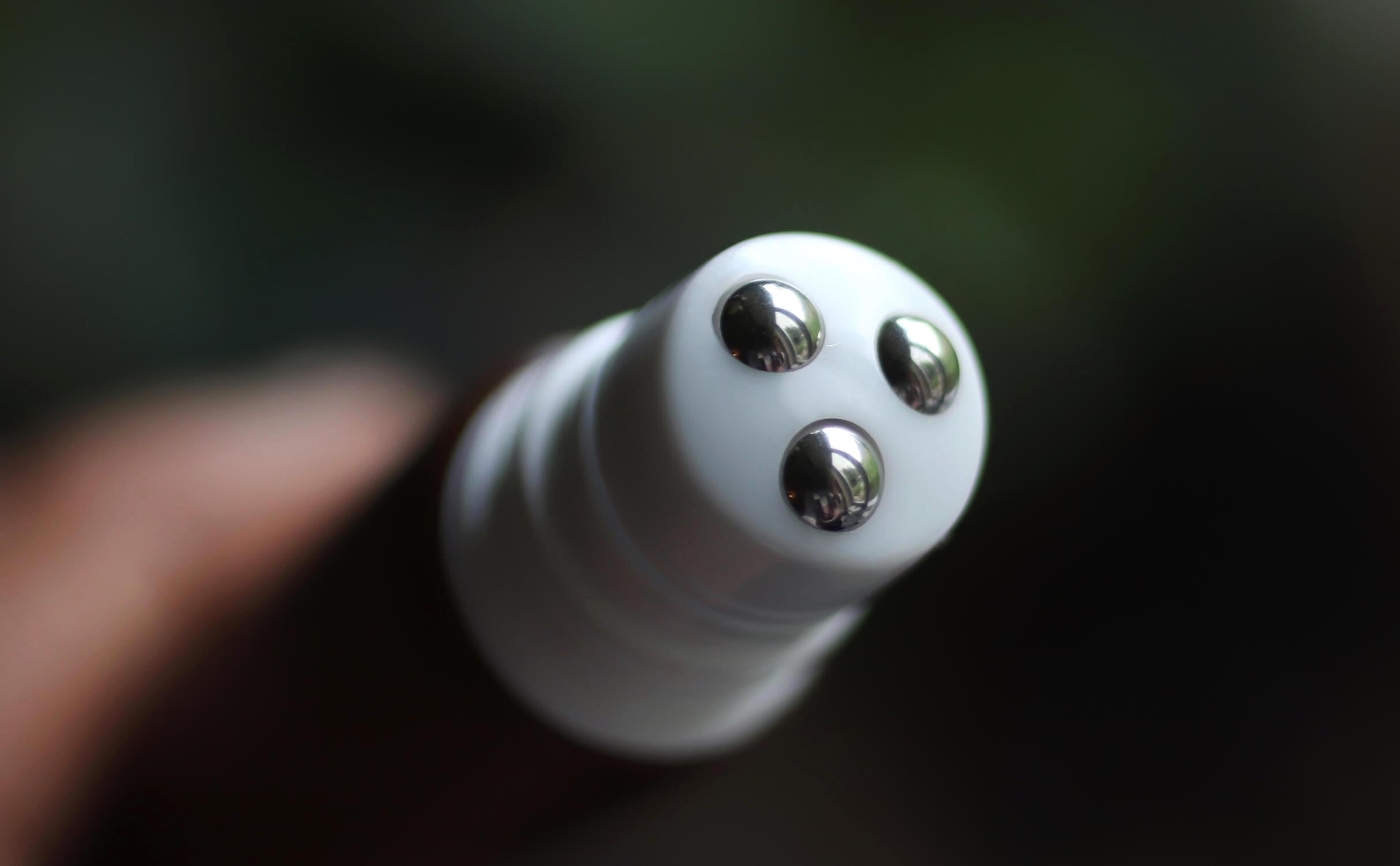 The metal rollers are set within their own little lid, and that is what you lift off to access the eye cream. After dabbing it on with my finger, I used the rollers to massage the cream in, and then finished this off by patting the remainder into my skin, just like it says to on the box.
The texture of the cream is quite light but rich. My skin drank it up pretty quickly, and it didn't leave a greasy or sticky residue behind.
The skin around my eyes felt fresh and perky afterwards, and there was definitely an added brightness.
The Introstem Stem Cell Day Moisturizer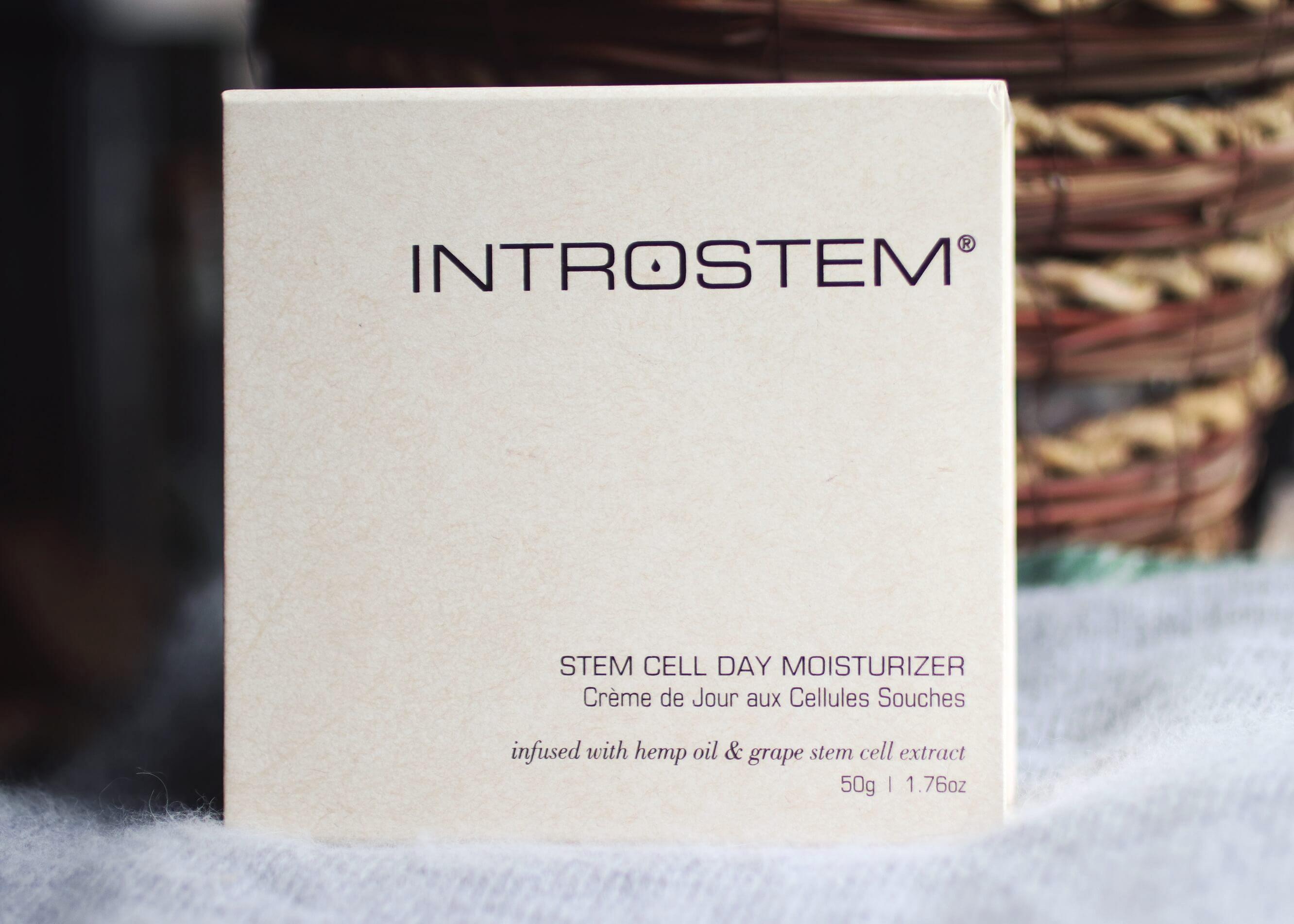 The final step in my skin care routine was the Introstem Stem Cell Day Moisturizer.
The role of a daytime moisturizer is to provide the skin with protection from environmental damage. After taking a look at the ingredients list on the box, it would seem as though that is exactly what this moisturizer is capable of doing.
Some of the stand-outs include:
Hemp Seed Oil – explained above in the mask section
Green Tea Leaf Extract – a powerful anti-aging ingredient that also provides some additional protection against the sun
Chamomile Extract – a calming, anti-inflammatory botanical that is also packed with antioxidants
Many of the botanicals in the moisturizer (as well as in Introstem's other products) are organic, which is something else that really appeals to me.
The jar that the moisturizer is in is absolutely beautiful. It also features an additional plastic lid within, helping to preserve the product.
The box states to apply the moisturizer generously onto the skin, massaging it in until fully absorbed.
Just like the eye cream, the moisturizer has a light but rich texture, and soaks quickly into the skin. It also has a gorgeous scent to it – something that I can't quite put my finger on!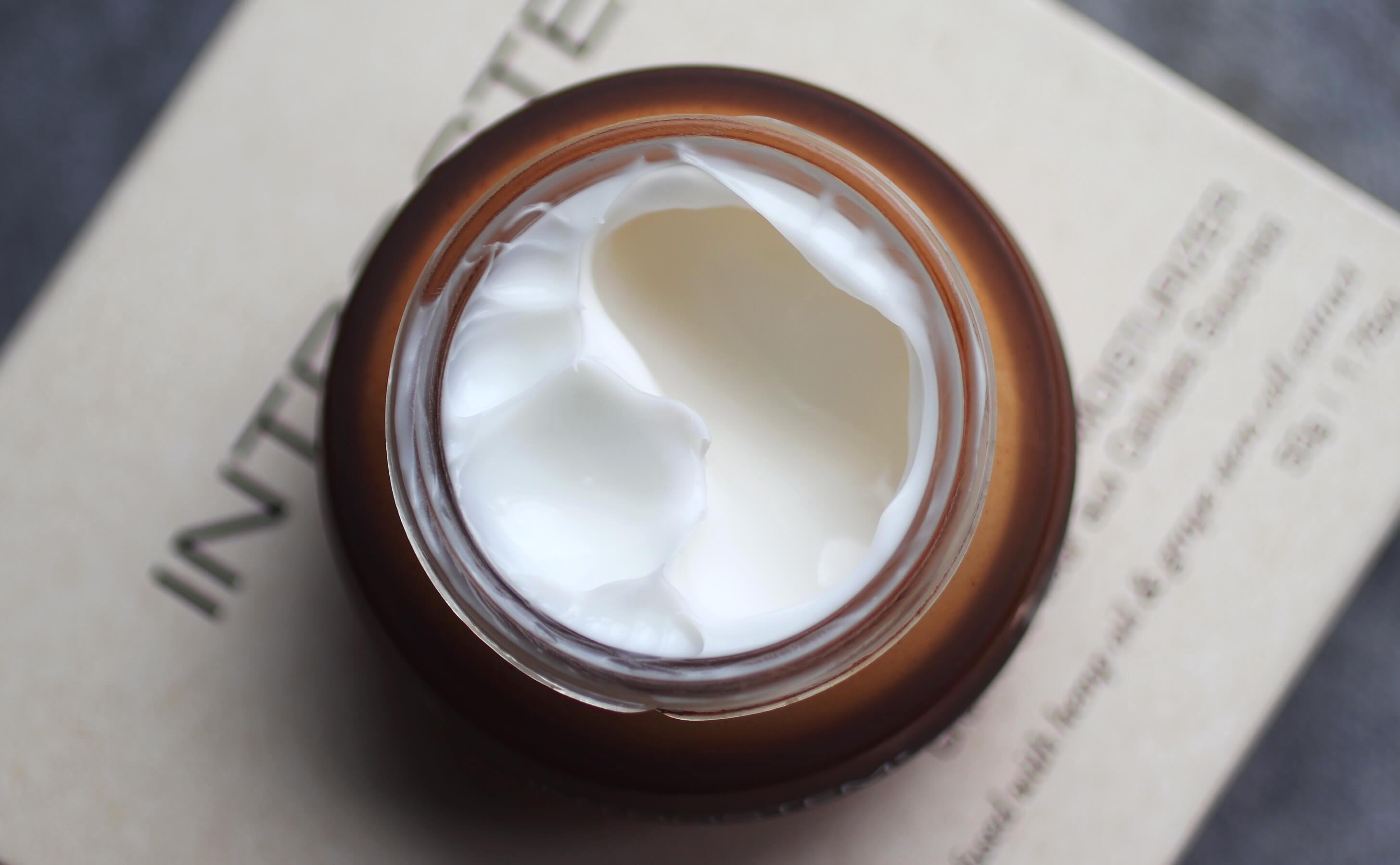 I applied a small amount of moisturizer to my face to begin with, expecting to need a couple more layers. However, my skin felt so soft and nourished after I massaged that first layer in, so I didn't want to overload it when it was clearly already happy.
That was great news for me though, as it means that the product will last for so much longer!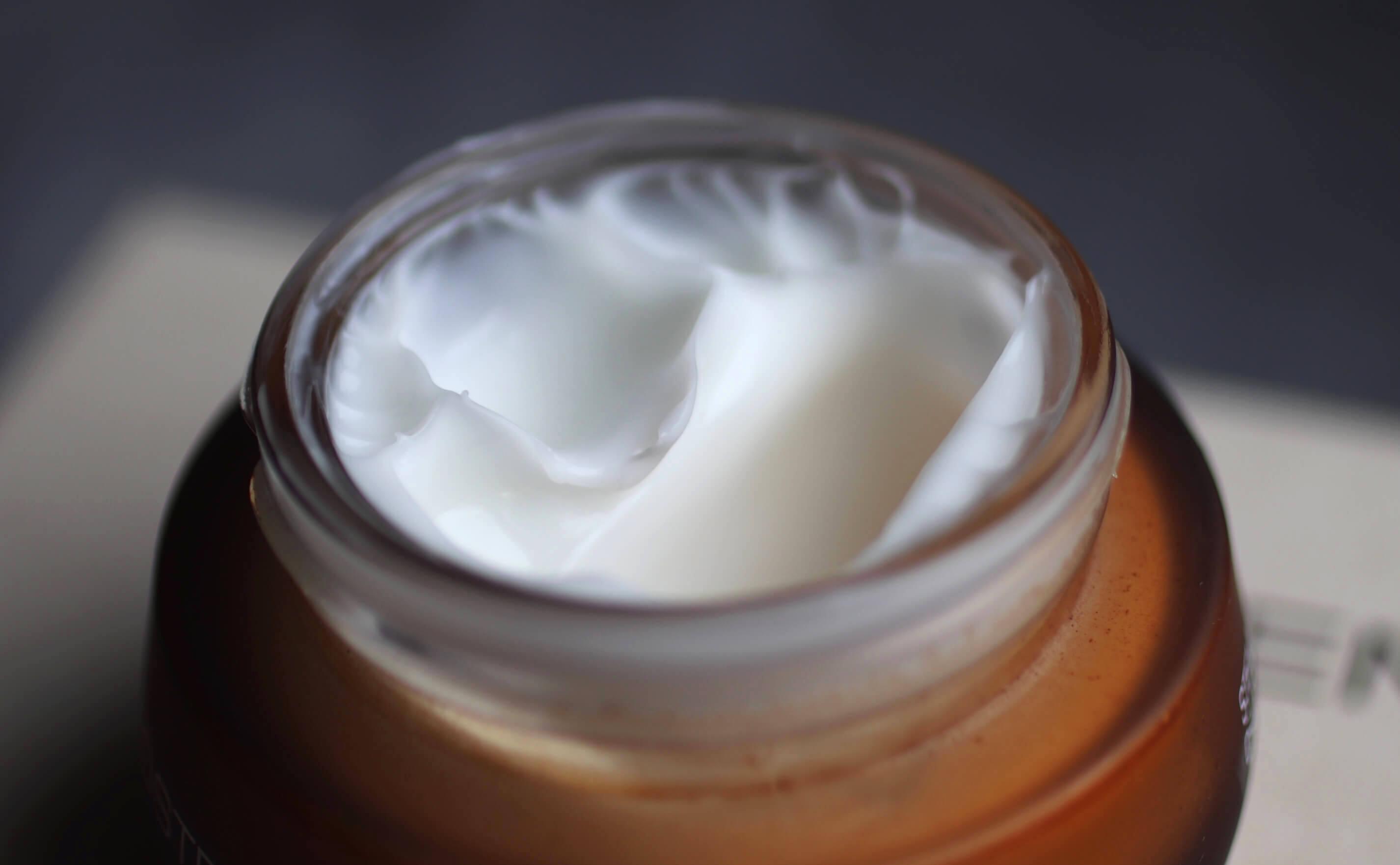 I really did love the texture of this moisturizer – I've included a close-up image so that you can get a better idea of it for yourself.
Would I Use These Products Again? 
Let's not beat around the bush here – I will definitely be continuing to use all three products.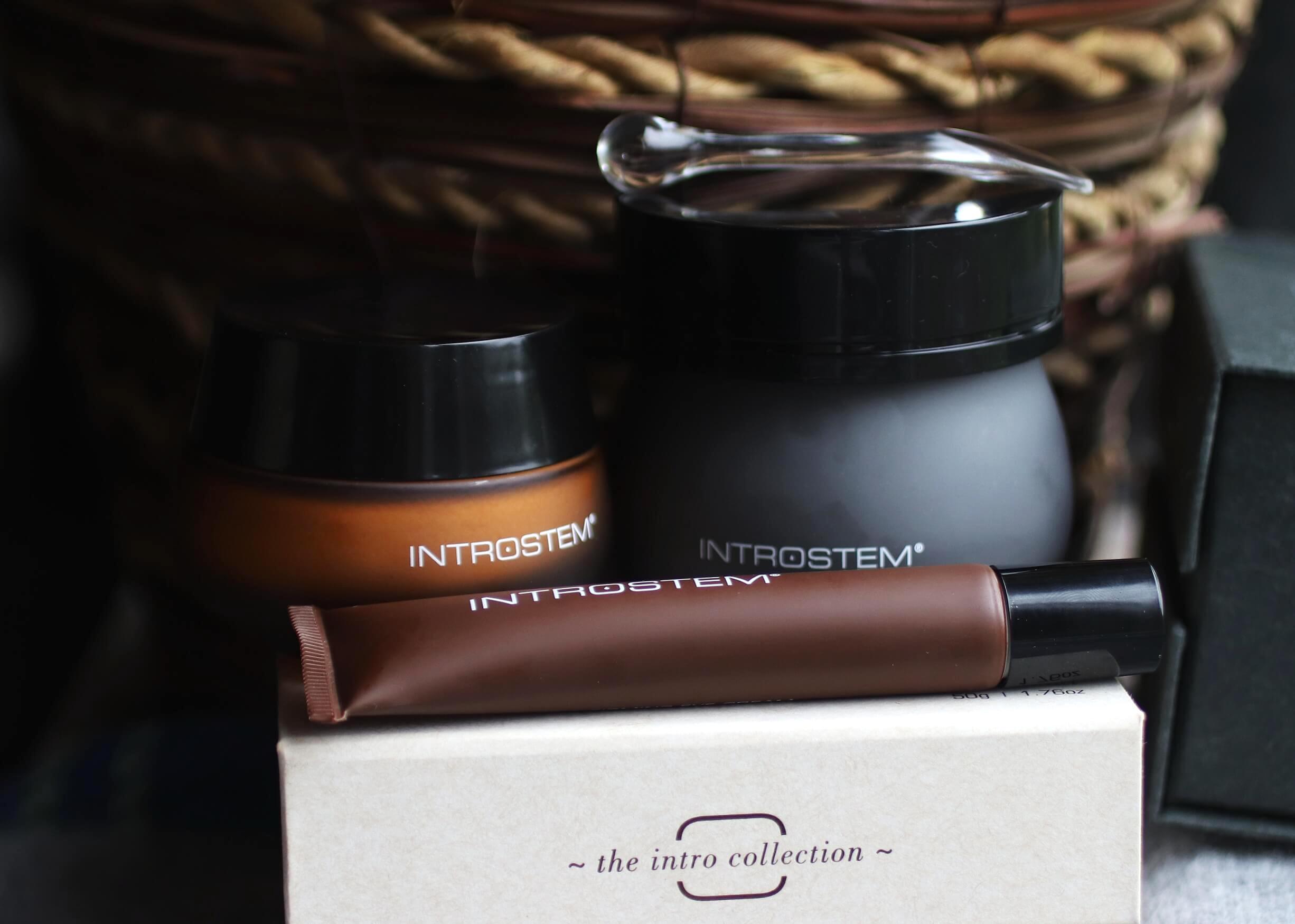 The Thermostem Mask is designed to be used on a monthly basis. I like to treat my skin to a mask once a week, so will use other masks in between the monthly Thermostem Mask usage.
The Stem Cell Firming Eye Cream is my new best friend. I love the effect it has on the skin around my eyes, and using the cooling rollers to massage the cream in is so soothing.
The Stem Cell Day Moisturizer has some pretty powerful ingredients in it. I have a couple of other moisturizers that I love and use regularly, so will be adding this one into the rotation too. 
One other thing worth mentioning…
I noticed the recycling symbol on the products' boxes, meaning that the packaging can be recycled. I think that, in this day and age, this is something that is so important. Other brands could definitely do with following this example.
Many of the anti-aging products simply don't contain the right ingredients. Or, if they do, they aren't formulated with a high enough concentration of these for them to actually make a difference. This is why Introstem stood out to me to begin with – the ingredients that they use, including the grape stem cells, are truly top-of-the-line. The products themselves were very impressive, and I honestly cannot wait to see what the long term results will be.