Summertime is here and that means it's time for sittin' down on the porch, soapin' up some cars and chowin' down on some really good barbecue. Summer linens will not do. Ladies who lunch may be waiting for Memorial Day to dress for summer, but urbanites need to get this party started. They know that denim is king for the hotter months.
Unless you want to end up with noticeable grass and sweat stains and chocolate ice cream in your lap, white clothes are so turn of the 20th century. Denim hides a multitude of sins from figure flaws to dirt and beyond. It also can take a beating in the wash and is one of the only fabrics that can looks better after it does.
Who needs rules about wearing white when we all know denim rules for summer? Here are some of our favorite ways of wearing denim in the summer that let you get dirty.
Denim Shorts
The irony of denim shorts is that denim jeans are supposedly made from a rip resistant material. Although it may take a hacksaw to cut through them denim jeans certainly do rip, and that's what makes denim shorts are so irreverent. It's the rips and tears that make them so deliciously indecent. Nowadays, not all denim shorts are made from jeans but they're still as edgy as ever. Here are some denim shorts styles you can expect to see a lot of this summer.
https://www.instagram.com/p/ByQ_rQ9pijE/
All hail Daisy Duke! If she didn't, we couldn't. It was 1979 when Catherine Bach showed off her gams in cut-offs on Dukes of Hazzard and 40 years later (what?) they're still just as darn sexy. Daisy may have used hers to distract truck drivers and avoid tickets for reckless driving, but you can use yours are sure to cause a major distraction anywhere you wear them.
https://www.instagram.com/p/ByP2DFZgAdr/
What could be more apt for the Walk of Shame look than a pair of boyfriend shorts?  Not quite Daisy Dukes – these shorts have a more unisex appeal and are a bit longer and slouchier. Also, boyfriend shorts are not limited to cutoffs. They're also available in cuffed hems and rollups.
All work on the top, all play at the bottom. Not much room to hang a wrench on here, but overall shorts sure come in handy when it comes to doing the dirty work. They also look good overall-most anything – from tanks to sweatshirts to T-s and beyond. Leave "one clasp open" look to bring out your savage side.
Making Your Own Denim shorts
We've all seen it on Instagram. The too much cheek pictures that result from a well-intentioned attempt at DIY cut offs. No one wants to see a good pair of jeans go to waste, but when you end up with a glorified pair of thongs, sometimes even the trashiest shorts need to be trashed. Here are some tips that might just save your ass.
Materials:
Fabric Scissors

A marker or chalk

Tweezers

A pair of cut-off jeans – men's nonstretch are the easiest to work with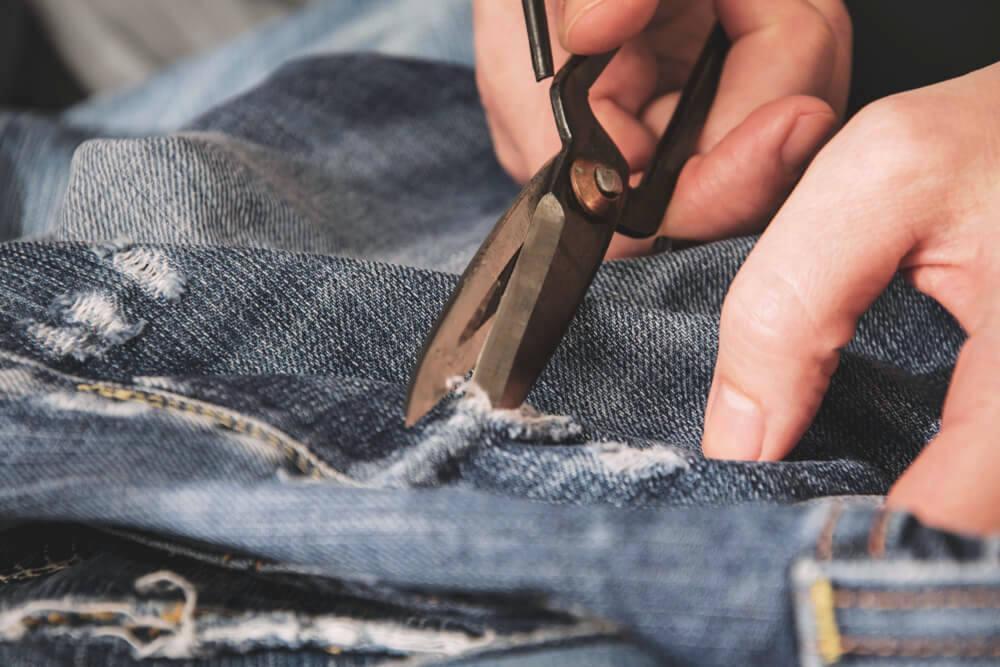 Making the Shorts:
Cut off most of the pant legs to make long shorts. This will make them easier to work with.

Put the shorts on and fold the edge under to create the shape you want. Make the inseam longer than the sides of the shorts for best results. Cutting them straight across will give them a boxier, less flattering appearance.

Mark along the edge of the shorts with a marker or chalk as a guideline for cutting when you take them off.

Take off and cut slightly below the line. Shorts will shorten and fray in the wash.

Fold shorts in half to cut other leg so the sides are the same.

Cut slits on the sides if the jeans are tight to loosen them up a bit.
For the Distressed Look (making a frayed hole):
Cut two horizontal strips on one leg of the shorts half and inch apart as long as you want the hole to be.

Use the tweezers to pluck all the blue threads out of the strip. This will create the white shredded look.

Throw them in the wash and voila!
Denim Skirts
https://www.instagram.com/p/ByQI8TEAtYD/
Let's face it.  Denim shorts are pretty hot, but they're not in everyone's comfort level. Not only do shorts leave very little to the imagination, they can also leave you with a pretty fierce wedgie. Luckily denim skirts are a bit more forgiving in both definitions of the term. Here are some of the denim skirt styles you can expect to see on the town this summer.
Almost as soon as the hemline met the fingertips, denim met the mini.  Since the 1970's the denim mini has been considered a first signs of summer (mosquitoes coming in a close second). Why have denim minis become so classic? Because they're effortless, casual sexy and look good with everything. Check them out with cowboy boots for the day or spiky heels for more formal occasions.
https://www.instagram.com/p/ByQwwDlhj4X/
"Madman" move over. Those old-fashioned pencil skirts may have done it for Peggy Olsen, but 2019 just called and it says denim is the new polyester. Stretch denim can make for a sleek pencil silhouette either distressed or completely unaffected. Pencil skirts also make  great summer option for the office.
You can get tight with denim this summer even without wearing a tightfitting skirt. Whether it's a swirly skater, artsy assymetrical, bell shaped, bubble or bustle, ankle length or micromini, there's a loose denim skirt to go with every summer coordinate. Plus, loose skirts are more comfortable in the summer time than tight ones which can make a big difference when the temps start to rise.
Denim Dresses
The Carolina Herrera spring collection featured a denim dress complete with a train and bustier fit for a royal wedding.  Yes, denim can do haute couture, and as fashionistas know, the  catwalk is no stranger to the denim dress.. Cara Delavigne walked the Chanel Spring Runway in what could best be described as an A-line skirt with Pearl embellishments. Whether your sidewalk is your catwalk, or if it's more like just your sidewalk, there's a denim dress for that. Here are some of the ways denim is going dressy on Instagram.
This summer denim summer design would surely get Carolina Herrera's stamp of approval. It may not come complete with a train but with the drapey look and assymetrical hemline its coming in at a pretty second.  Add details like a button up work collar and girly tie in the back, and you've got denim style with attitude.
https://www.instagram.com/p/BxQEWtogetM/
Who would want to wear anything else this summer when you have this hanging in your closet? Tell your other clothes they can expect to spend a lot more time on the hanger.  This dress is  easy, its breezy its comfortable, it hides a multitude of sins, and everyone you see is going to be dying to know where you got it. With a full button front, panel body details, heart neckline and ruffle bottom, this is denim at its most romantic.
https://www.instagram.com/p/ByQ5MPmHND6/
From the A Line to the V Cut from the maxi to the mini there is no limit to the profusion of denim we're going to be seeing this summer. Try a strappy V cut denim dress to bring some boop boop a doop to your asphalt this summer. The rule of thumb here is that if you can still walk, it's not tight enough. Warning: dangerous curves ahead.
Summer Denim Jeans
Jeans may not be as cooling as other denim options, but they sure look great with a tank top, high heels optional. You can rock jeans in the summer just as hard as you can in the winter or fall. In fact, some of them are even ventilated. Here are some summer denim jean options that would make Gwen Stefani go bananas.
The Boyfriend jean is the ultimate bottom for a sexy summer top. Especially when you've got a some midriff exposure and a low-rise waist that leaves just enough to the imagination. Boyfriend jeans also have that lazy summer couldn't be bothered attitude, as in, couldn't be bothered to go home and put on my own jeans.  Check them out in distressed denim and cropped leg to show off a little summer skin.
https://www.instagram.com/p/ByQwND5ggg1/
Not much relief from the summer heat here, but the look of skinny jeans in the summer is well worth breaking a sweat for. What better way to make a perfect silhouette than with super tight jeans and a stretchy tank? Fun fact about skinny jeans: They were actually inspired by those pantaloon wearing male French aristocrats in the 17th century. That silhouette may be better left to the imagination.
The Straight Leg
With temps are on the rise and rises are on the low, playing it straight is the new way of playing it dirty. When the sweaters come off, the gloves go on, and there's nothing but miles of leg ahead. Summerize (not to be confused with summarize – you don't need to make your straight legs any smaller) your straight legs by choosing a pair in a pastel color (we're loving this Instagram pick.)  A high waist works best for a stretchy curvy fit while a low waist makes a better pairing with the more traditional straight leg look.
Denim Vests
https://www.instagram.com/p/ByQ6uaYnTR1/
The hair metal bands of the 80's may have moved on, but the denim vests certainly have stayed behind. Best outfit for showing off your tats? It's gotta be the denim vest and denim short pairing, hands down.  A sleeveless denim vest  just screams for a full sleeve tattoo. Pair the vest with some Daisy Dukes if for some biker babe badness.
Denim Overalls
https://www.instagram.com/p/BwdLUbdBTwE/
Sometimes, something comes along that really separates the adults from the children. When adults wanted in on the overall trend, OshKoshB'Gosh was not the designer of choice. For anyone over the age of five that meant classing up the kindergarten class look. The key to making sure your overalls are not elementary school is the fit. Whether its skinny jean or boyfriend look, make sure your denim overalls are not to baggy or tight. If they are loose at the bottom, consider rolling them up for a more put together appearance. But the best way to make no one mistakes you for a schoolgirl is by sexing it up a little.  Consider wearing a crop top underneath if you want to show off your PG-13.
Denim Jackets
https://www.instagram.com/p/ByQ3uPdnx0X/
The song "Summer Nights" in the movie Grease encapsulated the feel of new romance in the summer.  Making out under the dock? Getting friendly down in the sand? You're going to need a denim jacket for that. Luckily, there are many Instagram worthy denim jackets to choose from. Here are some denim jacket options that would have the Pink Ladies trading in their bombers.
Colored Denim
Talk about Pink Ladies! Nothing ushers in the summer like pink and pastel colored denim. Just be careful about getting too friendly down in the sand. Light colored denim may look all the rage, but it doesn't take well to make out sessions on the beach. Try a cropped denim jacket in your favorite hue to bring extra attention to your waistline.
Asymmetrical Denim
Who cares if your buttonholes don't line up properly? Deconstructed denim jackets give a new meaning to breast pockets. Nothing traditional about the denim jacket here. With off the shoulder styles to peplum detailing, the asymmetrical options are infinite. And if your denim isn't asymmetrical already, consider the one shoulder look made popular by the Kardashian clan. It's sure to keep even the plainest denim a little off balance.