In the ever-evolving world of sustainable fashion, finding ways to buy less and wear more is a fabulous habit to get into. As we all know by now, fast fashion is dangerous and puts a huge strain on the environment. Therefore, wearing the clothes we already have, as many times as possible, is a sure-fire way to provide some much-needed relief.
One of our favorite ways to accomplish that?
Summer clothes re-styled for winter!
That's right, we're about to talk you through some of the simplest and most stylish ways to put those long-forgotten summer clothes to good use in these declining temperatures. So, are you ready to take a shopping trip to your very own closet…?
Throw A Shirt Under Your Favorite Fitted Summer Dress
We have great news for you! That gorgeous mini dress you've worn all summer long needn't be retired to the back of the closet just because it's grown cold outside. 
Throw a simple white shirt or long-sleeved tee underneath for instant winter chic! Next, switch out your sandals or sneakers and style this look with your winter coat, warm tights and great pair of boots for a stylish and seasonal take on your signature look from the summer just passed!
A Warm Sweater With Your Fave Floral Midi Skirt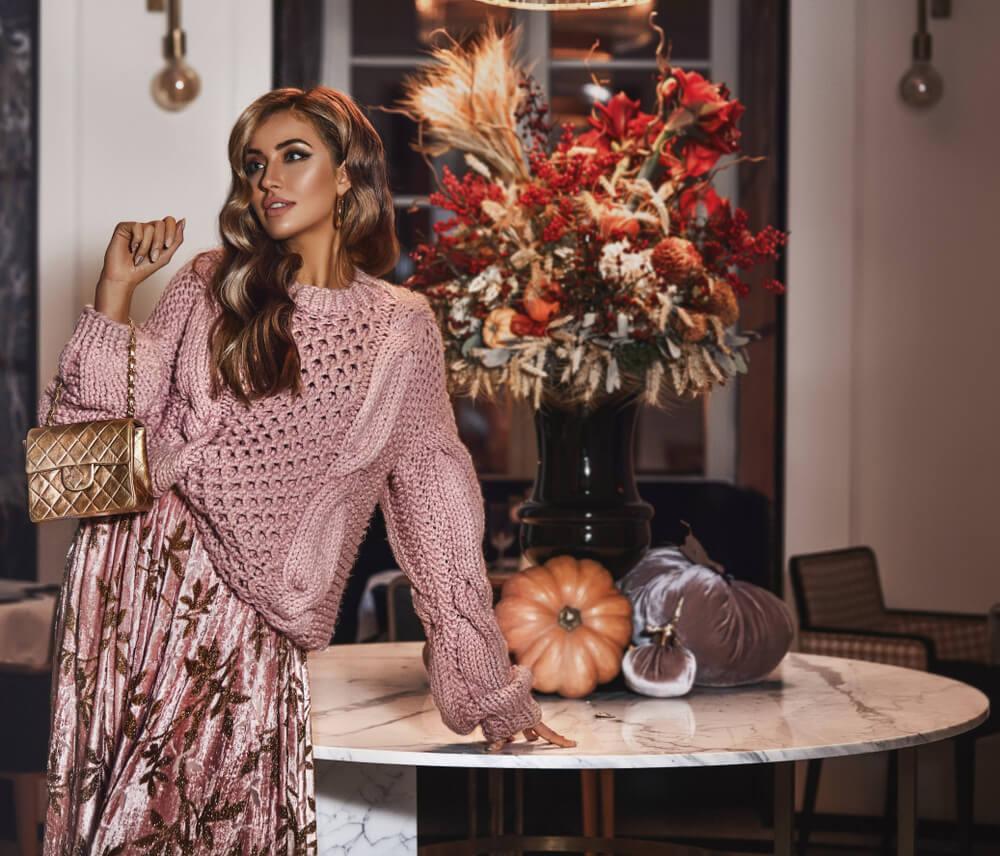 Not ready to let go of gorgeous floaty midi skirts from those glorious sunny days? 
No problem! 
Pick out your favourite and instead of styling with a vest or cotton shirt as you would have mid-July, pick out a matching sweater to go with it. You can either choose to tuck it in at the waistband to define your figure and add shape to your silhouette or wear it loose for a stylish, laid back weekend look. Don't be afraid to rock those florals either, it's a print that works no matter the season! All that's left is to add a pair of boots for that wintery edge and you're ready to take on the chill.
Add Wintery Accessories To A Floral Mini Dress 
Another style you've likely given up wearing recently?
Floral mini dresses. 
Yes, they're the absolutely ideal look for summer with sneakers or a cute pair of sandals and a sun hat, but, there's more than one way you can make them work for your winter wardrobe too. Simply, by slipping into a pair of tights, throwing on your winter jacket and matching your accessories such as your hat, scarf and gloves to the print in your dress, you'll tie the whole cold weather ensemble together seamlessly. 
This simple trick will make it seem as though you intentionally bought that summer dress to wear during the winter! Looking for the perfect accessory to enhance those blush florals of summers gone by? Try the dusty rose tube knit scarf by H&M, we're styling it with everything.
Stay Toasty In Overalls And A Turtleneck Sweater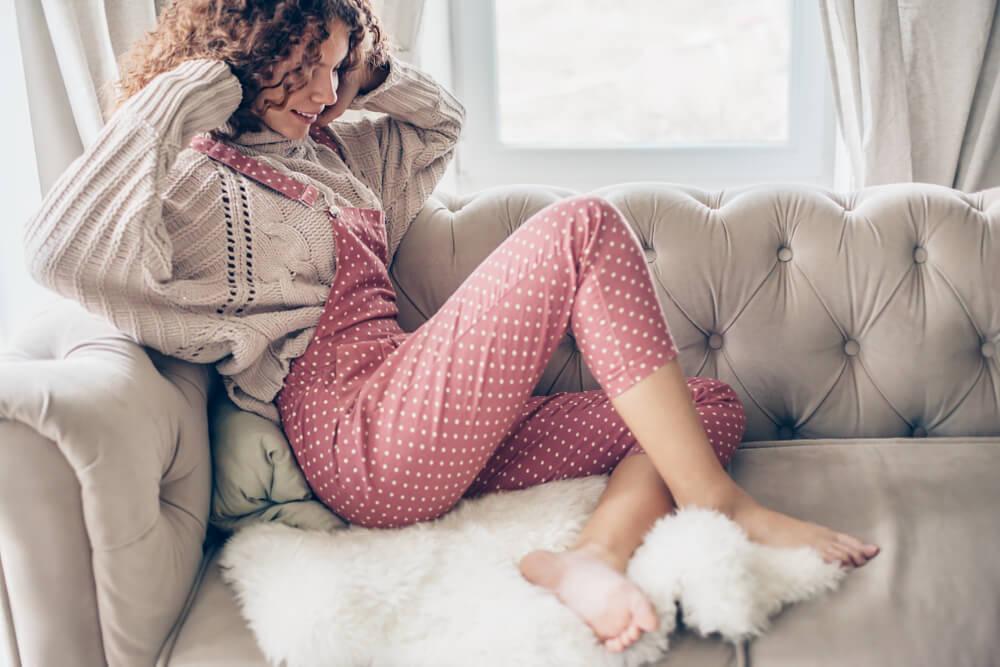 Patterned overalls and cute shirts are adorable in summer though they're not an item we would usually be incorporating into our winter wardrobe.
Well, no more!
By layering them over a stylish cable knit sweater, you'll give your overalls the wintery overhaul they need to see you right through until spring!
We can't get over just how adorable this look is and are making a mental note to wear it for all festive family gatherings and cozy evenings by the fire. All we need now are some fuzzy socks and a giant mug of cocoa!
Add Winter Accessories To Your Trusty Midi Dress
If you're anything like us, you'll have been rocking midi dresses literally all summer long. Now, before you go reaching for the jeans ready to stash your midis in the attic somewhere, consider how you can continue to wear them throughout the next season because believe us, it can be done!
It may not be what you're used to but with a few simple additions, a warm coat, a pair of leather boots, a hat and gloves, you'll have created the most wonderful winter outfit before you know it. 
For added warmth, we suggest slipping into a pair of pantyhose before sliding on your boots. Additionally, you can always wear a long-sleeved cotton shirt or a thin sweater underneath if your dress is made from a particularly light fabric.
Don't Put Away The Pastels!
Who says pastels are only for spring and summer?
Certainly not us!
Of course, there's no denying that a sweet icecream-coloured ensemble during the sunshine months is always a winner. However, that doesn't mean we need to resign ourselves to black, brown and gray the moment they're over! 
So, not only should you not be afraid to keep the pinks, lilacs and yellows out for winter, we suggest you go a step further and create a layered pastel monochrome outfit. Just take a look at this dreamy blush example, it's the perfect way to shake up your cold-weather clothing with a dreamy pop of color.
Style Your Summer Shorts With Tights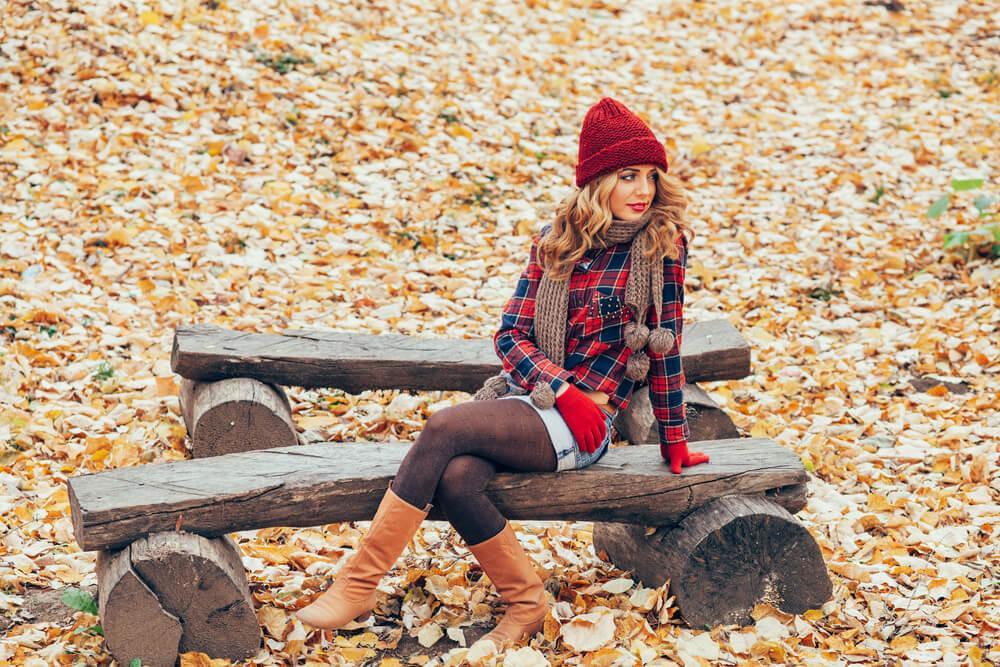 Shorts?! In winter?!
We know, we might sound crazy suggesting you wear this particular item when Christmas is just around the corner but, trust us, it works! All it takes to make your shorts wearable all year round is some very clever layering and a great pair of tights or pantyhose depending on the weather outside. Personally, we can't recommend the black, super opaque 120 denier tights by Zara highly enough! 
We love this look with denim shorts and a flannel shirt but it also works beautifully well with floral shorts and a block color sweater. Add a pair of ankle boots and your trusty winter bobble hat to finish off your look!
Contrast Pastel Clothing With Black Accessories
If the head to toe pastel look isn't for you, that's no problem. You can still incorporate those lighter colored items into your winter rotation.
One of the simplest ways to do so is to update them with contrasting black accessories such as biker boots or a faux crocodile handbag. The edginess of the black leather against the softness of a powder blue, baby pink of soft yellow will look totally gorgeous, not to mention it's right on trend! Try it with a floaty tulle summer dress, a leather jacket and biker boots for a winning winter contrast.
Over The Knee Boots To Boost The Warmth Of A Mini Dress
If you're not a huge fan of tights or pantyhose, you can still make your summer mini dresses work for you this winter. 
How? Opt for a pair of over the knee boots that meet the hem of your dress and create a striking street style look. You'll stay warm and in style without the need to purchase a new dress or wear tights when you don't want to. Better still, go for a leather jacket and belt to amp up the edgy appeal of your newly styled dress. 
You'll find this look will work wonders for the majority of the shorter dresses you wore before with sandals or sneakers. What a way to rotate that closet!
Pull Up Your Socks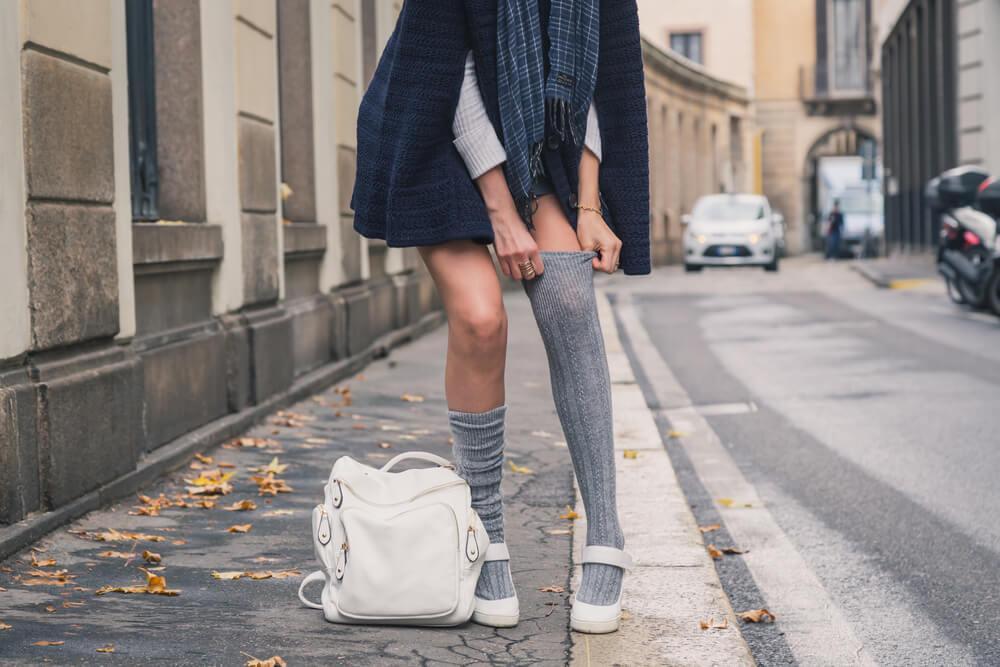 If you love to have your legs on show but fear the chill during the festive period we suggest digging out those long socks and pulling them up over your knees. This will keep your legs toasty whilst adding a stylish twist to your outfit.
Opt for a dramatic look with black socks or something a little softer with a light gray like the pale gray Maxi Warm socks by Calzedonia. Alternatively, if you're feeling bold and your outfit can take it, why not try colored socks instead? We love a deep red of dark navy at this time of year to make our look extra festive!
Stay Mellow In Yellow
Just as we suggested with the pastel-coloured pieces in your closet, don't be afraid to shake things up this winter with a showstopping pop of yellow! Go head to toe in shades of mustard or select a few pieces that go well with the darker items you own for an eye-catching color distinction! 
We especially recommend deep mustard tones with shades of forest green and burgundy at this time of year. Try upgrading your look to a winter ensemble with the gorgeous mustard cable knit hat by Asos.
Style Up Your Midi Skirt And Sneakers Combo
Whether florals, polka dots or stripes were your thing this summer, we're betting you had a favorite midi skirt and sneakers combo you wore with every slogan shirt that you own! 
Whilst the time for tees alone may have passed us by, we're still rocking the skirt and sneakers with the new addition of a turtle neck sweater and loving it! 
Choose a sweater that highlights the print in your skirt for added style and brighten up your look with colored accessories. A drop shoulder coat can be worn over the top of this gorgeous outfit for extra style points!
Make The Most Of Maxi Dresses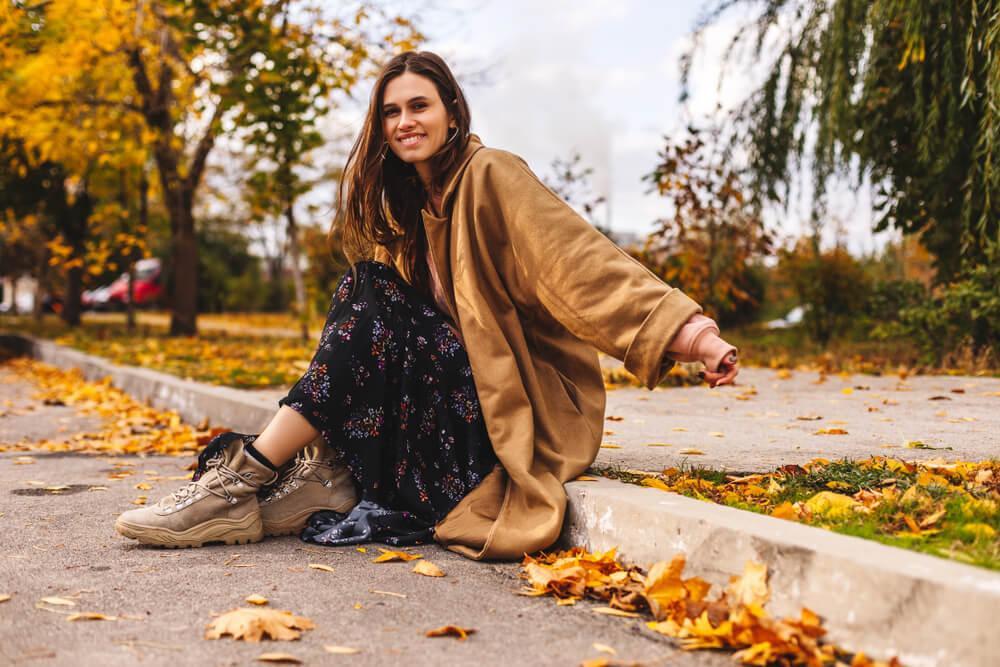 At this point in the year, you likely have more maxi dress is your closet than you do socks! It's also probable you're now panicking you went way overboard on the long and floaty dresses in the height of summer. Now you've nothing but an old pair of jeans and a sweater or two to make your wardrobe resemble something winter appropriate.
Well, turn that frown upside down because those floaty dresses are about to make a surprise seasonable come back! Your hiking boots and over-sized winter jacket are about to look a whole lot cuter with the addition of your beloved floral maxi dress!
We also think this is a great look for traveling. Check out our tips on the best suitcases for fall and winter travel right here to complete your outfit! Just remember to pack plenty of tights and long-sleeved tees to wear underneath.
Hold On To Your Heels
If you thought the days of sandals were behind you for another year, you couldn't be more wrong! 
Indeed, there may not be many times you're looking to brave the heels right now, but party season and almost upon us and there's no better, or warmer, way to rock them than with a playful pair of socks. 
If it's a style you haven't tried before, we understand why you may be a little skeptical. It's a little out there for the classically styled among us. That being said, but we highly recommend giving this look a go this winter, not only to keep those toes warm but also to broaden your fashion horizons for a new season. Why not also try our 10 makeup trends for fall to finish off your new party look!
Midi Skirts With Combat Boots
Believe it or not, when the temperature really drops, we'll still be over here rocking a midi skirt!
How is that even possible? We hear you ask.
That part's easy!
Simply enlist the help of thick tights, combat boots and a simple high neck sweater like the black ribbed sweater by Mango and you're all set! This look is especially stylish when your skirt is patterned and the rest of your outfit is made up of black pieces. Use statement jewelry and an over-sized coat to add an extra layer of warmth and an on-trend finish.
Make Your Summer Dress Your New Winter Skirt
If your summer dresses are just too skimpy on the top to get away with come December, it's really no problem. There is still a place for them in your winter wardrobe. 
Slip them on with a pair of boots and cover up with a warm sweater to turn your summer dress into your new winter skirt! This little trick works perfectly with dresses of any length and also playsuits. 
Layer up with pantyhose and long sleeves tops underneath to give your look an added layer of hidden coziness!
Layer Up Your Favorite Black Shift Dress
Speaking of layering, we have a great tip for that trusty shift dress of yours! 
As alluring as it may be with bare legs and strappy sandals in August, when it's creeping towards minus temperatures outside that just won't do. If you're still dying to wear it come rain or come shine, however, an added layer underneath will be all you need to make it winter-ready. 
High necks, long sleeves and bright fabrics are encouraged not only for warmth but for that fierce contrast of black and brights. Throw on a pair of heeled boots when you're feeling extra fierce!