Covid-19 has really shaken up the travel industry, with many experts believing that it could be several years before things recover. For some countries, the worst of the pandemic may seem to be over, while for others, the peak hasn't yet been experienced.
However, the travel industry is looking to the future, trying to adapt itself to the new normal – here are 16 post-Covid travel trends to look forward to.
Staycations
Staycations were already having their moment pre-Covid, but things have really taken off now. Many countries around the world are trying to encourage domestic travel over International travel, and people tend to feel safer amid the constantly-changing lockdown locations when they don't venture too far from home.
Staycations can either take place in a person's home itself, but with a change in routine to give those few days a completely different feel, or they can take place at a hotel or holiday home not too far away. This could prove to be extremely important to local businesses, many of whom are really struggling to stay afloat during the pandemic.
Air Travel Price Hikes

In order to in-keep with social distancing measures, many airlines are now having to leave the middle seat in each row empty. As a result, this means less revenue per flight, meaning that a price increase is very likely. Experts estimate that this could be as much as 50%.
While this may be bad news for travelers, there's always a silver lining…
Since planes will now be carrying significantly less weight, up to 33% less in some cases, an increase in baggage allowance could be a possibility. Airlines will need to work so much harder to attract customers after their price hikes, so this would be a good way to appeal to more people.
Big Discounts

While air travel prices are set to increase, this won't happen for a while. Instead, as a way to lure travelers to make the move when it comes to traveling once again, companies are likely to be offering some significant discounts.
This is already the case for many, and a quick internet search will show you just how cheap travel currently is. If you've been craving a new adventure, now may be the time to do it if it's safe – it won't be long before prices soar and many will have to get used to not being able to travel as much as they previously did.
Outdoor Attractions

Even when Covid-19 starts to decline, social distancing is still going to be extremely important. This is pretty difficult to do at many indoor attractions, which is why outdoor attractions are going to become so much more popular.
There are 62 national parks in the USA alone, with every country around the world having their own pristine pockets of natural paradise. Of course, most of these outdoor attractions are operating with restrictions, limiting the number of visitors that are allowed in. This makes careful planning key for travelers who are centering their trip around a particular outdoor attraction.
Wellness Retreats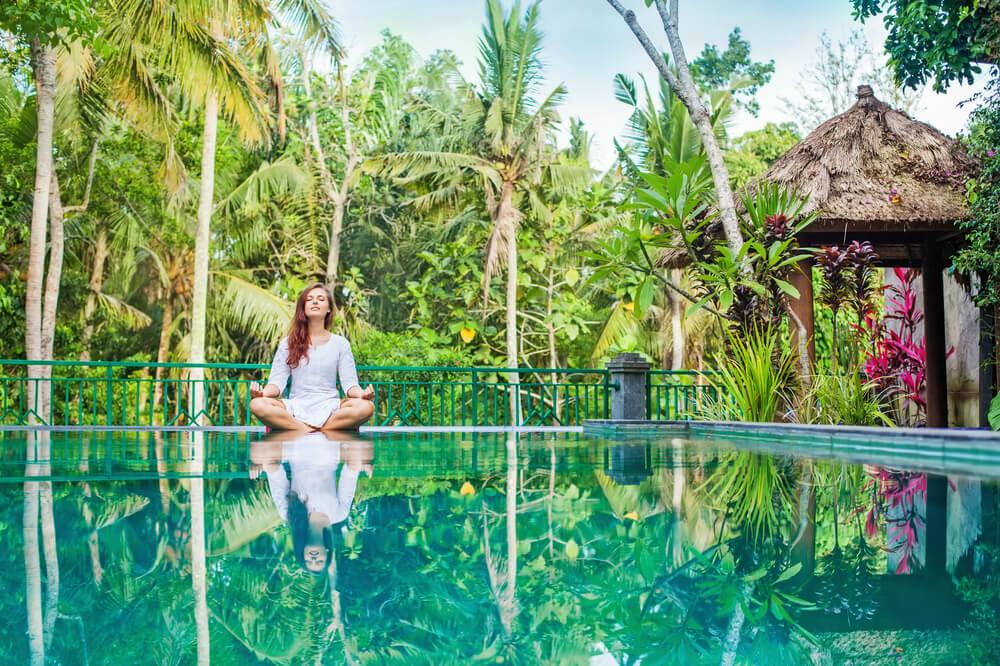 Not only do wellness retreats already offer many outdoor attractions, but they're also a great way for people to boost their mental and physical health. This is something that people are now becoming increasingly aware of – with the fear for their physical health due to Coronavirus comes an altered mental state, and this can quickly start to feel overwhelming.
A wellness retreat allows people to take some time out from their stresses to rejuvenate. They will also return home feeling much healthier, which is exactly how people want to feel during this pandemic.
Travel Insurance

Some people will never travel without taking out travel insurance, while others prefer to wing it. However, post-Covid, travel insurance is set to rocket, especially when it comes to companies who are offering Coronavirus cover.
Didn't know this was a thing?
There are now several insurance companies that offer a form of cancellation cover if Covid-19 causes a trip to be cancelled or cut short, but make sure that you read the fine print before signing up to anything – some will only cover you if you're the one to become infected, rather than if you have to self-isolate because of a family member becoming infected.
Road Trips

Road trips have always been so much fun, and more and more people are rediscovering the joy of being on the road post-Covid. A road trip with your household is a great way to explore your country while still minimizing contact with others.
Coinciding with the road trip trend could also be an increase in the hiring of luxury vehicles. People often want to make a road trip extra special, especially if this is the only vacation that they are going to have in a while, meaning that it only makes perfect sense to hire a sleek sports car for the duration.
Those who are traveling with a family may prefer to hire or buy a luxury RV instead. In fact, motorhome dealers are already reporting a huge surge in sales, and this is set to steadily continue over the next few years. If this is something that you're interested in, get yours soon, because prices are set to rise too.
Travel Bubbles

There are certain countries out there that have been pretty successful when it comes to containing the pandemic, but their tourism industries have still suffered devastating consequences.
In an effort to counter this, while also boosting business trade, some countries have created a travel bubble with each other. This means that visitors can freely travel across those borders without the need to quarantine in each location.
Current travel bubbles can be found in the European Baltic states and around Germany, Austria, and Switzerland, although more will likely be established as neighboring countries experience a decrease in Coronavirus cases.
Glamping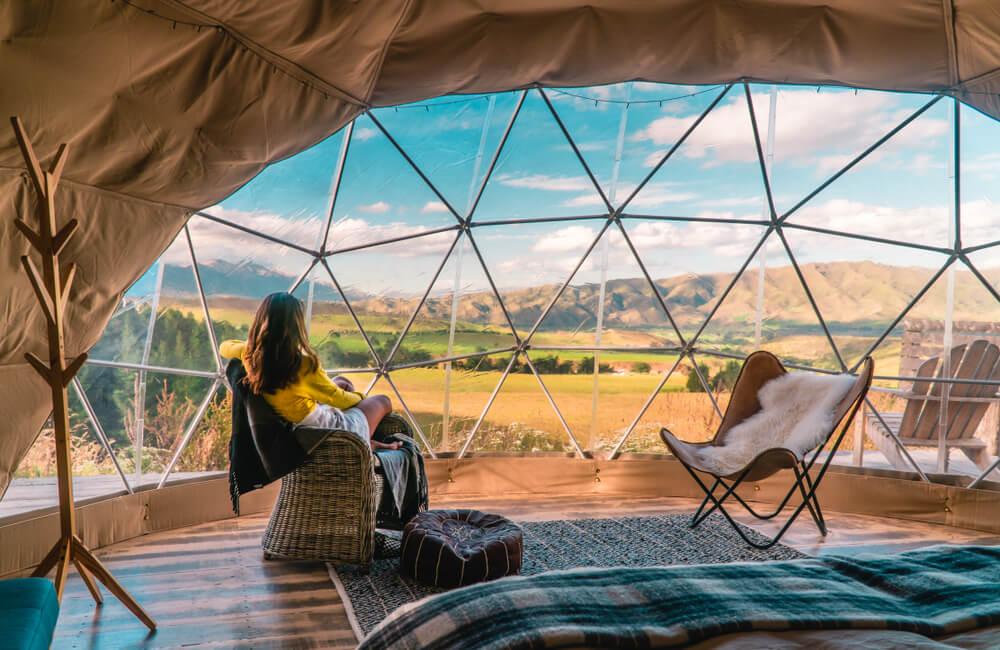 It goes without saying that camping is one of the safest forms of accommodation during the Covid-19 pandemic, since you can ensure a safe distance from others. However, not everyone wants to rough it, which is where glamping comes in…
Glamping sites usually offer up a more luxurious version of a traditional campsite, meaning glamorous suites, hot showers, and rustic-chic decor.
Online Ticket Sales

While many attractions around the world already offered an online booking option, most travelers still prefer to buy their tickets at the attraction's entrance. After all, you never know when plans may change when traveling.
However, this has already started to change…
While approximately 85% of attraction ticket sales were carried out offline pre-Covid, companies are now aiming for 100% of ticket sales to take place online. Most of the attractions that have now reopened are only offering online ticket sales, and those that don't have this facility set up yet are rushing to do so.
Along with the online booking systems come timed entries, which are important to ensure that each attraction doesn't end up too crowded. It also gives the staff enough time to sanitize everything before the next batch of visitors, allowing them to adhere to Coronavirus guidelines.
Flexible Booking Policies

Worried about booking a trip in case your plans need to change due to Covid-19?
You're not alone, many travelers are feeling the same way, which is exactly why flexible booking policies are already growing.
From hotels to airlines, more and more companies are offering more flexibility when it comes to booking a trip, meaning that travelers will be allowed to make last-minute changes and cancellations, without having to pay a fine.
Airport Health Checks

If going through all of the security checks at an airport already drives you crazy, then this is a travel trend you probably won't appreciate…
However, keeping travelers safe is key, which is why you can expect to encounter more and more health checks at airports around the world. Whether this may be temperature checks, nasal swabs, or blood tests, these are likely to be set up at various points in an airport.
On the plus side, things like checking in for a flight and security screenings may become a little faster, since these will now become contactless.
In addition to the health checks, expect to be asked to wear a mask too. This not only applies to time spent within an airport, and possibly also the actual flight too, but many attractions now require all visitors to don a face covering.
Workation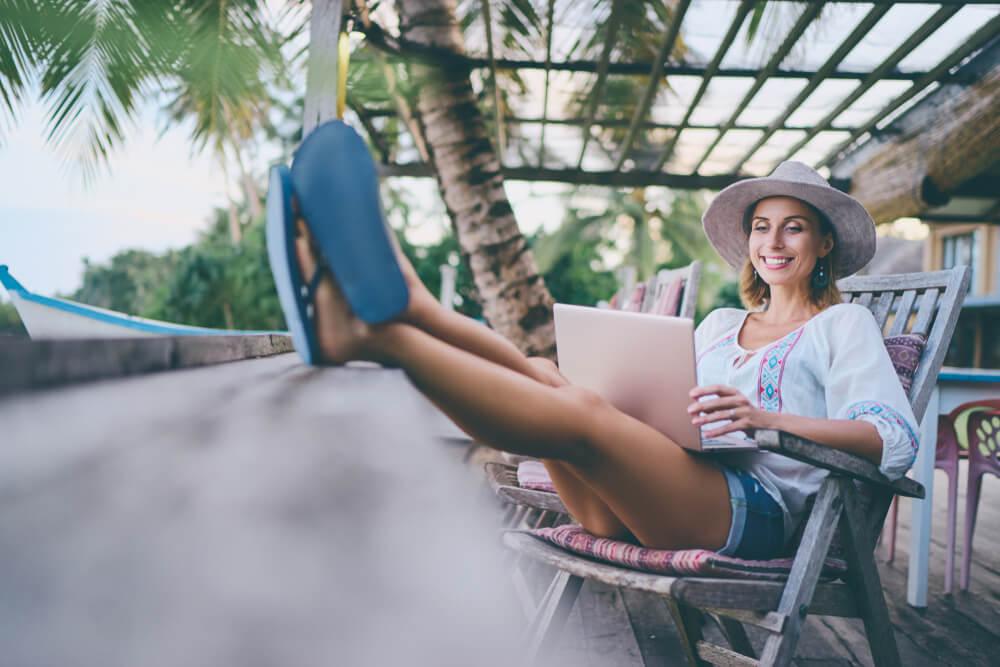 Staycations are one thing, but with so many people now working remotely, workations are set to become huge too.
What is a workation?
It refers to a long-term getaway where people can enjoy an enriching experience while still being able to get their work done. In essence, it basically allows people to socially distance, or even self-isolate, for a long period of time in a beautiful new location.
You may think that it's just holiday homes getting in on this trend, but many hotel chains are now offering workation packages too, marketing these as relaxing working retreats.
Remote Tourism

Want to experience some of the wonders of the world without actually leaving your home?
Ok, so the experience may not be quite the same, but some of the remote tourism opportunities out there can really be rewarding. From touring some of the most exclusive art museums in the world to exploring the depths of a coral reef, there are now so many immersive remote tourism options to choose from.
One company that has taken this concept in an interesting direction is Airbnb. They have launched a new platform called Online Experiences, where users are able to pick from a variety of different virtual experiences, whether this may be cooking classes in another country to travel tours.
Once-in-a-Lifetime Trips

Feeling frustrated about not being able to travel?
Many are experiencing the travel bug big style, but, unfortunately, are not able to do anything about it. However, the Covid-19 pandemic won't go on forever – at some point, people will start to feel comfortable about traveling again, and when this happens, many are planning their dream, once-in-a-lifetime trip to make up for all of the hours spent at home during the lockdowns.
Bucket lists have once again become popular as the dreamers out there plan their first post-Covid vacation. Whether it may be a week spent in Iceland to view the Northern Lights, a fortnight-long safari in the heart of Africa, or a month spent languishing on an indulgently-tropical beach, the plans that people are making during their time at home will likely be put into action as soon as it becomes safer.
Group Vacations

Whether it may be close friends or your family, chances are that you've had to go without seeing some of your nearest and dearest during this pandemic. Others are in the same boat, which is why group vacations are starting to increase as people use these as a chance to reconnect with their loved ones.
Destination won't matter as much – instead, the chance to simply spend some time with friends and family will become a priority. This means that larger groups will now be seeking out private villas and exclusive hotels – places that allow them to be together while still also keeping their distance from others.
Although people will start to travel again once Covid-19 dies down, the travel industry will likely never be the same again. However, this doesn't necessarily need to be a bad thing – by adapting to the new post-Covid travel trends that are already starting to emerge, the industry will be able to claw its way back and hopefully thrive once again.