In order to keep things on the healthy side during this challenging times, it's important to always arm yourself with body-boosting snacks that will restore your energy levels and fill up your belly.
And there is no better component for that than protein, which will keep your body energized and your mind focused throughout the day.
Luckily, there isn't a shortage of healthy, palate-pleasing snacks packed with protein that will ensure you always have a healthy bite at hand. And here are some of the best protein snack recipes you're likely to find!
Crunchy Quinoa
Quinoa is one of most buzzed about ingredients among health enthusiasts and, when you take into consideration its immense nutritional properties, its popularity should come as no surprise.
This recipe offers a slightly more fun take on the South American grain, which can make for a great addition into salads, smoothies oat bowls and many other dishes.
And best of all, it takes very little effort to make.
Here's what you will need:
Place a large frying pan over low to medium heat. Rinse the quinoa and mix it with water, just so it moist. Toss it into frying pan, making sure it's spread evenly.
Leave to fry, turning it over every ten minutes for even finish. Once it starts popping and dries out, turn off the stove and set aside your quinoa to dry.
And that's it! You can consume it on its own or add to any sweet or savory dish for extra crunchiness and texture.
Bulky Smoothie
Smoothies have become one of the most popular ways to pack in all your daily nutrients with little to no efforts.
And while there are countless combinations for making these easy snacks, if you're looking to add more health to your diet, here are some of the ingredients you can start with.
Berries represent a rich source of good-for-you nutrients, including age-rewinding antioxidants that are essential for fighting free radicals.
Leafy greens, like kale and spinach, are packed with vitamins that can prevent a host of harmful diseases.
And here's a smoothie that combines all these health powerhouses into one delicious concoction.
Prepare in advance:
1 banana
a handful of blueberries
½ cup kale leaves
½ cup almond milk
1 tablespoon chia seeds
1 tablespoon ground flax seeds
1 tablespoon hemp powder
a pinch of cinnamon
Remove the banana peel, cut it up, then toss it in the blender, together with all the other ingredients. Mix until you reach smooth consistency. Pour into a large glass and your body-replenishing protein is good to go.
Peanut Butter Protein Bars
Peanut butter is already well known and well loved among all protein enthusiasts who are looking to whip up their body into shape.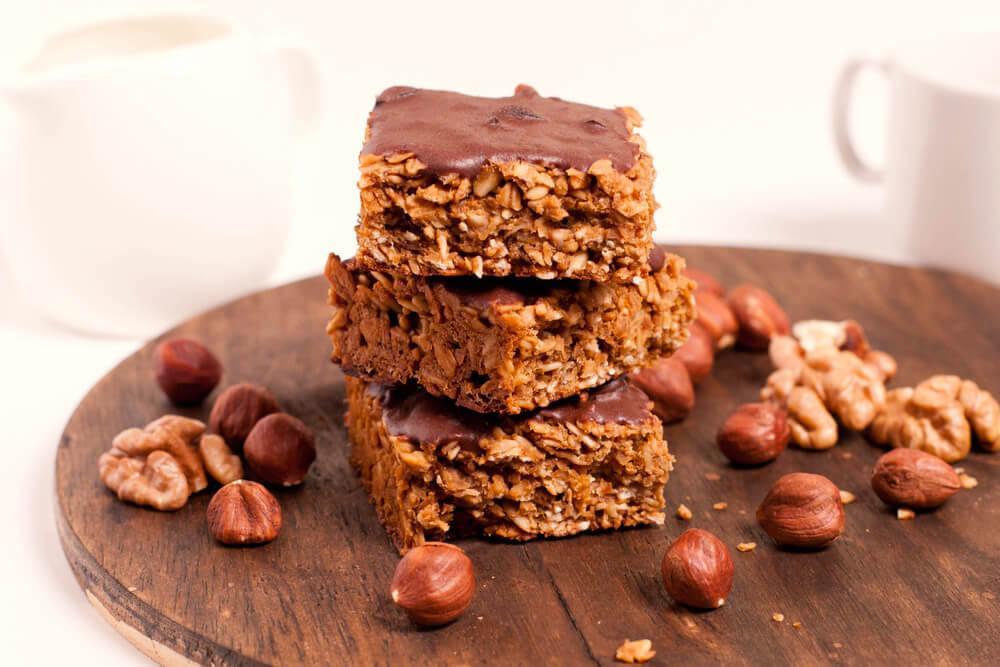 And with this recipe, you can make this protein powerhouse even more energizing and work- or gym-friendly.
Here's what you'll need:
2 cups rolled oats
1 cup peanut butter
a handful of dates, pitted
½ cup honey (can be substituted with agave syrup or maple syrup)
½ cup vanilla protein powder
a bit of vanilla extract
a dash of salt
a bit of coconut oil
Coat the inside of the baking tray with coconut oil or line it with baking paper.
Toss rolled oats into a food processor and blend until you get flour-like texture.
Then, add the rest of the ingredients and blend for as long as it takes to reach doughy consistency.
Take out the mixture and use a spatula to distribute it evenly on the baking tray.
Place it into the freezer for about half an hour, so the mixture can set. Once cool, grab a knife and cut it into bars. There you have it, a healthy snack that's easy to make and requires no baking!
DIY Granola
Granola is one of those treats that ideal for perking up your body in the AM and preparing it for the busy day ahead.
But, more often than not, the stuff you find in your supermarket will be loaded with sugar and other kinds of refined carbs.
If you still want all the enjoyment of this crunchy treat without stuffing your body with more calories than needed, then you might want to go down the DIY route and start making granola at home.
Lucky for you, it's actually much easier than it sounds at first.
Here are a couple of things you'll need:
2 cups oats
½ cup pumpkin seeds
1 cup walnuts
½ cup protein powder
1 tablespoon cinnamon
½ cup coconut oil
a pinch of salt
1/3 cup honey, agave syrup or maple syrup
Start off by preheating your over to 325 degrees. Crush or chop the walnuts, then mix them in a bowl together with oats, pumpkin seeds, protein powder, cinnamon and salt.
Add coconut oil and sweetener to the mixture, then proceed to stir until the oil is equally distributed.
Take out a piece of baking sheet and spread the mixture, creating an even layer. Put it into the over, then bake for about half an hour. Take out your granola and let it cool completely before consuming.
Hummus and Veggies
If you're really into chips and dips, then you'll definitely be a fan of its healthy alternative, hummus and vegetables.
Suitable for parties, after work bites and vegetarian-friendly snacks, this delicious combo will be sure to fill your belly and please the taste buds at the same time.
Here's what you'll need to make it:
2 carrots
2 cucumbers
1 red pepper
1 cup of chickpeas
olive oil
1 lemon
1 clove of garlic
2 tablespoons tahini
ground cumin
salt
pepper
Place chickpeas, garlic, tahini and seasoning into a food processor. Mix until your get creamy consistency. If the mixture is too thick, add a bit of water to make it smoother. Transfer the hummus into a bowl, drizzle with olive oil and sprinkle with ground paprika.
Slice the veggies into bite-sized pieces and serve with hummus. The yummy bites are complete!
Spicy Chickpeas
Chickpeas are a great source of protein, not to mention the fact that they can quickly make you feel full and satisfied.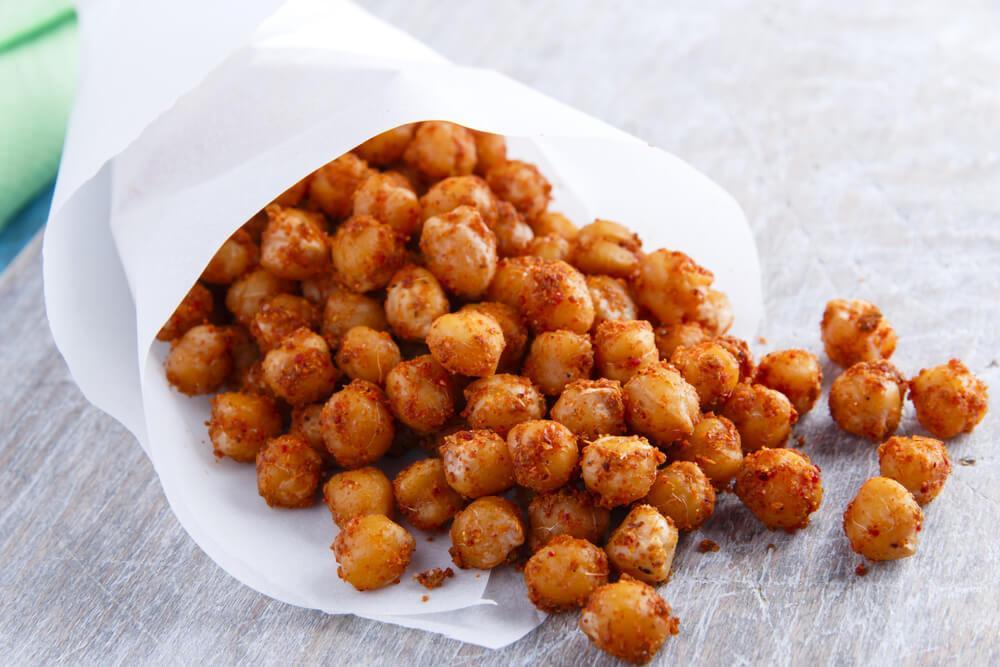 However, instead of going for the classic hummus, why not try out this chick-pea recipe with a kick? Not only will be a little more exciting to your taste buds, these chickpea bites will be super easy to consume when on the go.
Here's how to make them!
You will need:
1 can chickpeas
a dash of olive oil
chili flakes
ground paprika
cumin
salt
pepper
Preheat the oven to about 400 degrees. Take the chickpeas out of the can, drain them, then pat them with a paper towel until dry. Put them in a bowl and drizzle with olive oil. Add the seasoning and stir all the ingredients until chickpeas are coated in the mixture.
Grab a piece of baking paper and spread the chickpeas, making sure they don't touch. Put in the oven and bake for about half an hour, then leave outside to cool down. Place the chickpeas in a tightly sealed container. This delicious snack can last up to a week.
Greek Yogurt the Mediterranean Way
Greek yogurt is a daily must have for every health and fitness enthusiast out there.
This thick, creamy treat is a great way to up your protein levels and stay sated for prolonged periods of time.
And while most recipes tend to combine the Greek delicacy with fruit and other sweet ingredients, we will feature a savory take on this protein-packed snack.
Here's what you need to prepare:
1 tub of Greek yogurt
1 carrot
1 red bell pepper
1 cucumber
pinch of salt
cumin
1 lime
Take carrot, bell pepper and cucumber and slice them into bite-sized pieces. Dump the veggies into a yogurt into a bowl, then add salt and cumin. Slice the lime in half and squeeze a little bit of fresh juice into the mixture. Mix well and your nutrient-packed yogurt treat is all done!
Peanut Butter Celery Sticks
We all know celery is mega healthy, but – let's be honest – it's not exactly the most appetizing veggie out there.
With this quick and tasty recipe, you'll be able to turn this stalky veggie into a bona fide treat.
You will need:
5-6 stalks of celery
a cup of peanut butter
a handful of raisins or sultanas
Cut the celery stalks into halves. Spread peanut butter onto each of the pieces. Top off with raisins and sultanas and – just like that – you have a healthy, nutritious snack at hand.
With some hope, this list has given you ideas on how to start making healthier meal choices. With these awesome protein-based snacks, you will have a healthy go-to every time your stomach starts to rumble during the day.
Avocado Deviled Eggs
Avocado is the undisputed star among superfoods, while eggs are one of the go-to sources for protein and all-around energy. When you combine the two, you get a healthy, energy-packed snack that can be consumed anywhere and at any time.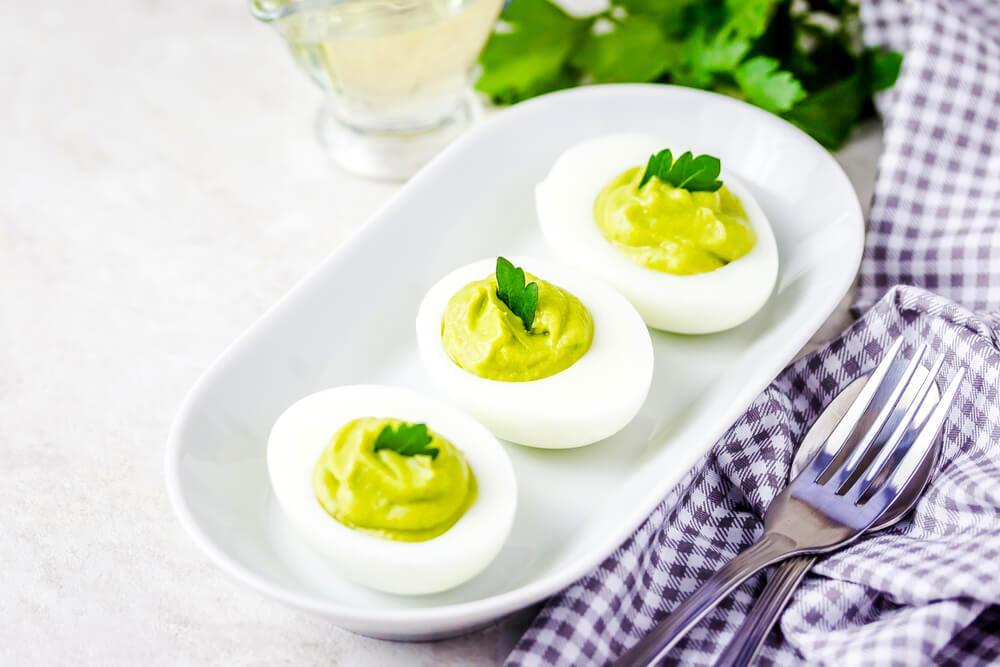 Here's an idea how to do just that – with a recipe that offer classic deviled eggs with a millennial twist.
Things you will need:
6 eggs
1 avocado
2 tablespoons mayonnaise
1 lime
1 garlic clove
cayenne pepper
1 chili
ground black pepper
a pinch of salt
Boil the eggs, peel the shells and slice them into halves. Scoop out the yolks and place them in a bowl. Slice the avocado in half, remove the stone, scoop it up; slice it and add it to the yolks.
Crush the garlic and dice it. Also dice the chili pepper; remove the seeds if you prefer your eggs less spicy. Put garlic and chili into the mixture. Add mayonnaise and seasonings.
Slice the lime into half and squeeze out a bit of juice into the mixture. Mix everything well until you reach a smooth consistency. Put the mixture into a plastic back and snip off the corner.
Squeeze the filling into each of the egg whites. Sprinkle with chili flakes for an extra kick!
Lentil Bites
Legumes represent another rich source of protein and can be a great way to fill you belly without succumbing to processed carbs.
And lentil in particular is chock-full of body-boosting ingredients, including fiber, folic acid and potassium.
If you want an increased presence of legumes in your diet, this recipe for a quick lentil-based snack might be the perfect place to start.
Ingredients you will need:
½ cup lentils
1 cup water
olive oil
½ onion
a couple of cloves of garlic
½ carrot
½ nuts, walnuts or pecans
1 egg
tomato paste
salt
pepper
basil
oregano
Put the lentils and water into a pot, bring to a boil, then reduce the heat and cook until lentils are soft, for about half an hour.
When they're cooked, drain the lentils and put them in a large bowl.
Heat a bit of olive oil in a frying pan. Crush the garlic, dice the onion and toss them into the pan. After they turn translucent, add grated carrot, then stir for another couple of minutes.
Grab a blender and put the lentils, veggies, nuts and seasoning in the blender. Mix for about 15-20 seconds. Crack the egg, add tomato paste, then blend until the lentils are about halfway smooth.
Next, set the oven to 425 degrees. While it's heating up, roll the lentil mixture into balls. Place them on a sheet of baking paper so they're not touching. Brush them with olive oil, then toss everything into the oven and bake for about half an hour – until lentils turn golden-brown. Put into a container and keep close for whenever you need an energy-boosting bite!