When we talk about hair and how to style it, we are always looking for tutorials, what's new and what has the latest technology, only one thing comes to my mind when I think of all this, Evalectric. I a hair enthusiast have recently tried some Evalectric products and I had to give you all the 411 on how my experience with this brand was. But especially on how this brand is the new evolution of hair technology.
As they say on their webpage you will have salon hair care with the latest technology in the palm of your hand. At first, I was like: "Will this really work?" and let me you a little secret, IT DOES!
I tried several products from different Evalectric Collections, from hair care to straight brush, all the way to curlers.
Evalectric Hair Serum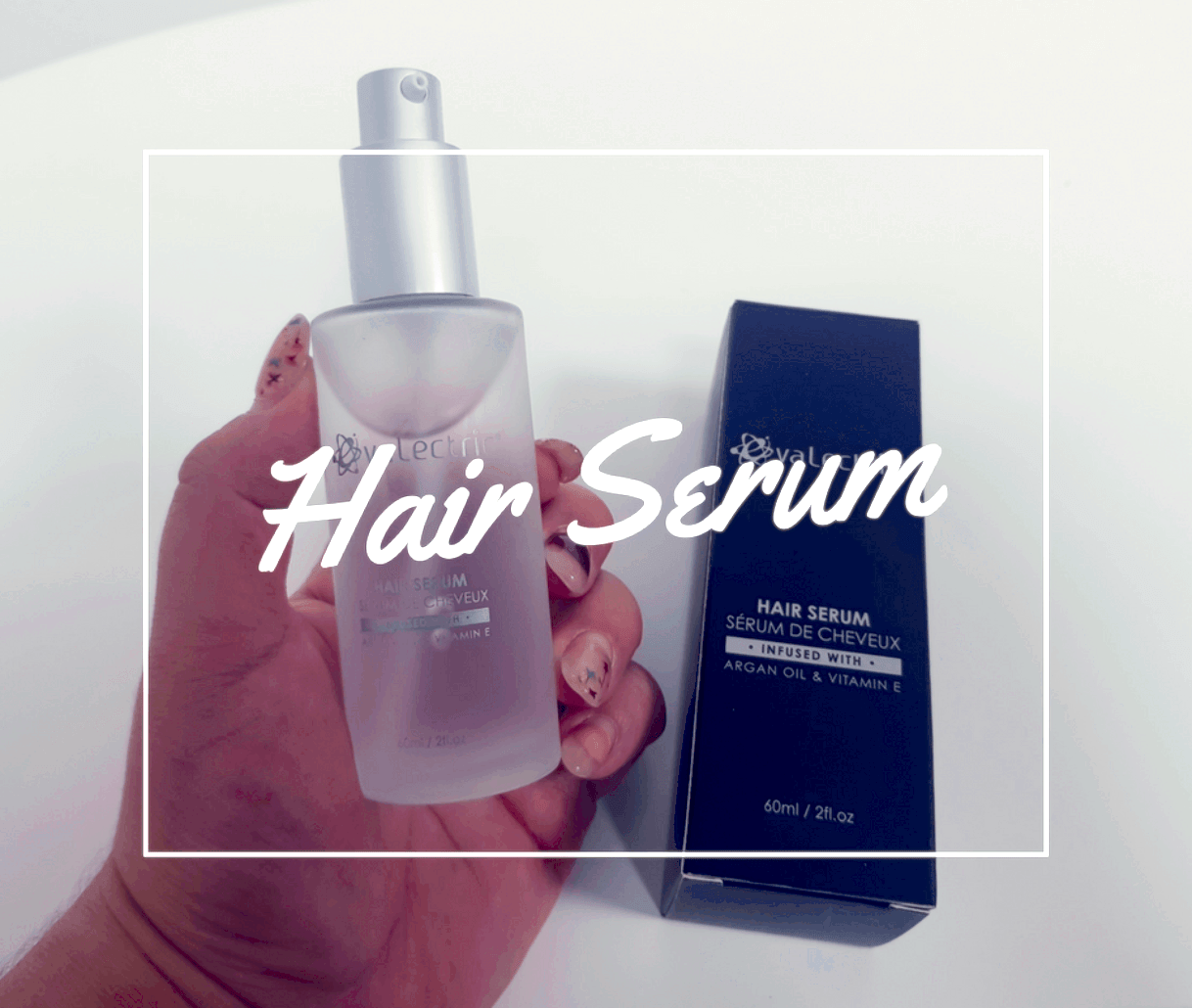 If there is one thing we can all relate to, is all of us wanting soft and shiny hair. Well, I got some info for you this hair serum will be your best friend. But what is a hair serum and what are its benefits?
Hair serums create a protective covering to the hair, minimizing hair frizz and giving extra shine. It also softens and helps renew damaged hair. You can use a hair serum after washing your hair and also before and after styling.  
This serum has all the great ingredients our hair needs such as:
–        Argan oil – conditions, smooths and protects hair
–        Vitamin E – prevents hair loss, adds extra shine to hair.
–        Aloe – conditions, prevents dandruff and leaves your hair smooth
These three ingredients working together, improve hair making it softer, shinier and smoother. They also reduce frizz and restore your hair's moisture main reason why it reduces frizz is because of this.
My experience with this serum was really nice, I used it after washing my hair, and even though I have straight hair I tend to get a bit a frizz and after using the serum my hair looked just fine. I also tried it after styling my hair and the shine and how nice my hair look was all worth it. If you are worried that using a hair serum will make your oily or greasy hair appear even more oily then don't worry with just a bit of product this works great, and I tend to get my hair oily quite fast and I didn't see or feel my hair extra oily after using this.
Straight Brush Styler

Have you ever seen video tutorials of brushes that straighten your hair and you just look don't really believe it? Well, I was one until I tried this straight brush; this brush has ceramic bristles that heat up to straighten your hair. The heat feature goes from 285* to 430* F and it also includes temperature control, which means it heats and cools down fast. Because of the ceramic surface that the bristles are made of, it releases negative ion technology which leaves your hair looking shiny and frizz free, and that is something we all can agree that we want.
This straightening brush comes with far infrared technology, which means this brush will lock and preserve the moisture in your hair and heats the hair from inside out; all this stimulates hair growth and improves your hair texture.
Because I have thin and straight hair I couldn't see much of difference other than feeling my hair soft and looking shiny, I contacted a friend that has curly hair to try the straightener on her hair and honey, the results were way better than we ever imagined.  We started off by letter her hair dry naturally and applying a hair serum after her hair was dried we applied a heat protector and divided her hair into 3 sections. Starting from the bottom she started combing her hair with the Straight Brush Styler and her curls started to straighten.
Now let me explain an important factor here, your hair will not end up as straight as it does with a flat iron but it will look like a softer natural straight finish, which looks just as good. If you are worried that the straight brush will leave your hair with frizz then you can chill, because as I mentioned before this styling brush as ceramic surface plus negative ion technology, so frizz will be the least of your worries.
If you have really straight hair like mine, and just want to touch it up a bit then you can use this straightening brush, I would recommend this straight brush for people with more of a wavy to curly type of hair, because this brush will give you more results and will have your hair feeling softer and smoother.
Grande Styling Wand

Now to the best part curling wands! The first wand I tried was the Grande Styling Wand. This curling wand has an 18/25mm Teflon barrel. This wand just like the straight brush has negative ion technology, and just like mentioned before this helps you to control its frizz and make it look shinier.  Just like the brush this curler also has a swivel cord and dual voltage. This curler is a clipless barrel, which means you have to hold your hair while curling it I prefer it this way than using a clip, but this really doesn't affect at all your curling process.
This curling doesn't have a heat level button, just an on and off button, once you press on it will automatically heat up to 400* F, having a high level at times like for example when curling or straightening your hair is okay because it will make your hair curl or straighten faster than having it in lower heats but exposed for a longer time.
If you prefer soft waves as a hairstyle this is the curling wand you need. I personally used this wand for doing these soft waves and prefer for waves more than making more of a curled look.
For my styling process, I combed my hair to remove tangles, applied a heat protecting cream to my hair because I don't want any burnt hair we have enough videos of that online to add one more. After this I divided my hair in three section to make it easy to style, I started from the bottom getting a one-inch piece of hair and looping it around the barrel starting from the thickest part of the barrel to the thinnest and holding my hair there for 8 to 10 seconds. Once all your hair is curled you can play with what style you want, I sometimes make two buns while half of my hair is loose with the waves. You can also style it with a half braid or just simply leave it as it is divided to which either side you prefer.  After styling my hair I also like to apply a hair serum just to give it an extra touch of shine and apply a bit of mousse or hairspray whichever you prefer to make the hairstyle last.
Skinny Curling Wands
If you are more into tight more delicate curls then the Skinny Curling is the curling wand you need. This wand has the same features as the Grande Styling Wand; the only difference is the barrel diameter. This is a 9/18mm barrel going from 18mm to 9mm on the top part of the wand.
Just like how I did for the Grande wand, I prepared my hair by applying a serum and combing it to detangle it then I applied a heat protective cream. Just as a reminder, please remember this heats up to 400*F, and even if it's just with a bit of heat always apply a heat protector.  I divided my hair into 3 sections. Getting a half-inch piece of hair I will loop it around the wand, to do this place the pointy part of the wand pointing downwards and loop your hair from the biggest part to the smallest part. Keep doing this up until you have done all your hair, after this style it as you please I left it just loose and parted right in the middle applied a bit of hair serum and mouse to maintain the look, but if you want it to last even more you can apply some hairspray.
Both the Skinny Curler Wand and the Grande Styling Wand have three-year warranties while the Straight Brush Pro has a one year warranty. Once you open the package that by the way are black and look amazing you will find under the wand placement the three-year warranty with instructions on how to fill it in and use the wand. The packaging also has instruction and explain more about the brand and the products on the side and back of the box, so you literally have most of the information you need given to you on and in the box. This will make it easier for you to understand how to use these products without having to make a search online.
Both curling wands also include a heat-resistant glove, if you are like me and tend to be a bit clumsy then I highly recommend you to use this glove. Remember that these wands heat up to 400*F and can burn you if you do not use them correctly. The wands also have marked a "high temp caution" right above the on and off button, so please do remember to use a heat-resistant glove to make sure you will not burn.
If you were to ask me if I think that Evalectric is the new evolution in hair technology I will without a doubt answer, yes. Evalectric has many more products other than the ones I mentioned here, from hair straighteners to curlers, and did I mention they have a led collection with red therapy technology.  Which a technology that is new in the hair industry and is proven to help stimulate hair growth, make it look shinier and control frizz, so imagine having all this with just one blow dryer. Each of their products has different types of barrels or plates finishes such as ceramic, Teflon and titanium. All their collections also include negative ion technology for me this is a super extra, that all brands should have this technology is awesome because it leaves your hair so soft and shiny you really will love how your hair feels and look.
Another big plus that Evalectric has its own hair care line, it has all you need to have beautiful hair all year long. They have products such as shampoo & conditioners, serums, heat protectors and hair masks. All of these products infused with fantastic ingredients such as argan oil, sunflower oil, vitamin e, panthenol, and aloe; to be honest, this is the hair care dream team.
But please do remember every hair is different, not because it works great on my hair and my friend's hair means it will work on your hair; I like to see it as if every hair has its own personality and even though these ingredients are natural it works differently according to your hair type. So, once you get your hands on this collection do as I always do, grab a piece of hair and try the product that you will use there, do not mix it with other things it will ruin your little experiment. Test it out the night or day before and check how your hair feels and looks, if you see that everything looks normal then continue using, not just with these products but every product you try this including skincare products.
If you want to know more new ways of styling you hair, what product to use and interested in knowing more about Evalectric and their one of a kind hair products you can visit their site and follow them on their social media such a Facebook and Twitter for more details about their products and offers.