Review by Maria Carron
If you're like me and enjoy knowing "what's hot" BEFORE everyone else, you'll want to get your hands on Vou Pre. This line of skincare is designed and formulated by an actual dermatologist – not a random celebrity trying to add to their money grubbing empire. You'll find wholesome ingredients devoid of animal testing, so rest assured that every product they offer can be purchased with a clear conscience. 
 I tried out their Cannabis Collection featuring a color-shifting face mask, a facial serum, silk cream, and microneedling roller. Let me tell you what…
My skincare routine will never be the same.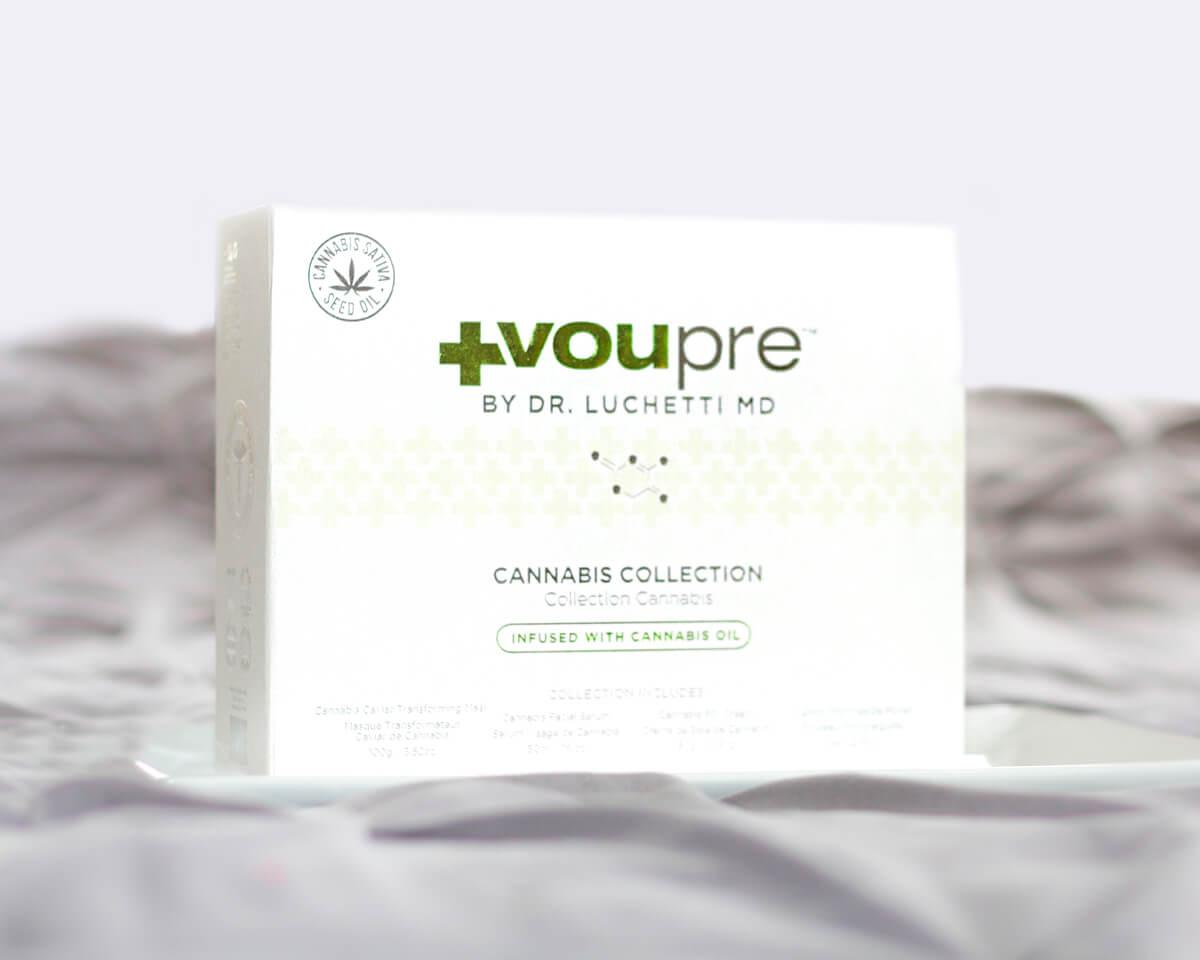 My Skin Type 
If you have troublesome skin and find yourself wary of trying any new products, you'll be relieved to know that I'm in the same boat. I've always detested reading skincare reviews from individuals with beautiful, blemish-free, low maintenance skin. Unfortunately, I'm not blessed with #complexiongoals.
Here's just a small list of my skin issues:
Needless to say, my face is a little high maintenance. Luckily, for the purpose of helping others find skincare that actually works, I don't have a picture-perfect complexion that loves everything I slather on it. Instead, I have to find HIGH-QUALITY cleansers, creams, serums, and masks that aren't full of rubbish. 
The Featured Ingredient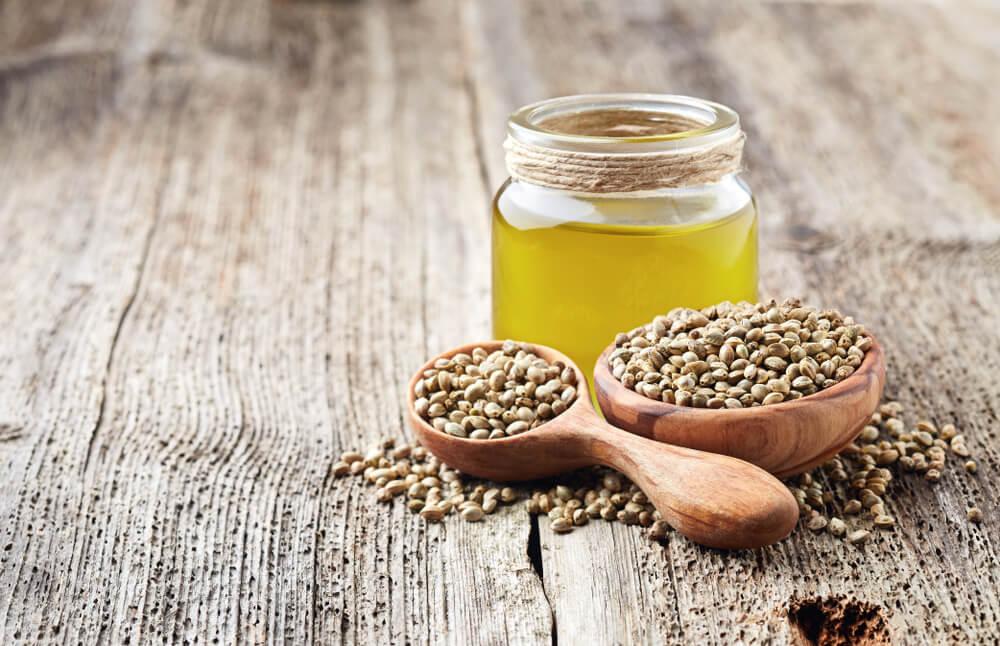 Ok – let's cover the star ingredient before moving onto individual reviews. Each one of the skincare products from Vou Pre's Cannabis Collection contains a healthy dose of Cannabis Sativa aka Cannabis Oil aka CBD. The first vital note to assert is that CBD is NOT a psychoactive and WILL NOT get you high. CBD is quickly rising in popularity due to its multifaceted purposes, as well as the dispelling of fear-mongering false information.
Cannabis Oil is heaven-sent for those of us that have irritated, acne-prone skin. One study found that CBD can help regulate sebum overproduction while soothing skin irritations. This means less facial redness, no stinging, and reduced clogged pores. Who wouldn't want that? 
Let's get to the fun stuff now – PRODUCT REVIEWS!
0.2mm Microneedle Roller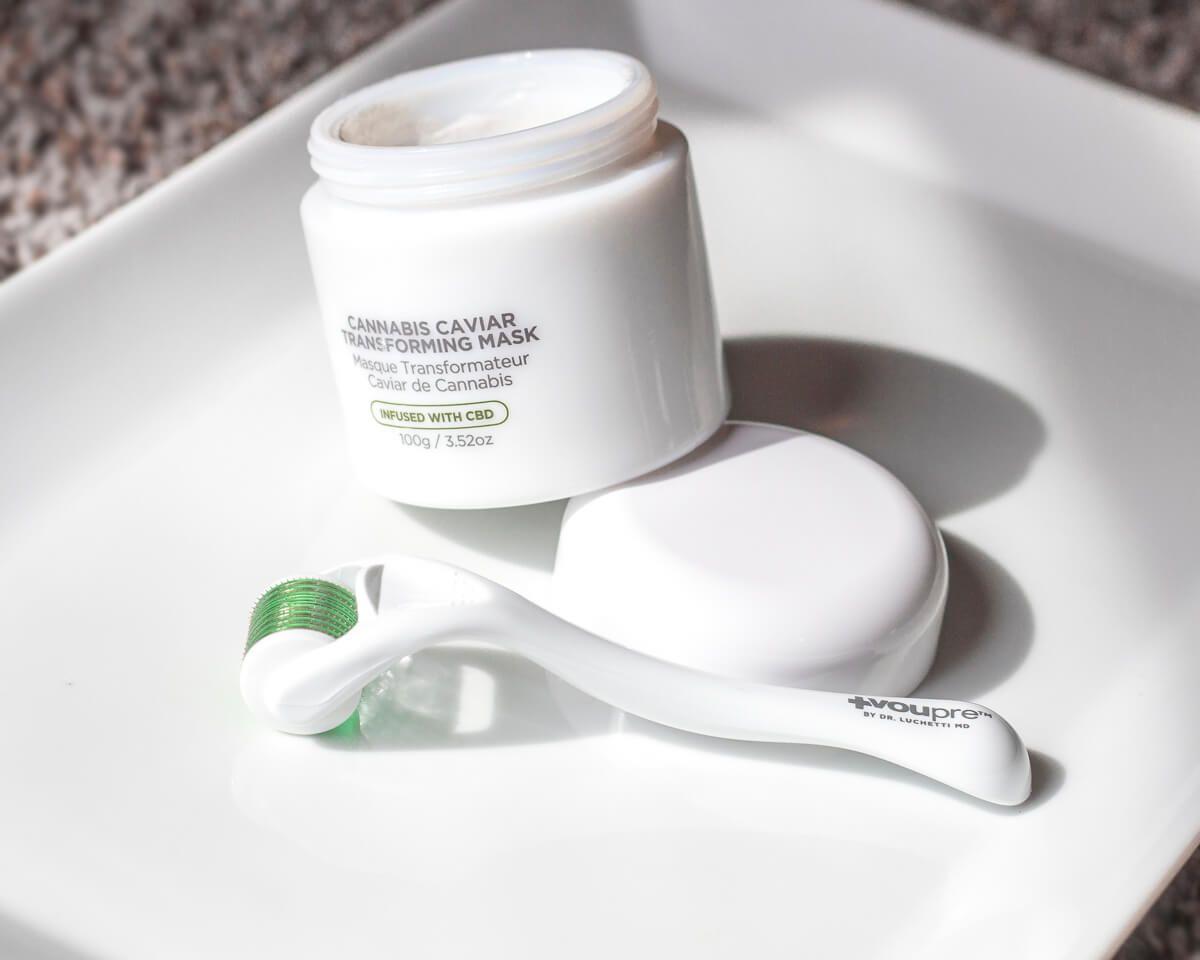 Microneedling is the first step in the Voupre routine. If you're new to using a microneedle roller, this is the perfect size to get started! The 0.2mm needle length means less irritation, virtually no downtime (the period of time it takes for skin to recover from a treatment), and no pain. Plus, it's super easy to use and can be quite relaxing.
I was pretty impressed by the quality and look of this roller. You'll be rolling it along your face for some time, so it mustn't be bulky, heavy, or awkward. The roller is lightweight, yet resilient. It's comfortable to hold and even features a convenient indention for your index finger – a nice touch that displays Vou Pre's attention to detail. I also like the little pop of green on the roller that serves as a minimal accent color. 
What Are The Benefits?
Microneedling has a wide variety of benefits that are dependent on the quality of the roller and the length of the needles. In this case, you'll want to start your skincare ritual with the Vou Pre Microneedle Roller to help your skin absorb all the beneficial ingredients of your mask, serum, and cream.
How Does It Feel?
I like the repetitive nature of using the microneedling roller. It has the feeling of very mild, tiny pokes. It doesn't hurt, so I'd highly recommend this roller for anyone that is pain-adverse. Afterward, my skin felt fine and I had no problem proceeding to the next step. 
How To Use
After cleansing your face, gently roll the microneedler along your face. I like to start at the outside edges of my cheeks, move towards my nose, across my chin, and then work on my forehead last. You should devote about one minute to each section of your face (left cheek, right cheek, forehead, chin). If you have areas of your face that have enlarged pores or are beginning to show signs of fine lines and wrinkles, you can spend more time gliding the roller on those areas. After use, make sure you clean your roller to avoid bacteria buildup. You can use this microneedle roller once every other day. 
Notice I used the phrase "gently roll" and the word "gliding"? 
It's imperative that you are KIND to your face. If you opt to use a heavy hand with this microneedle roller, you're not doing your skin any favors. Harder does not equal more effective. Instead, you'll be causing more harm than good. Take your time, enjoy the experience, and be gentle.
Cannabis Caviar Transforming Mask
The Cannabis Caviar Transforming Mask is my favorite part of the Voupre Cannabis Collection. You'll receive a lovely jar containing 100g of the product as well as a silicone paddle brush to apply the mask. A fun, unique aspect of this mask is the color transformation! In the jar and upon initial application, the mask is a simple light creamy white hue; however, after massaging it into your skin, it turns into a lovely golden shade. How cool is that?! The fragrance is light and natural, so your senses won't feel overpowered while you're masking. 
What Are The Benefits?
While this mask is a fun experience, what's the point if it doesn't do anything? Well, I was so happy to read through the ingredient list and discover a couple of my favorites!
How Does It Feel?
I noticed an immediate cooling effect after applying the mask. There was a slight, pleasant, tingling sensation that dissipated quickly. One of my chief complaints about other masks is that after about 3-5 minutes, they begin drying out and pulling at my skin. This mask didn't completely dry out or crack even around the 10-minute mark. It washed off fairly quickly and my face felt very clean and fresh. 
How To Use
Using your silicone paddle brush, apply an even layer of the mask to your face and neck. I used the paddle to massage the mask on my face in short strokes until the mask turned to gold. After 10 minutes, just rinse off and pat dry. 
Cannabis Facial Serum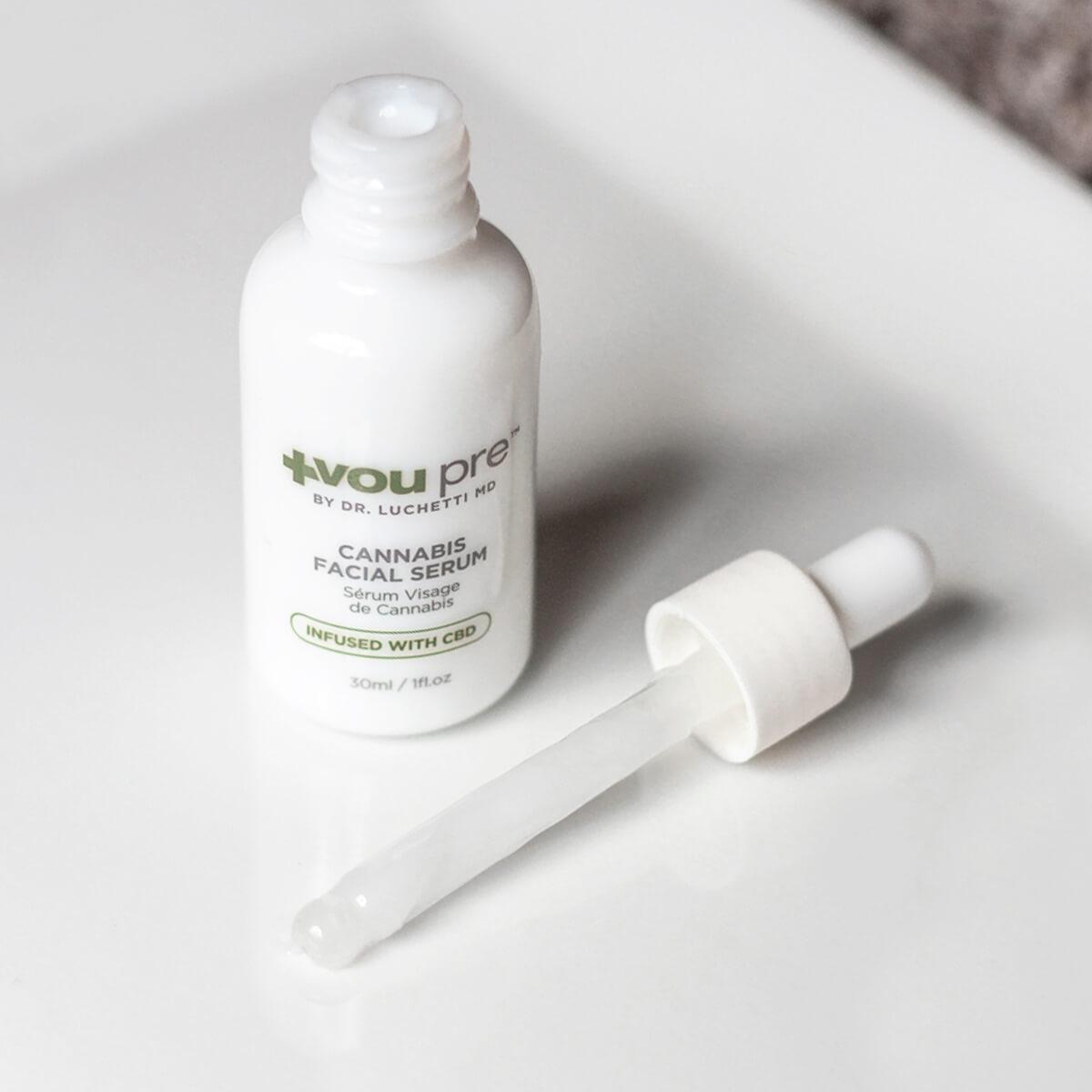 If you're into potent formulations, you're going to be a big fan of the Cannabis Facial Serum. Jam-packed with ingredients that are going to make your face feel as smooth as glass, you'll be wishing for a lifetime supply of this milky liquid gold. 
The serum comes packaged in a convenient dropper bottle. I respect the fact that Vou Pre didn't use clear bottles as some oils retain their effectiveness a lot longer without continual exposure to light, and I enjoy the aesthetically pleasing appearance of clean, crisp, minimalist-looking bottles lining my skincare shelves. When you take the dropper out of the bottle, the serum is milky white and has a thick consistency. Absolutely decadent.
What Are The Benefits?
The Cannabis Facial Serum has a beautiful host of ingredients, but my three favorites (aside from the CBD, as mentioned earlier) would have to be Glycerin, Ascorbic Acid, and Lactic Acid.
How Does It Feel?
This is what I would call a "dry" serum. Not because it leaves your skin feeling dry, but because it does not leave an oily residue. I feel like the serum was absorbed into my skin instead of just uselessly sitting on top. The thick consistency is partly thanks to the ultra-hydrating glycerin. Glycerin has a syrupy feel to it, but the combination of other ingredients keeps the serum formulation from being sticky. 

How To Use
When using your Cannabis Facial Serum, it's good to remember this old saying:
A little goes a long way.
Using your dropper, dispense 2-3 drops of serum onto your fingertips. Rub the serum onto your skin until it fully sinks in. 
Cannabis Silk Cream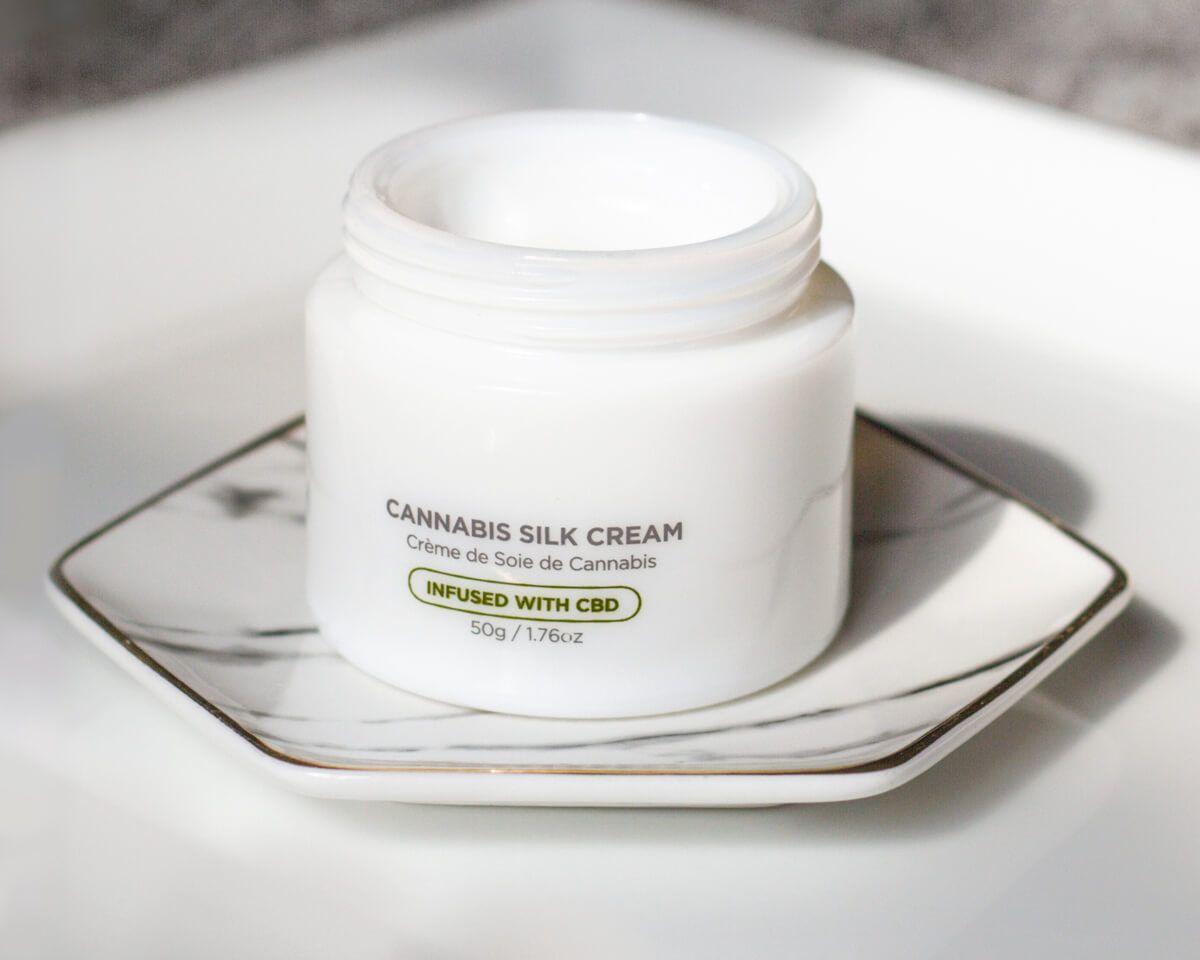 The final step in the Vou Pre routine is their Cannabis Silk Cream. Soothing, fast-absorbing, and moisturizing is the best way to describe the CBD-infused cream. Face creams are hit-or-miss for me. Most creams give me a stinging, burning sensation and thus, I'm always a little nervous about venturing into new brands. I am thrilled to report that my skin is IN LOVE with the Cannabis Silk Cream. It has a pleasing aroma that titillates and awakens the senses while delivering A+ results.
What Are The Benefits?
It was tough to settle on just a few ingredients to cover. There are so many excellent plant-based nutrients in this cream that each serves to feed and enrich your complexion. From algae extract to caffeine, it's an impressive family of ingredients.
 How Does It Feel?
The Cannabis Silk Cream is ultra-rich, thick, and has a nice slip to it. After applying to the skin, it is lightweight and non-greasy. It sets very well underneath makeup and is an excellent substitute for a primer since it leaves behind a smooth canvas. It makes sense that the word "silk" is in the name because my skin felt silky smooth all day long after using it. 
How To Use
This product is very straight forward. Sometimes I use it after the serum and sometimes I use it right after cleansing (sans additional moisturizers) – it has a lot of versatility! Just scoop some out with your fingertip and massage onto your face and neck. I like to reapply just a little bit throughout the day to any particularly parched and flaky patches of my skin to help speed up the healing and rejuvenating process. 
Final Thoughts
Vou Pre gets a big thumbs up for formulating and creating a winning trio of topicals. It's a fuss-free solution for sensitive acne-prone skin types that require a more tender approach to pampering. The packaging is beautiful and the jars could easily be reused after you've emptied them. The two tools provided are practical, well-made routine staples that make me question how I survived without them in the past!
I can't wait to try out a different Vou Pre skincare system after I finish the Cannabis Collection.