Everything old becomes new again — especially when it comes to fashion. Don't ever get rid of those bell bottoms, acid wash jeans, or jean jackets. They'll eventually become the season's hottest looks again!
Don't believe us? Consider some of these trends from decades past that are hot again:
Thick Brows
Back in the 1960s, stars like Elizabeth Taylor, Audrey Hepburn, Eartha Kitt, and Nina Simone were considered some of the most beautiful women on the planet — and they all had thick, dominant eyebrows. After going through some painfully thin phases, eyebrows have return to their full-bodied past. Brooke Shields holds the record for turning thin browed women back into full, thick, almost caterpillar like browed ladies. Then, in the 90's, actresses like Pamela Anderson made the thin brow the "it" brow again as she bounced across the beach in that famous red swimsuit.Today, models such as Cara Delevigne has given us all brow envy, and the thick brow is popular again. There are even brow growth treatments available these days for those who have gone a little pluck crazy with the tweezers to get back to the fuller brow that is hot now!
Accent Braids
Remember when Rayanne on "My So-Called Life" had the coolest hairstyle, punctuated by lots of tiny braids around the side of her face and on the underside of her hair? That 90s look has become popular again. Braids can be worn on single hanging pieces, or they can be wrapped around a chignon or other style. And there is no need to feel left out gentlemen, the braid is no longer only for women these days. From rattails, which are making a strong comeback, to cornrows, the man braid is becoming more and more popular! Thanks to actors such as Leonardo DiCaprio and Shia LeBeouf.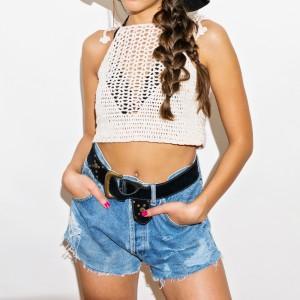 Crop Tops
The 90s also brought us the era of crop tops. They looked great as long as you had a flat midriff and abs of steel. Now those half shirts are coming back in style, and women of all sizes are wearing them. The body positive movement has encouraged even plus-sized women to embrace the crop top and other fashion trends. If you are a little shy about baring that full midriff, go even further back into the 80's ala Flashdance, where spandex or undershirts were worn under the crop top – there is literally a look for every body type!
Jelly Shoes
Ahhh, the blisters are back! You probably thought you'd never see these things again after the 80s, but stars like Kylie Jenner are bringing them back in style. They're easy to slip on and great for casual wear. Some more comfy than others, the update jelly will no doubt be slightly more comfortable than it's distant relative from years past. Just be sure to wear the sunscreen!
What other great trends from the past have you seen coming back in style? What are your favorites? What are your least favorites??